(RFE/RL) -- The European Court of Human Rights today heard one of its most high-profile cases, a complaint against the Russian Federation brought by the bankrupt oil company Yukos.
Former Yukos executives accuse the Russian government of unlawfully driving the company out of business through crippling tax penalties and are seeking $98 billion in compensation, the largest claim in the court's 50-year history.
"The Russian government certainly argued that they had been acting in the general interest in enforcing taxes against Yukos and that that was their duty and, frankly, their business," Gardner said at a news conference in Strasbourg following the hearings. "On the other hand, for Yukos, it was argued that this had been an exceptional treatment and that, in the terminology of the convention, a grossly unfair burden had been placed on Yukos."
Aggressive Legal Assault
Gardner also used the one-day hearing to offer evidence of what he says was an aggressive legal assault on the firm.
"The second point that was made today was underscore the speed and, if I may put it that way, the ferocity with which those enforcement proceedings were taken," Gardner said.
Once Russia's biggest oil firm, Yukos declared bankruptcy in 2006 after a multibillion-dollar back-tax claim that executives say was aimed at punishing Yukos founder Mikhail Khodorkovsky for his political ambitions.
Khodorkovsky is currently serving an eight-year prison sentence in a remote Siberian prison on fraud and tax-evasion convictions and could face a further 22 years behind bars if convicted in a second trial under way in Moscow. He has filed a separate complaint at the European rights court.
Skeptics say former Yukos shareholders have
little chance of recouping their losses
incurred by the bankruptcy claim, since the company has long been defunct.
But others are optimistic that the Strasbourg-based court, which has issued a string of rulings against Russia in the past, will this time again be prepared to punish the Kremlin.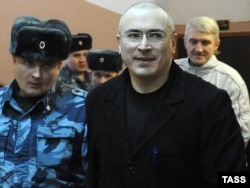 Former Yukos executives say the aim was to punish founder Mikhail Khodorkovsky for his political ambitions.
Former Yukos Vice President Aleksandr Temerko, who now lives in London, says that the court's decision to accept the case bodes well for Yukos. "And what the [court] is going to consider is [the charge] that the law and the pressure used against Yukos was politically motivated," he adds. "The basic principle of legal procedures was violated."
Following The Money
Among other issues, the European court will consider complaints by Yukos of violations during the trials against Yukos and Khodorkovsky, and during the forced sale of its main production unit, Yuganskneftegaz.
The rulings of the European Court are binding on all members of the Council of Europe, including Russia, and the Russian government will have to pay if found guilty.
In 2007 the court found Russia guilty of violating the rights of Khodorkovsky's business partner, Platon Lebedev, during his arrest and ordered the government to pay a small fine.
The hearings in Strasbourg were postponed twice in recent weeks after Russian officials failed to turn up in court, in what some observers say signals anxiety in Moscow.
Financial expert Andrei Sotnik says that if the court rules against Russia, those found guilty of helping illegally dismantle Yukos for their own benefit could include top Russian officials -- and possibly some people outside Russia.
"One can assume that these beneficiaries are a series of individuals and companies, including the top echelons of Russia's governmental and nongovernmental management," Sotnik says. "I am convinced that the Strasbourg court will be presented with documented evidence of who benefited from Yukos's ruin, and what sums or rewards these beneficiaries received. And I am sure that these companies and individuals won't all be Russian."
The European Court will retire after today's short hearing and is expected to issue a verdict in coming weeks.
RFE/RL's Russian Service contributed to this report. With agency reports