European Court Slams Russia Army Punishment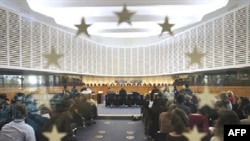 The
European Court of Human Rights
has ruled that Russia must pay compensation to an army conscript who was disabled after suffering "inhuman punishment" while on compulsory military service. Yevgenny Chember was awarded 10,000 euros ($15,880) in compensation by the court, based in Strasbourg, France.
The court said he was forced to do 350 knee bends in March 2001 in punishment for not cleaning his barracks properly . Chember collapsed and was taken to hospital were he was diagnosed with a spinal injury. The court reported in a summary of the case that Chember "can no longer walk properly."
About This Blog
"Watchdog" is a blog with a singular mission -- to monitor the latest developments concerning human rights, civil society, and press freedom. We'll pay particular attention to reports concerning countries in RFE/RL's broadcast region.
Journalists In Trouble
RFE/RL journalists take risks, face threats, and make sacrifices every day in an effort to gather the news. Our "Journalists In Trouble" page recognizes their courage and conviction, and documents the high price that many have paid simply for doing their jobs. More