PRAGUE -- Public cynicism and corruption in politics are threatening democracy in Europe.

That's according to a group of writers and scholars taking part in a conference today marking the 20th anniversary of the democratic revolutions that swept Central and Eastern Europe in 1989.

"Freedom and Its Adversaries" was organized by a foundation headed by former Czech President Vaclav Havel.

Speaking on a panel about Central Europe, French political scientist Jacques Rupnik said that following the collapse of communism, people found themselves freer than ever before.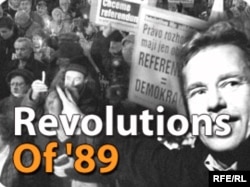 "We have a freedom where people feel there's less intrusion in their lives," he said, "but they have very little influence on the government and on public affairs."

Rupnik said the idea inherited from communism that "the state is the enemy of freedom" has helped make Eastern Europeans indifferent to politics.

That, he said, has enabled politicians to use the "free market" as a codeword for "plunder and unrestrained greed." Now, Rupnik said, political leaders have begun "using the language of freedom while discarding civil society and the rule of law."

"So we have the democratic shell, the institutional shell," he said, "but it's hollow, the substance has been emptied. Yes, we have created the market economy, but it is in crisis."

Adam Michnik, editor of the Polish newspaper "Gazeta Wyborcza," agreed that Eastern European states are "hollow" in terms of liberal values. But he said authoritarian regimes in Cuba, Iran, and Russia have led him to believe the emptiness has been filled by something else that also threatens Europe.

"What is the trap in freedom?" he said. "I believe it is the corruption that is a permanent part of the state structure."

Michnik singled out Russia's authoritarian Prime Minister Vladimir Putin, who he says uses slogans such as "sovereign democracy" to justify imposing his rule on the country.

Russian political analyst Andrei Piontkovsky agreed, saying Russia is "run and owned by dedicated enemies of freedom." He warned of a "tremendous and widespread" misunderstanding of Russia in the West.

"This system is evolving not in the direction of postindustrial open society," he said, "but in the direction of feudalism, when a suzerain distributed and could take at any moment back land to his vassals. The only difference is that Mr. Putin is distributing and taking back not land, but gas and oil companies."

Obama's Reset

Piontkovsky said European countries dealing with Russian energy companies risk betraying their own people.

He also raised U.S. President Barack Obama's attempt to "reset" relations with Russia. He warned the policy would have no effect on Russian leaders' need to vilify the West as a threat to Russia in order to justify their "regime of kleptocracy."

"No resettings would change these fundamentals," he said. "They will always need the West as an enemy."

Piontkovsky said Russia has unleashed "especially vicious attacks" against neighbors that have chosen a "European way of development, the road to freedom: Georgia and Ukraine."

The best way to help Russia, Piontkovsky said, is by supporting democracy in Georgia and Ukraine. But that, he said, is being blocked by the "stupidity of European institutions."

British playwright Tom Stoppard warned that public indifference threatens to gradually destroy democracy not only in the former Soviet bloc, but also in some of the oldest democracies such as England.

"We've got used to an assumption which no longer holds," he said, "and it is that freedom gets lost and possibly regained in overnight acts of great drama and possibly violence. The problem now is that freedom gets lost by a thousand cuts. And it gets lost invisibly, inaudibly, and almost imperceptibly."

Stoppard said people must counter the build-up of authoritarian power with "a sense of responsibility toward one's neighbors."

The panel's moderator, British historian Timothy Garton Ash, summed up by echoing a common point: after 1989, Eastern Europe's postcommunist regimes mistakenly favored speed of reform over substance.

"I remember vividly when we set out after 1989, we had a kind of holy trinity," he said. "We always said 'democracy, market economy, and civil society.' And that was absolutely right, but there was one missing, which was an explicit emphasis on the rule of law."

Garton Ash said the result is that corruption today is "poisoning the air of freedom." Reestablishing rule of law, he said, is one of the key tasks facing Eastern Europe today.
Revolutions Of '89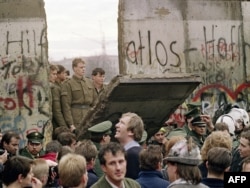 Revolutions Of '89
In the fall of 1989, a singular wind of change swept across the continent, blowing down the Iron Curtain and revealing the public's yearning for freedom.
Click here
for RFE/RL's look back at the year communism collapsed.