Journalist Amir Farshad Ebrahimi knows what Iran's notorious "plainclothes agents" are capable of doing. He used to be one of them.
But Ebrahimi, a founding member of hard-line pressure group Ansar-e Hizbullah who now lives in exile in Germany, says he has watched in horror as members of his former group have lashed out against fellow Iranians since the June 12 election.
The rest of the world was acquainted -- or reacquainted, for those who followed the crackdown on student protesters a decade ago -- with the group as images and videos spread of plainclothes thugs beating protesters and students following Iran's disputed presidential vote.
Ebrahimi claims to have recognized some of the plainclothes agents who were involved in the crackdown and has posted their pictures and names on his blog.
"It's a very painful and bad feeling to see them kill your countrymen, to watch your countrymen bleed to death in the streets for their most basic human rights," Ebrahimi tells RFE/RL. "It adds to the pain to know that I had a role in the formation of those who have committed it; it's a bad feeling, and I think [my] unclear conscience will remain with me."
Powerful Tool
Ebrahimi and a number of other war veterans and members of the Islamic Revolutionary Guard Corps founded Ansar-e Hizbullah, or Supporters of the Party of God, in 1993.
They sought to preserve the cause for which they were willing to sacrifice their lives -- Iran's revolution and its revolutionaries.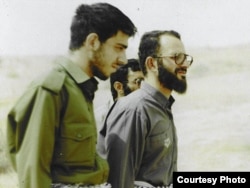 Ebrahimi during the 1980-88 Iran-Iraq war
Ebrahimi had joined the Iran-Iraq War when he was just 13 by faking his identity papers. His experience during that war in the mid-1980s touched him deeply and was key to his decision to help found Ansar-e Hizbullah.
He says that originally the group was aimed at keeping alive the memory of "the martyrs" -- the million or more Iranians killed in the bloody eight-year conflict with Iraq -- and preserving "revolutionary values."
He says Ansar-e Hizbullah also sought to speak out against corruption and other societal ills.
But authorities eventually realized the group's potential, and began to finance and employ it for their own factional purposes -- including cracking down on those who favored reform in the Islamic republic.
In the weeks that have followed Iran's latest presidential election, the "plainclothes agents" of Ansar-e Hizbullah and similar pressure groups can be seen swarming protesters, brutally beating them and sometimes shooting at them.
"I'm still shocked at how they can [be so violent] and why a group that was supposed to be soldiers of the Hidden Imam, a group that was supposed to follow the path of the martyrs, is now turning the guns that were sacred and used in the war against our own people," Ebrahimi says.
Going Astray
Ebrahimi was originally one of the senior editors of the group's publication, "Ya Lesarat Hossein." He went on to become the group's political secretary.
Ansar-e Hizbullah was active in the so-called era of reforms in Iran in the late 1990s and early 2000s, during which its members would disrupt meetings by reformists and attack members of then-President Mohammad Khatami's cabinet. Hard-liners generally regard reformists as enemies of Islam and the revolution, and they frequently allege that such people are collaborating with foreign governments to destabilize Iran's clerically dominated establishment.
Ebrahimi says Ansar-e Hizbullah was loyal to Supreme Leader Ayatollah Ali Khamenei, whose office backed the group.
Ebrahimi recalls that orders to disrupt reformists' meetings or attack reformist politicians came from above, including from senior conservative ayatollahs. He acknowledges his involvement in organizing some of those attacks and the responsibility he bears.
"The fact that I didn't personally beat up anyone doesn't mean that I wasn't responsible," Ebrahimi says. "I was in a group that did this sort of thing, and what is worse is that, unfortunately, I was the political secretary of the group."
In 1999, Ebrahimi learned of a plan by hard-liners to attack students and crush the burgeoning student movement. He says he refused to take part in the impending crackdown, and quit the group in protest. Ebrahimi's comrades subsequently attacked a Tehran University dormitory, killing at least one student and injuring many, including a student who went blind. It was exactly 10 years ago this day.
Ebrahimi quickly condemned the attack and gave a speech about it among students. Ten days later he was kidnapped from his house by some of the same people he used to work with, and spent eight months in prison.
On The Outs
Ebrahimi says he was kept in solitary confinement in a small coffin-sized cell and was physically and psychologically tortured. He says his interrogators tried to force him to confess to having received orders from key reformist figures.
He says brutal interrogation sessions left him with many injuries, including a broken chin and rib.
After his release from jail in 2000, Ebrahimi decided to file a complaint against those who had jailed and tortured him. He contacted human rights lawyer Shirin Ebadi, who has since received a Nobel Peace Prize for her work in Iran, and gave her a videotape on which he had recorded his legal complaints.
Ebadi and lawyer Mohsen Rohami, who also worked on the case, were convicted on charges of defamation for their legal efforts. Rohami was jailed for two weeks. Ebrahimi was sentenced to a further 3 1/2 years in prison and had to endure more torture.
Upon his release, Ebrahimi says, he received death threats and was finally forced to leave Iran in 2003 after being targeted by an assassination attempt.
'Product' Of The Times
Ebrahimi is now working on his memoirs from his home in Germany and has
blogged
controversially, including trying to identify some of those who have brutalized demonstrators in his native Iran.
He tells RFE/RL that, even now, he doesn't regret founding Ansar-e Hizbullah, which he says was supposed to be a cultural and political group. But he says he regrets that the group "lost its way."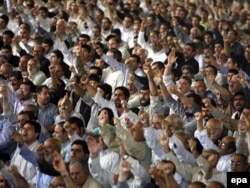 Ansar-e Hezbollah and similar groups are a "product" of the recent past, Ebrahimi says.
Ebrahimi says the majority of the plainclothes agents that the world is now seeing in videos and images emerging from Iran are a "product" of recent years.
He claims they are being trained at mosques and schools in special courses called "velayat" -- a reference to Ruhollah Khomeini's doctrine of "guardianship of the jurists," enshrined in Iran's Islamic constitution. Such classes, he says, instruct students in Islam and politics as interpreted by hard-line clerics such as Ayatollah Mesbah Yazdi, who is said to be President Mahmud Ahamdinejad 's spiritual mentor.
Ebrahimi says he hopes all those involved in attacks against peaceful demonstrators who were merely calling for change and freedom will realize their mistake.
He claims that some of the hard-liners, including plainclothes agents, are prepared to do anything to achieve their aims.
"I hope that before it gets too late they turn toward the people, or become silent and stop the violence," Ebrahimi says, "because if they express regret over their actions once the Islamic republic becomes weaker or the day it's over, that day will be too late and it won't have any impact."