Families 'Seek Afghan Refuge' From Pakistan Fighting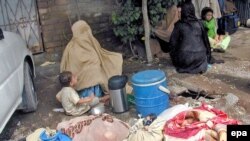 The UN's refugee agency says some 20,000 people have sought refuge in Afghanistan in recent months from
fighting in northwest Pakistan.
The UNHCR
said people started arriving in eastern Afghanistan's Konar Province when fighting intensified in Pakistan's troubled Baujur region over the summer.
Spokesman Nadir Farhad told a press briefing in Kabul some 200 families who arrived recently are living out in the open.
About This Blog
"Watchdog" is a blog with a singular mission -- to monitor the latest developments concerning human rights, civil society, and press freedom. We'll pay particular attention to reports concerning countries in RFE/RL's broadcast region.
Journalists In Trouble
RFE/RL journalists take risks, face threats, and make sacrifices every day in an effort to gather the news. Our "Journalists In Trouble" page recognizes their courage and conviction, and documents the high price that many have paid simply for doing their jobs. More