It's Bosnia vs. Hollywood in Sarajevo, where officials have revoked the shooting permit for actress-turned-director Angelina Jolie's new movie amid concerns about the film's alleged plot.
Jolie's directorial debut, set in Bosnia, is rumored to portray a Muslim rape victim who falls in love with her rapist, a Serb, at the outbreak of the 1992 Bosnian war that killed some 100,000 people and displaced 1.8 million.
On October 13, Bosnia's culture minister, Gavrilo Grahovac, revoked the crew's filming permit in Sarajevo, citing documentation issues.
Ensar Halilovic, an executive with the movie's Sarajevo-based producer Scout Film, told RFE/RL today that all the paperwork had been resubmitted with the ministry, so a decision on the permit could come as soon as today.
Bakira Hasecic, who heads the Sarajevo-based advocacy group Women Victims of War, says she and her colleagues were alarmed by what they heard about the film's plot.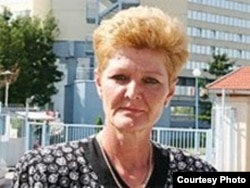 Bakira Hasecic: "We never saw a testimony in which a victim fell in love with her torturer."
"Obviously, this is all an invented 'love story,' something that never happened according to the 25,000 testimonies we have from women who were raped or sexually abused during the war, many of whom survived though a number, unfortunately, were killed," Hasecic says. "We never saw a testimony in which a victim fell in love with her torturer."
Jumping To Conclusions
The film's supporters say, however, that such reactions are based on rumors about the film's content, which has not been made public. Some press reports indicate the film's content is actually less controversial than critics suggest.
Geyer Kosinski, Jolie's manager and a producer on the film, told the "Los Angeles Times" that "stories about the film which have recently been circulated are incorrect."
Jolie, who has already begun shooting the film in Hungary, issued a statement late on October 14 urging people to "hold judgment until they have seen the film." Jolie visited Bosnia in April as a UN goodwill ambassador.
And while some in Bosnia are offended by the film's alleged content, others believe the official response amounts to censorship.
Slavenka Drakulic, author of "As If I Am Not There," a book on women who were raped in Bosnia during the war, says objections to the film amount to a "scandal."
"My first reaction is to call it by its proper name -- censorship. The second thing is to separate the right of victim has to her own feelings, her own thoughts, her own requests, from legal issues and legal rights," Drakulic says.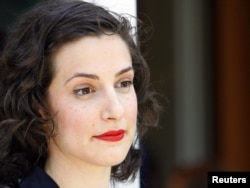 Bosnian actress Zana Marjanovic will feature in one of the lead roles.
"In this case we are dealing with censorship, which is unacceptable coming from the minister of culture, whom reports quoted as saying that he would ban shooting of that movie anywhere, not just in Bosnia, because the movie offends the feelings of victims," she adds. "Such an important decision was based on rumors."

Divided Sarajevo
Reports also quote the city of Sarajevo's minister of culture, Emir Hadzihafizbegovic -- himself an actor -- as saying that he was "going to give a shooting permit even if they have to arrest me." This despite the fact that it was his superior, Culture Minister Grahovac, who canceled the permit.
Professor Al-Muhamed Sestanovic of the Sarajevo-based Institute for Research of Crimes against Humanity and International Law, says that if the film being made is "actually trying to humiliate the victim," then activists will "do whatever is necessary to prevent this, if possible -- and if this is not possible, to try to tell the public that this movie is telling lies."
The Oscar-winning actress has made significant efforts to maintain authenticity in the film by using regional talent, with the lead roles featuring Bosnian actress Zana Marjanovic and acclaimed actor Rade Serbedzija, who was born in 1946 in what is now Croatia.
Set for release in 2011, the film does not yet have a title.
written by Kristin Deasy, with contributions from RFE/RL's Balkan Service