As university students prepare to return to classes in Iran, recent statements by the country's supreme leader are feeding fears that a new cultural revolution could be in the offing.
Some recognize echoes of the mass purges and curriculum revisions that took place just after the founding of the Islamic Republic 30 years ago.
Supreme Leader Ayatollah Ali Khamenei has suggested that the study of social sciences leads to creeping doubts and uncertainty over religious principles. This week, he called on the government and the Supreme Cultural Revolution Council to take a serious look at the issue.
It's a move that could signal a new campaign against the country's universities and cultural institutions, and comes just three weeks before most of the Iran's institutions of higher learning reopen their doors for the new academic year.
"These comments in the current conditions and with regard to this massive 'green movement' that has deep roots in the society -- it's possible that since they haven't been able to repress the movement completely...with the start of the classes there might be more protests," Ghasem Sholeh Saadi, a former legislator and current professor of international relations at Tehran University, says.
Sholeh Saadi goes on to warn that authorities fear "the movement could enter a new phase therefore we can interpret these stances as the start of another cultural revolution."
Tough To Control?
About a year after the creation of the Islamic Republic in 1979, a cultural revolution was launched in Iran. The goal of the clerics who dominated the political and judiciary establishment was to purify universities of Western influence and bring them in line with Islamic teachings.
Some students, like these protesting in June, have already been excluded from studies over political activities.
It resulted in a purge of 600-700 professors and the Islamization of universities. New religious subjects and books became part of the curriculum and only students deemed loyal to the revolution and Islam were allowed to study.
Some 30 years later, in the wake of the supreme leader's recent comments, there is growing concern that history could repeat itself.
Khamenei, in a meeting with professors and Basij students on August 30, said that "many of the human sciences are based on philosophies whose foundations are materialism and disbelief in godly and Islamic teachings."
He said it was worrying that about 2 million of the 3 1/2 million university students in Iran study social sciences.
"How much native work have we done and how much Islamic research have we conducted regarding social sciences?" Khamenei asked pointedly. "How many published books do we have in social sciences? How many professors do we have that believe in Islamic teachings and are ready to teach sociology, psychology, or management?"
Consistent Target
Even before Iran's political and religious leader issued his warning, social sciences had come under fire in the ongoing trial of prominent reformist figures over the country's postelection unrest.
Reformists are accused of having planned the mass street demonstrations that took place to protest results indicating the reelection of President Mahmud Ahmadinejad.
One of the defendants, reformist theoretician Said Hajarian, expressed regret for his "mistakes" and "incorrect analysis." He was quoted as saying that applying Western social theories to Iran, including the theory of Sultanism by German sociologist Max Weber -- to which he had referred in previous writings -- was a mistake.
Weber used the term Sultanism to describe an authoritarian form of government characterized by the ubiquitous presence of a ruler in all aspects of governance, not subject to any restrictions.
Hajarian's family has since said that Hajarian, who is paralyzed, was pressured in prison to make false confessions.
Some critics later said that Max Weber and other Western thinkers were in fact the ones being put on trial in Iran.
Postelection Pressure
Many observers believe that the establishment's renewed focus on social sciences is directly linked to the popular protests following the presidential election.
Sholeh Saadi tells RFE/RL that possible official efforts to launch a fresh cultural revolution to prevent further protests could deepen the crisis in the Islamic Republic.
"We're not in the early days of the revolution anymore, when the universities were shut down and there was no problem," he says.
Sholeh Saadi says he thinks shutting down universities or protests by the students both mean crisis.
He says that targeting liberal-minded professors and students or preventing the teaching of social sciences does little to blunt the desire for change and social reform.
A student of English literature in Tehran tells RFE/RL that she thinks it's obvious why the authorities are concerned over the study of social sciences.
She describes social sciences as an "eye-opener" and says reading related books can give a better understanding of the situation in Iran and increase the desire for "change." She adds that authorities want "obedient" students who don't question anything.
Universities have long been a thorn in the side of Iranian leaders, who have used pressure, threats, and arrests to silence students calling for more rights and democracy.
Dead End?
It was during Ahmadinejad's first term that concerns over a renewed cultural revolution were first triggered. Pressure on universities and student activists increased, with many banned from classes and a number of professors reportedly forced into retirement. But many fear that a new round of purges would be aimed at going further.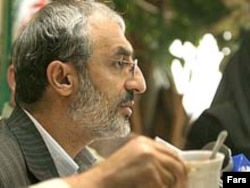 Education Minister Mohammad Mehdi Zahedi has signaled that "Islamization" is on the agenda.
Ahmadinejad's education minister during his first term, Mohammad Mehdi Zahedi, recently said that the Islamization of universities was on the agenda. He was quoted as saying that several bodies, including the Imam Khomeini Research Institute, headed by hard-line Ayatollah Mesbah Yazdi, an Ahmadinejad confidant, are working on the plan.
There have been unconfirmed rumors that authorities might delay the start of classes in order to ward off any protests.
University dorms and students have come under attack by security forces since the June 12 election, and a number of students have been killed.
Khamenei has called for the promotion of a "spiritual environment" in Iran's universities and said that the more students are religious, the less their thoughts and actions are "damaging."
A well-known reformist cleric, Hassan Yusefi Eshkevari, tells RFE/RL's Radio Farda that Iranian leaders appear to have concluded that in three decades, their policies have led nowhere.
"If we were to accept [Khamenei's] suggestion, then it would mean that 80 percent of sciences should be put aside, [and] universities where different branches of social sciences are taught should be closed," Eshkevari says.
Eshkevari warns that "another cultural revolution would lead to a setback for the country and religion" and would return Iran to the dark ages.
Radio Farda's Armand Mostofi contributed to this report
Iran Election Special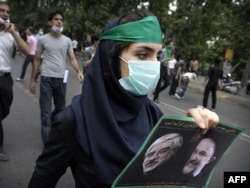 RFE/RL's Full Coverage
Following the disputed reelection of Iranian President Mahmud Ahmadinejad, supporters of Mir Hossein Musavi have taken to the streets to protest.
Click here
for news, blogs, and analysis of the presidential election and aftermath.