U.S. President Barack Obama has made improving ties with Russia one of his foreign-policy priorities. But there are serious concerns in Eastern and Central Europe that Washington will sacrifice support for its allies who were once part of the Soviet bloc. In the second of a three-part series, RFE/RL examines fears that Moscow's drive to reassert its influence won't be checked. (See
Part 1
and
Part 3
.)
By Gregory Feifer
When the results of parliamentary elections in Moldova were announced in a hotel conference room in the capital Chisinau last month, many believed their country's future hinged on the outcome. Long ruled by the Communist Party, Moldova cultivated close political and economic ties to Moscow.
Many young Moldovans accused the Communists of keeping their impoverished former Soviet republic mired in the past. They supported a group of liberal parties that promised to put Moldova on a path to European integration.
Despite widespread accusations of vote rigging by the Communists, the opposition won a majority -- something university student Alexan Yulian says has given Moldova new hope.
"Everyone is expecting very big changes for the better," he says. "And we very much want support from Europe, clear support, that's the most important thing."
Moldova was the latest battleground between a resurgent Russia trying to reestablish influence over its former Soviet territory and Western countries seeking to encourage democracy there. It's in such places that Kremlin critics are worried U.S. President Barack Obama's drive to improve relations with Russia will diminish U.S. support.
Using Levers
In July, a group of former Central and Eastern European leaders published an open letter to Obama shortly after he visited Moscow for a summit billed as the launch of a "reset" in U.S.-Russian relations. Former Czech President Vaclav Havel and Poland's Lech Walesa were among signatories who expressed deep concern about dangers facing their new democracies.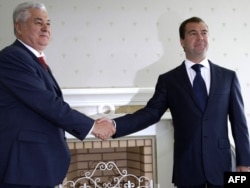 Russian President Dmitry Medvedev (right) lends his support to Moldova's Vladimir Voronin.
Among the threats, Russia "asserts a privileged position in determining our security choices," they said. "It uses overt and covert means of economic warfare, ranging from energy blockades and politically motivated investments to bribery and media manipulation in order to advance its interests and to challenge the trans-Atlantic orientation of Central and Eastern Europe."
In Moldova, Russia promised the Communist government $500 million before the elections. Soon after, Communist President Vladimir Voronin criticized the European Union's Eastern Partnership program, aimed at boosting ties with Moldova and other EU neighbors.
Moscow's influence is also felt in business: Russian state-controlled companies and Kremlin-connected business oligarchs are snapping up Moldovan companies. Economist Tatyana Larushin says 75 percent of the Moldovan media is already Russian-owned, and broadcasting Kremlin propaganda.
"Moldova is unlucky because Russia is using its state corporations to carry out its foreign policy," she says.
But Russia's biggest trump in Moldova is its support for the pro-Moscow breakaway region Transdniester, which split after a brutal war in 1992. Soon after Voronin criticized the EU's Eastern Partnership program, the Kremlin flew him to Moscow for talks with Transdniester's separatist leader that were widely perceived to be a reward for his loyalty.
Political analyst Igor Muntianu says the Kremlin is using its levers of control over Moldova to thwart political change it sees as a threat to Russia's interests.
"The Russians try to use the vulnerabilities of the [Moldovan] national elites, the Communist Party leaders, in order to pursue their own interests and to counteract other policies of the European Union," Muntianu says.

'Sphere Of Interests'
Moscow's actions in Moldova reflect wider policy in Russia's so-called near abroad. The Kremlin has cut off natural-gas supplies to Ukraine and blocked food imports from a number of former Soviet allies.
But it was the invasion of Georgia over its pro-Moscow separatist region South Ossetia that prompted the most serious fears that Washington would stand by as Russia sets out what it calls its "privileged sphere of interest."
The Czech minister for European affairs, Stefan Fule, says underestimating the importance of the recent letter to Obama would be a mistake.
"The fact that there are a number of permanent figures who served their countries well, that they thought it was important to write such a letter," he says, "is a reflection that there is such a concern in this part of Europe."
Fule says it's too soon to judge whether Obama's new Russia policy has resulted in any real changes. But he says it can succeed only if Washington is unflinching in its stand on the most divisive issue.
"It is realistic," he says, "only if it is followed by a strong policy rejecting any attempt to reestablish the sphere of influences."

A Difference In Perceptions
Some believe Washington faces an impossible task because of a fundamental difference in the way Moscow and Western countries see the world. In Moscow, former independent legislator Vladimir Ryzhkov says Russia's hard-line authoritarian leaders define their interests in opposition to the West.
"The ideological foundation of [Prime Minister Vladimir] Putin's regime strictly follows Soviet models," he says. "It issues antiliberal, anti-American, and anti-Western propaganda, and it discredits liberal values and democracy."
Vladimir Ryzhkov notes that some Russian actions may be motivated by domestic politics.
Ryzhkov says Russian actions that appear incomprehensible to outsiders are often best explained not by their benefit to the country, but to its leaders. Shutting off natural gas to Ukraine in January seriously damaged Russia's image by disrupting supplies to millions of Europeans during the middle of a record cold winter. Russia's Gazprom lost more than a billion dollars in profit.
But among Russians, the shutoff burnished the tough-guy image of Prime Minister Putin, who stepped down as president last year -- and who some believe relies on personal displays of power to show he's still in charge of the country.
It may be no coincidence Obama has indicated getting past the impasse in relations will require engaging not only Russia's leaders, but also a broad swath of society. During his visit to Moscow in July, the U.S. president met Russian businessmen, opposition politicians, and human rights activists.
Ryzhkov, who was among them, praises Obama's efforts as necessary, but says they've done nothing to affect relations.
"Obama's visit to Moscow didn't have the effect the U.S. administration was probably counting on," he says. "There hasn't been any progress, the positions on almost every issue have remained essentially the same."
That's cold comfort to those in former Soviet bloc countries worried about Moscow's next possible intervention. Many believe it will be in Ukraine, whose presidential elections in January may determine the course of that country's future.
The
third part
in this series examines the difficulties in Europe of forging a unified policy on Russia.