Georgian President Mikheil Saakashvili has accused Russia of launching "a full-scale military invasion" of the country and appealed to the international community, calling on Georgia's friends and allies around the world to urge Russia to cease hostilities immediately.
"We appeal to our friends and allies to call on Russia to cease hostilities immediately," he said. "Georgia is a peace-loving nation, but today we are being attacked north to south, east to west."
Officials at the Kremlin and the Russian Defense Ministry say they have not received any offer for a cease-fire from Georgia. The Russian president's press service said there has been no offer from Georgia to President Dmitry Medvedev. The Defense Ministry repeated Medvedev's call for Georgian military forces to withdraw from South Ossetia entirely as the surest means of effecting a cease-fire.
Saakashvili also accused Russian forces of a campaign of "ethnic cleansing" in the separatist region of South Ossetia.
"Russian troops, Russian tanks that moved into South Ossetia, on their way expelled the whole ethnically Georgian population of South Ossetia," he said. "They've committed, as of this morning, ethnic cleansing in all areas they control in South Ossetia."
Saakashvili accused Russian forces of deliberately hitting civilian targets throughout Georgia, including hospitals and apartment buildings.
After two days of fighting, both Georgian and Russian forces are claiming control of the South Ossetian capital, Tskhinvali, but reports indicate a battle is under way for control of the city. Officials in South Ossetia's Defense Ministry confirm Georgian tanks have again entered parts of the capital and ITAR-TASS has reported that Georgian ground forces are also in the city.
Attacks In Georgia
The conflict has spilled over the borders of the separatist region, with Georgian officials saying Russian aircraft have bombed the Georgian Black Sea port of Poti and other targets on Georgian territory.
Reports say most of the targets have been military bases, but Georgian officials said a number of civilians have been killed in residential buildings.
Saakashvili accused Russian forces of deliberately targeting civilian targets around the country.
"Russian forces have been specifically targeting civilian quarters. They specifically attacked and blew up the whole civilian quarter in the town of Gori, far away from the place where the conflict area is and where direct friction between forces is. They attacked civilian installations in the western part of Georgia. They've attacked residential quarters all around the country. They've attacked civilian hospitals. And most of the casualties are among civilians."
Koba Liklikadze, a correspondent for RFE/RL's Georgian Service, was at the scene of bombing in the city of Gori. "Close to the artillery base [located near the entrance to the city] we saw a dreadful sight," he reported. "Aside from the base itself, two apartment blocks were on fire. The yard was full of bodies.
Liklikadze said that the wounded were being taken to the capital, Tbilisi, "because Gori's hospital is already full."
(Reuters video: Russian military vehicles in the pre-dawn hours head toward the border of South Ossetia where they crossed into the breakway republic. Georgian forces launch a series of attacks on separatist positions there. Russian peacekeepers take cover as Georgian jets fly overhead.)
Meanwhile, the foreign minister for Georgia's other Russian-backed breakaway region, Abkhazia, said on August 9 that it has launched a military operation to retake the Tbilisi-controlled part of the disputed Kodori Gorge. Sergei Shamba said artillery was being used. There were reports earlier of bombardment by Russian jets in the area.
A spokesman for the pro-Tbilisi Abkhaz government in exile said Russian warplanes had bombed two villages.
Meanwhile Georgia's parliament endorsed Saakashvili's decree introducing martial law for the next 15 days. The decree allows for the mobilization of reservists and for government agencies to work around the clock.
International Mediation
In Beijing, U.S. President George W. Bush said he is "deeply concerned" about the situation in South Ossetia and he called for an immediate cease-fire.
"The attacks are occurring in regions of Georgia far from the zone of conflict in South Ossetia," Bush said. "They mark a dangerous escalation in the crisis. The violence is endangering regional peace. Civilian lives have been lost and others are endangered."
He also had a reminder for Russia.
"Georgia is a sovereign nation and its territorial integrity must be respected. We have urged an immediate halt to the violence and a stand-down by all troops. We call for an end to the Russian bombings and a return by the parties to the status quo of August 6."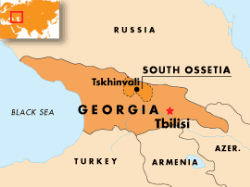 South Ossetia: Timeline Of A Crisis
Bush said the United States was working with its partners to launch international mediation.
The U.S. president and his Russian counterpart, Dmitry Medvedev, spoke by telephone to discuss the situation in South Ossetia and Georgia. Russian news agencies quoted Medvedev as criticizing Georgia's "barbaric actions" that have led to thousands of deaths and turned tens of thousands of people into refugees in South Ossetia.
Medvedev said the only way out of the current situation is for the Georgian government to withdraw all its forces from the zones of conflict, return to peace talks and sign a binding treaty, pledging not to resort to violence.
Arriving in the North Ossetian capital of Vladikavkaz from the Olympic Games in Beijing, Russian Prime Minister Vladimir Putin said that "Georgia's aspiration to join NATO...is driven by its attempt to drag other nations and peoples into its bloody adventures." He added that "from a legal point of view, Russia's actions in South Ossetia are totally legitimate."
At an emergency meeting of the UN Security Council on August 8, envoys from Russia and Georgia traded accusations over who was responsible for escalating the conflict. The council was unable to agree on a statement and is expected to continue talks on August 9.
Georgian UN Ambassador Irakli Alasania told RFE/RL's Georgian Service that Tbilisi hopes its Western allies will put pressure on Moscow to stop its "aggression against Georgia."
"I think there are various mechanisms that the United States can use when dealing with Russia -- both in a bilateral format, individually, as well as collectively, together with its European colleagues," Alasania said.
"This is precisely what we are hoping for -- that the Russian Federation will be pressured to stop the bombardments, the aggression against Georgia. I would not be able to speak about any concrete talks and consultations that are under way, but I can confirm that the United States has assumed this function of a mediator."
The fighting is the worst violence in the region since South Ossetia and Abkhazia broke away from the central Georgian government in a war in the early 1990s.
Moscow said more than 30,000 refugees from South Ossetia have now fled across the border to Russia. That represents more than a third of the territory's total population.
The Russian government's chief of staff, Sergei Sobyanin, made the statement at a meeting this morning with Russian President Dmitry Medvedev, who said, "Our task is to help overcome the consequences of the humanitarian catastrophe."
Medvedev was also quoted as saying Russian peacekeepers and units subordinate to them were "carrying out an operation to force the Georgian side to peace."
Meanwhile, Russian Foreign Minister Sergei Lavrov said 1,500 people had been killed in the conflict so far. President Saakashvili rejected the claim.
Saakashvili said that "Russian propaganda channels are saying that 1,500 people have died in South Ossetia -- this is total nonsense. This is being done deliberately, to prove that Georgia's armed forces killed many, which is a total lie. In fact, apart from the militants, our forces have killed no one. During the attack against us in Tskhinvali, the fire opened in response brought virtually no casualties among civilians. I say this with full responsibility."
General Anatoly Nogovitsyn, deputy chief of Russia's General Staff, has now acknowledged the loss of two Russian planes. Georgia had claimed to have downed several Russian planes, but this was the first confirmation from Moscow.
And the commander of Russian ground forces, Vladimir Boldyrev, said his soldiers had "fully liberated" Tskhinvali and driven Georgian forces out of the city. This could not be independently confirmed.
Factbox -- South Ossetia
Status: The region broke away from Georgia in a 1991-92 war. A peacekeeping force with 500 peacekeepers each from Russia, Georgia, and North Ossetia monitors a 1992 truce.

Population: Approximately 70,000 (according to the 1989 census, about two-thirds Ossetian, one-third Georgian)

Capital: Tskhinvali

Languages: Ossetian, Georgian, Russian

Religion: Orthodox Christianity

South Ossetia: Timeline Of A Crisis