MOSCOW -- In a leafy park in what was suburban Moscow in 1959, American engineers constructed a series of futuristic-looking pavilions brimming with art and fashion displays along with the latest in U.S. consumer goods.
Despite July's scorching heat, when the gates to the American National Exhibition in Moscow opened 50 years ago on July 24, more than 2 million people thronged the park to hear American guides describing washing machines, chrome-laden cars, Polaroid cameras, and a model single-family house.
(Listen to the audio version of this story with Gregory Feifer)
The exhibition became a groundbreaking event. The venue of the Nixon-Khrushchev kitchen debate, it marked an iconic episode of detente at the height of the Cold War, something its organizers today say was an important precedent for U.S. President Barack Obama's efforts to improve relations with Moscow.
Jack Masey, the exhibition's chief designer, says the goal wasn't to astonish Soviets into believing capitalism was better than communism but to "tell them who we were."
"Regrettably, as can typically be the case with an American exhibition," he says, "we didn't have enough money. We got only $3.6 million to do our stint in Moscow whereas a year earlier, the United States pavilion in Brussels, which was a third of the size of Sokolniki Park, got $14 million."
Nevertheless, the Moscow event was a resounding success. Visitors stood in line for hours to get into the exhibition, where many got their first taste of Pepsi-Cola. Half a decade after Stalin's death, Soviets were desperate for a peek at Western life. Muscovite Tatyana Stepanova was 16 years old that summer.
"It was very, very exciting and interesting," she says. "I think I was in every pavilion there, even where tractors were. I wanted to see everything."
Anything You Can Do...
When then-U.S. Vice President Richard Nixon and Soviet leader Nikita Khrushchev strolled through the exhibition on opening day, the two leaders surprised their aides by stopping in front of a model kitchen to debate their countries' technological advances. They continued the argument in an RCA television studio, where Nixon suggested the United States was ahead in the development of the color videotape used to record their meeting.
"This indicates the possibilities of increasing communication," Nixon said, "and this increasing communication will teach us some things and it will teach you some things, too. Because after all, you don't know everything."
Khrushchev insisted Soviets were ahead in most areas. Besides, he said, the Americans would probably use the video only for propaganda back home.
"What I have to say is being translated only into your ear," Khrushchev said, "but the American people will never hear it."
At the time, Americans believed Nixon won the debate. But many of those present thought the fact the exchange took place at all was far more important than who won.
It's A Start
Earlier this month, some of the participants of the 1959 exhibition gathered at Spaso House, the U.S. ambassador's residence in Moscow, to share their recollections.
Foreign policy scholar Eduard Ivanyan was a young Soviet Culture Ministry official at that time. He says no one at the Nixon-Khrushchev debate realized that Ampex, the American company that manufactured the video equipment recording the exchange, was founded by a Russian emigre.
"'Ampex' stood for 'Alexander Matveyevich Ponyatov Excellence,'" Ivanyan said. "Ponyatov invented those television cameras. If Nixon or Khrushchev had known that, the debate would have taken on an absolutely different tone. There's no doubt Khrushchev would have won."
Ivanyan says the tit-for-tat nature of Cold War relations seriously hampered negotiations leading to the exhibition. State Department officials refused to allow the Red Army Choir to perform in New York during a parallel Soviet exhibition there because they didn't want Soviet soldiers strolling on the city's streets. The Soviets responded by barring jazz musician Benny Goodman from appearing in Moscow. Ivanyan says he was naive at the time to have believed cultural contacts would change the nature of relations between the two Cold War enemies.
"Nevertheless, the exchange of exhibitions played a great role," he said. "We began to treat each other with respect for the first time."
Taste Test
Cold War fears also stopped many American companies from having anything to do with an exhibition in the Soviet Union. When Coca-Cola turned down an offer to take part, Donald Kendal saw an opportunity. Still, the former head of Pepsi says most of his colleagues believed traveling to Moscow was a waste of money, so the night before the opening, he buttonholed Nixon for a favor.
"I told Nixon I've got to get a Pepsi in Khrushchev's hand because I'm in a lot of trouble at home," Kendal says. "He said, 'Don't worry, I'll bring Khrushchev by.'"
When Nixon steered Khrushchev to the Pepsi stand the following day, Kendal handed him a cup of American-made Pepsi and another that had been made in Moscow. Kendal says Khrushschev gleefully declared the Moscow-made variety better.
"And he started handing out Pepsis to all the people there, saying try a 'good' Pepsi." Kendal says. "Our advertising was at the time 'Be Sociable, Have a Pepsi,' and there were pictures all over the world of Khrushchev handing out Pepsis and the headline was 'Khrushchev Learns To Be Sociable.'"
Kendal eventually negotiated a landmark contract to mass-manufacture Pepsi in the Soviet Union. But the executive, who continued to play a prominent role in U.S.-Soviet relations, says the exhibition's effects came to "nothing" because detente ended abruptly after the Soviets shot down an American U2 spy-plane in 1961. A year later, the Cuban missile crisis brought both sides to the brink of nuclear war, and ties didn't begin improving until the 1970s.
'We Started Talking'
But others say the 1959 American exhibition was extraordinary for having taken place at all. Exhibition designer Jack Masey says the event helped set the stage for a "long, mutually understanding relationship."
"Something happened which was important," he says. "We started talking to each other. So this was pretty great."
The exhibition's 50th anniversary conference in Moscow took place a day after U.S. President Barack Obama was in Russia to try to kick-start relations. With ties between Washington and Moscow at Cold War lows again, there was heavy nostalgia for the heady days of detente.
U.S. Ambassador to Russia John Beryle says it was the personal contact between the young American guides and the millions of Soviets peppering them with questions about life in the United States in 1959 that provided the event's greatest influence.
"Part of the new bi-national joint commission that the two presidents announced [this month]," he said, "is a working group devoted to educational and cultural exchange, which shows we understand that this works."
But Beyrle also says cultural exchanges showed the great extent of misunderstanding between societies. Back in 1959, one of the guides at the American exhibition said it would have been enough to have set up stack of empty soapboxes: less than half a decade after Stalin's death, Soviets were desperate for any peek at Western life. Fifty years on, grassroots anti-Americanism is as strong as or stronger than it ever was during the Cold War, and Muscovites much harder to impress.
Nixon And Khrushchev In Moscow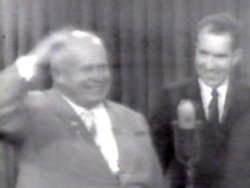 Nixon And Khrushchev In Moscow
A U.S. television newsreel from 1959 shows Richard Nixon and Nikita Khrushchev touring the American National Exhibition in Moscow, along with excerpts of their lively exchange. Play