The global economic downturn is likely to cut the amount of cash sent by millions of migrants worldwide to their families back home, the UN and other agencies have warned, and the impact is likely to be felt keenly in Eastern Europe and Central Asia.
The decline in remittances to Eastern Europe and Central Asia is compounded by soaring food prices that have left many people in the region's poorest countries on the breadline.
"A number of our countries -- Tajikistan, Moldova, for example -- have very, very high dependence on remittances," says Pradeep Mitra, the World Bank's chief economist for Europe and Central Asia.
"Therefore, as the world economy slows, as we expect it will -- there will be a slowdown in Russia, Kazakhstan, and Ukraine -- the poorer countries are going to be hit because the flow of remittances is going to go down."
But, he adds, governments can help alleviate the impact by better targeting subsidies at their poorer citizens.
Remittances In Numbers


Some 190 million people worldwide live outside the place of their birth, up to 40 million of them unauthorized, according to the UN. Of the total figure, Europe and Central Asia export 47.6 million migrants, or 10 percent of the region's population, according to the World Bank.
While European Union countries are a target destination for many Eastern Europeans like Moldovans, Russia is the primary destination for most Central Asian migrants and people from Armenia and Azerbaijan.
Last year, the Asian Development Bank estimated that more than three-quarters of all remittances to Central Asia and the South Caucasus came from Russia; for Tajikistan, the figure was 98 percent.
That flow of migrant workers helps makes Russia -- with some 12 million immigrants -- the second-biggest immigration destination in the world after the United States.
The picture is more complex, of course; migration flows go both in and out, and source countries are often recipients of large numbers of migrants.
The world's 10 top "migration corridors" -- as identified by the World Bank -- include Russia to Ukraine, and vice versa.
And though migrants generally go from poor countries to wealthier ones, a poll earlier this year by Gallup found that it's not the poorest of these citizens who express a desire to leave -- it's the relatively wealthy.
This year, the World Bank estimates that migrants sent some $283 billion back home to developing countries.
Of that, $54 billion went to the countries of Europe and Central Asia, and some are particularly reliant on this source of income.
In figure released this month, the World Bank says remittances made up 45.5 percent of Tajikistan's GDP last year. Moldova is not far behind: there the figure is nearly 38.3 percent. By comparison, in Kyrgyzstan, remittances made up 19 percent of GDP, and in Armenia, 13.5 percent.
That may not even be the full picture, as much of the money is sent through informal channels. The World Bank does not give figures for Afghanistan, Uzbekistan, Turkmenistan, or Iraq.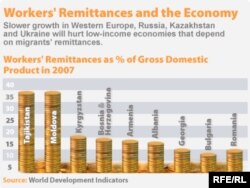 Afghanistan's central bank governor, Abdul Qadeer Fitrat, tells RFE/RL that some $13.5 billion flowed into Afghanistan last year, much of it contributions from international donors. But estimating the share of remittances is guess-work.
"Maybe about between $400 million-$500 million were remittances by Afghans. I don't have perfect statistics for remittances sent by Afghans abroad; we are developing these statistics," Fitrat says.
Declining Numbers
Remittance levels are likely to drop as a result of the financial crisis that began in the United States and has since spread across much of the developed world.
The crisis has spilled over into the real economies of Europe, sending many of them into recession. Russia is feeling the pinch, too, particularly from plummeting prices for oil and other commodities.
The International Monetary Fund has cut its estimate for Russia's growth next year to 3.5 percent, while the World Bank is even gloomier, cutting its forecast to 3 percent from a previous 6.5 percent.
That means fewer jobs for migrants who typically work in sectors of the economy that are sensitive to boom and bust, like construction.
In Kyrgyzstan, Economic Development and Trade Minister Akylbek Japarov says the decline is already happening. "The volume of the money transferred by our labor migrants from abroad via official channels has been shrinking, because most of them are based in Russia and Kazakhstan," he says.
"In Russia, a lot of big construction companies cut their work places by 30 percent this year, and they are going to cut it by up to 50 percent next year, shortening several top priority projects there," Japarov adds. "In Kazakhstan, you know, the crisis has been going on not only this year, but it started last year, especially in the banking sector."
In early November, the head of the UN's conference on trade and development, Supachai Panitchpakdi, warned that remittances worldwide could drop by up to 6 percent next year.
For Europe and Central Asia, the World Bank expects a modest decline in 2009 of 0.1 percent, before remittances bounce back in 2010 by a forecasted 6.4 percent.

'Resilient' During Downturns
The one relatively bright spot in this gloomy picture, the bank says, is that remittances are relatively resilient during economic downturns. In other words, the decline could be a lot steeper, were it not for several factors.
One is that remittances make up a relatively small portion of migrants' income, so they tend to keep sending cash home even if their income takes a hit. Another is a rise in anti-immigration sentiments in places like Europe. The bank says this appears to have encouraged those who have made it that far to stay for longer -- perhaps out of fear they might not be able to return so easily.
Another reason is rich countries' response to the crisis. Some are likely to increase public spending on infrastructure, thereby increasing the demand for workers, including migrants.
And Mitra of the World Bank says countries themselves can mitigate the impact to an extent.
"Policy makers can always act to alleviate the effects of shocks," he says. "There are some basic things that policy makers can do…. They can move some of their public expenditures more toward subsidies which are better targeted toward poorer people -- that is to say, replenish safety nets. Kyrgyzstan, for example, has a very good safety net; it could replenish it if it had the resources. That can cushion the impact of a fall in remittances, and I think that's a recommendation we make to many countries."