Five years ago, on March 8, 2005, the Russian authorities announced the death in a shootout of Chechen President and resistance commander Aslan Maskhadov.
His death was a milestone in Russia's struggle to preserve control over the North Caucasus.
Just weeks earlier, Maskhadov had unilaterally declared a cease-fire in what was to be the last of a series of overtures to Moscow aimed at negotiating an end to years of fighting that had cost hundreds of thousands of lives.
But then Russian President Vladimir Putin -- in contrast to his predecessor Boris Yeltsin, who condoned an armistice and the withdrawal of Russian troops from Chechnya in 1996 -- was obsessed with physically destroying every last fighter in Chechnya. Putin notoriously referred to "rubbing them out in the latrine" and categorically rejected any talks with "terrorists."

That fixation with military force has proven counterproductive.
As Maskhadov himself predicted in an interview with RFE/RL's North Caucasus Service shortly before he was killed, the Russian leadership's refusal to come to the negotiating table has only accelerated the spillover of fighting from Chechnya to the other, hitherto largely peaceful North Caucasus republics.
That process began even before Russia sent its troops into Chechnya in the fall of 1999 for the second time in five years.
"Unless the war in Chechnya is stopped quickly, it will spread outwards. In fact, it has been spreading for some time now. Today fighting can be seen in Daghestan, Kabardino-Balkaria, Ossetia, Ingushetia, Karachayevo-Cherkessia," Maskhadov said.
As an experienced military commander, Maskhadov responded by expanding his network of fighters, establishing new "fronts" in Ingushetia, Kabardino-Balkaria, and Daghestan. The commanders of those fronts were subordinate to the military leadership of the Chechen resistance.
But Maskhadov always insisted that his men avoid civilian casualties wherever possible. And he refrained from launching attacks outside the North Caucasus. His successors have not abided by those constraints. Doku Umarov, who was named resistance commander in June 2006 after Maskhadov's immediate successor, Abdul-Khakim Sadullayev, was killed, has revived the Riyadus Salikhiin suicide squad originally set up by renegade field commander Shamil Basayev. Its members regularly target police officers with no regard for possible civilian casualties.
Fighters loyal to Umarov have also claimed attacks elsewhere in Russia. They claimed responsibility for the explosion last August that severely damaged a hydroelectric power station in southern Siberia and for the bombing in November of a Moscow-St. Petersburg express train. (Moscow authorities have attributed the train bombing to Chechen extremists, but have dismissed terrorism in the dam explosion, attributing it to technical and infrastructure problems.)
Maskhadov sought above all to establish a negotiated agreement with Moscow that would give Chechnya the maximum leeway to develop as an autonomous democratic republic. Umarov by contrast has embraced jihad as the only way to secure independence for the entire North Caucasus.
Soviet Officer
Unassuming and soft-spoken, Maskhadov was a career Soviet army officer who at the age of 40 had risen to the rank of colonel and commander of an artillery division. Russian Army Colonel General Gennady Troshev, who commanded the Russian forces in Chechnya in 1994-1995, pays tribute in his memoirs to Maskhadov's professionalism and self-discipline.
But when the Soviet Union imploded in late 1991, Maskhadov resigned from the army and returned to Chechnya to head the armed forces created by then Chechen President Dzhokhar Dudayev. Maskhadov commanded the Chechen resistance throughout the 1994-1996 war. He was responsible for the recapture of Grozny by the resistance in August 1996.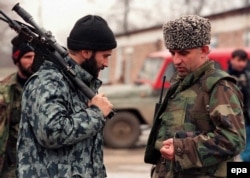 Maskhadov (right) with Chechen resistance fighter Shamil Basayev in 1999
RFE/RL North Caucasus Service director Aslan Doukaev, who witnessed that military operation, describes it as "brilliant."
"Maskhadov was, no doubt, a talented military strategist. During the 1996 operation to retake Grozny, several hundred fighters under his command, armed only with light weapons, brought a superior Russian military force to its knees within a few hours," Doukaev said.
Within weeks, Maskhadov and then Russian Security Council Secretary Aleksandr Lebed had signed a formal cease-fire. In January 1997, Maskhadov was elected Chechen president in a ballot that international observers pronounced free and fair. In May, he signed a formal treaty with Russian President Yeltsin on interstate relations between Chechnya and the Russian Federation.
That was perhaps the high point of Maskhadov's career. He was soon drawn in to a struggle for power with the more radical resistance fighters, first and foremost Basayev, who sought to undermine him. Under pressure from that Islamist wing, Maskhadov issued decrees imposing Shari'a law throughout Chechnya and stripping the parliament elected in 1997 -- one of his last remaining bastions of support -- of its legislative functions.
In the summer of 1999, Basayev defied Maskhadov by spearheading successive invasions of Daghestan and proclaiming an independent North Caucasus Islamic republic. Moscow responded with bombing raids on Chechnya, then launched a full-fledged invasion in October 1999.
Maskhadov's repeated appeals to the international community to persuade Moscow to begin peace talks went unheeded.
Instead, Putin named former Chechen mufti Akhmed-hadji Kadyrov to head a pro-Moscow regime in Grozny. That move paved the way for the inexorable rise to power of Kadyrov's son Ramzan, today the most influential and feared political figure in the entire North Caucasus.
Last summer, the Kremlin gave the green light for talks between Kadyrov's envoys and Akhmed Zakayev, who heads the Chechen government in exile.
But a planned world congress to cement reconciliation between Maskhadov's supporters and the brutal pro-Moscow regime in Grozny, scheduled for late February, has been postponed indefinitely.
Shortly after Maskhadov's death, Lebed's successor as Russian Security Council secretary, Ivan Rybkin, told RFE/RL he doubted whether the Chechen conflict could still be resolved peacefully.
Rybkin pointed out that "there are very few potential interlocutors left, and whether they speak Chechen or Russian they say very little that makes any sense, for of course there is a glaring absence of both the professionalism and the intellect needed to resolve and untangle the knots of bleeding problems both within Chechnya and across the North Caucasus."
Russian President Dmitry Medvedev's recent appointment of Aleksandr Khloponin to oversee the North Caucasus was clearly intended to resolve those "bleeding problems." But with the insurgency growing in strength daily, time is not on Medvedev's side.