Iranian Supreme Leader delivered an eagerly awaited address at Friday Prayers at Tehran University on June 19. In it, he signaled a hard line against public protests and strong backing for the country's "legitimate" president, Mahmud Ahmadinejad. RFE/RL senior correspondent Golnaz Esfandiari offers her analysis.
Iran Election Special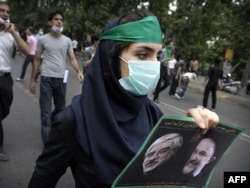 RFE/RL's Full Coverage
Following the disputed reelection of Iranian President Mahmud Ahmadinejad, supporters of Mir Hossein Musavi have taken to the streets to protest.
Click here
for news, blogs, and analysis of the presidential election and aftermath.