In early January, the daily dose of sarcasm that many Iranians had come to depend on in turbulent times disappeared from the blogosphere.
Alireza Rezaei failed to update his
popular blog
for days, prompting loyal readers to fear the worst. Had Rezaei's work caught the attention of the authorities, landing him in jail like scores of other Iranian bloggers and journalists?
Their fears were eventually eased when Rezaei posted an entry titled "joke flu" in which his departure was written off to sickness. Shortly afterward, with his trademark acerbic wit, he announced his full recovery to "secret agents, kebab sellers, home crocodile owners, those who enrich uranium, astronomers, drug dealers, and taxi drivers."
"Man amedeam, vay vay" ("I'm back"), he wrote, quoting a famous song by popular Iranian singer Googoosh.
Poking fun at a charge commonly used by the regime against political activists, critics, and those who participated in antigovernment protests in recent months, Rezaei wrote that his alleged "sickness" was merely an attempt by himself and others "to spread lies."
As it turns out, however, things were much more serious. Speaking by telephone from Iraq's Kurdish region, Rezaei tells RFE/RL that his own fears of official retribution prompted him to flee Iran.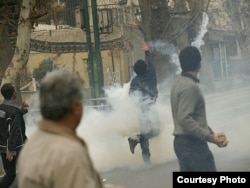 Rezaei says the violence that erupted during the Ashura protests persuaded him to leave Iran (photo: Dara).
"Given the conditions, as one of my friends said at the time, any one of my blog entries was enough [for officials] to charge me with 'moharebeh,' [waging war against God] and taking up arms against the Prophet and God and all the other charges they bring up [against opposition activists]," he says.
The intensity of the violence seen on Ashura, one of the most important events on the Shi'ite calendar, was the deciding factor in Rezaei's choice to seek safe haven. The death of eight protesters and the arrest of several hundred more raised the concerns of those, like Rezaei, who took to the streets that day.
Several days after the December 27 event, the blogger says, he was lucky enough not to be home when security officers came looking for him.
Freedom To Speak
Having been out of Iran for two months now, Rezaei declines to reveal the details of how, exactly, he escaped his homeland and made his way to northern Iraq. Aware that fellow Iranians might still be trying to make their way to safety and not wanting to cut off a possible route, he says only that he reached Iraqi Kurdistan "through the mountains." One day, the just-turned 35-year-old promises, he will write about it.
On his blog he posted a picture of himself sitting somewhere in the mountains of northern Iraq with a cigarette in hand and his laptop nearby.
"It's been exactly 58 days since I was smuggled though the mountains of Kurdistan to this side. It is not home, but you can stand and speak your mind from a location below the gallows," he wrote.
Rezaei believes it's no time for journalists and bloggers to be "heroes." He adds that those people who are expressing their critical views either have to remain silent and stay where they are, or go into hiding because of what they've said before. "If we want to continue, unfortunately -- and we are not happy about being outside -- this [escape] is the way now," he said.
According to a survey released earlier this month by the Committee to Protect Journalists, at least 52 journalists are imprisoned in Iran, accounting for a third of imprisoned journalists worldwide. Rezaei says about 20 of his friends and acquaintances are either in jail or free on bail. Others, he says, have left the country.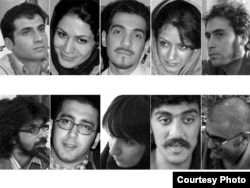 Dozens of journalists and bloggers have been arrested in Iran.
Reza Moini of the French media watchdog Reporters Without Borders estimates that more than 70 Iranian journalists and bloggers have fled following state pressure. "One of the aims of the state pressure on journalists to leave the country is to empty Iran of critical voices," Moini says. "This is damaging for the country."
'Change Will Come'
Rezaei believes his freedom in self-imposed exile puts him in an ideal position to spread information about the situation inside Iran. He intends to keep writing and blogging from afar. But his hope is that his stay is not a permanent one, and that he will be able one day to return to Iran. "We are travelers and we really don't want this ticket we have in our hands to be a one-way ticket," he says. "We want it to be a two-way ticket, and we want during the time we're [outside Iran] to serve the people we feel we belong to."
As one of his readers commented, Rezaei's blog has become a source of hope during a time of increased state repression and arrests of activists and intellectuals in the Islamic republic. Another fan writes on Rezaei's Facebook page, "In the past nine months your blog was the only thing that made me laugh and feel a bit of calm."
Rezaei endeared readers with his on-the-ground descriptions of opposition protests in Tehran, nearly all of which he says he attended. He tells of being beaten by Basij forces, his knack for being hit with tear-gas canisters, and how fellow opposition protesters behaved.
"It was as if everyone had four hands today: two of them to applaud, one to show the 'V' sign, and the other to hold their mobile phones and record the scene," he wrote after a July protest.
Months later, he says the feeling of injustice shared by Iranians who believe the election was stolen has not abated, and changes are in store.
Rezaei says he believes there will be a major change in the Islamic republic. "I don't know what form it will take. I don't agree with those who say there will be a regime change -- I don't think that is something to be expected," he says. "But there will be definitely a major change."
The "bad joke" the establishment has played on the Iranian people, he says, "has gone too far."