In the aftermath of this week's twin suicide bombings in Moscow, Uzlipat Gebekova is very careful about what she wears in public.
A resident of Makhachkala, the capital of the North Caucasus republic of Daghestan, Gebekova is living in Moscow temporarily while she studies jewelry-making. And she doesn't want anybody associating her with the two female suicide bombers who wore long black skirts to cover the explosive belts they detonated on the Moscow Metro, killing 39 Monday-morning commuters.
"The situation is very dangerous for us," Gebekova says. "Wearing a head scarf is a risk. I think even wearing a skirt would be dangerous. It's best just to wear trousers. To come here [to Moscow] now -- whether for business, education, or medical treatment -- is dangerous."
Life in Moscow is never easy for ethnic minorities, particularly people from the Caucasus. They are routinely subjected to discrimination, harassment, attacks, and humiliating document checks by police. But their situation gets even worse when terrorism strikes, returning the public focus to Russia's long-simmering conflict in the North Caucasus, and heightening resentment between ethnic Slavs and other city residents.
The Moscow-based Sova Center, which monitors racially motivated attacks, has recorded assaults on five members of ethnic minorities in three separate incidents since the March 29 attacks. Among those attacked were three females, including a 17-year-old Armenian girl and two Muslim women who were wearing head scarves.
For them, it doesn't matter where in the Caucasus somebody is from.
The Sova Center's deputy director, Galina Kozhevnikova, says the number of actual attacks is undoubtedly much higher, since minorities are often afraid to report such attacks and police are reluctant to investigate them.
"We know that many people who don't have a Slavic appearance have consciously avoided going out in public in the days following the attack. They are afraid of attacks," Kozhevnikova says.
Stress, Fear, And Grief
Chechen rebel leader Doku Umarov has claimed responsibility for the March 29 suicide bombings in a video posted on the Internet and said attacks on Russia would continue.
And with Moscow bracing for possible follow-up attacks, some politicians are making pointed statements that it is time for the government to take the gloves off and deal harshly with those responsible for plotting and carrying out terrorist attacks.
In remarks reported by the website gzt.ru, State Duma Deputy Aleksandr Gurov claimed that concerns over political correctness were preventing the authorities from dealing with terrorism effectively. "How much can we play with this so-called tolerance?" he said.
But tolerance is the last thing ethnic minorities are experiencing, according to Abdullah Duduyev, editor of the Chechen-language magazine "Dosh."
Duduyev says he and other Chechens in Moscow are "saddened by what happened," adding that those who perished in the blasts were "innocent people." He adds that "now it is the Chechens who will suffer, as they always do" in the aftermath of a terrorist attack.
"Attitudes toward us have gotten worse," Duduyev says. "When two Muslim women were beaten in the metro, not a single person in the crowded wagon stuck up for them. This shows the mood of society. Stress, fear, and grief are visible on people's faces. It is impossible to hide the aggression people feel toward outsiders."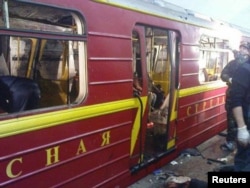 The twin suicide bombings killed 39 people
Central Asians living in the Russian capital are also fearful. "The atmosphere for our compatriots in Moscow is depressing. People are afraid and are going out less. We canceled a meeting two days ago due to security concerns," says Abdullo Davlatov, a leading member of Moscow's Tajik migrant community. "Police are checking documents more, but we have not yet had any complaints about attacks by nationalists or skinheads."

Outhouses And Sewers
Aleksandr Verkhovsky, director of the Sova Center, says the rhetoric used by the authorities has contributed to the climate of fear among minorities. This includes recent remarks by Prime Minister Vladimir Putin, who pledged on March 30 to "drag" terrorists "from the depths of the sewer." The comments were an echo of his notorious pledge in 1999 to "wipe out" terrorists while they were sitting "in the outhouse."
Verkhovsky says that instead of such provocative phrases, Putin should be using language that unites society.
"So this time the prime minister isn't going to wipe out terrorists in the outhouse. Instead he is going to get them in the sewer," Verkhovsky says. "Of course you need to go after the terrorists, but this over-the-top rhetoric is destructive. It encourages negative emotions. This is the prime minister speaking, not some common citizen talking in the kitchen."
Initially, Russian officials said they were focusing on the North Caucasus, where Moscow has been battling separatists for nearly two decades, to find those involved with the recent attacks. But Nikolai Patrushev, secretary of the National Security Council, suggested that Georgian involvement in the attacks "could not be excluded."
Russia and Georgia fought a bitter five-day war in August 2008 and relations between the two neighbors remain tense. The Georgian government -- which immediately condemned the attacks, offered condolences to the victims, and said it was prepared to assist in any investigation -- denied Patrushev's claim.
Johny Karatskhelia, president of Lazare, a Moscow-based Georgian community organization, says Patrushev's remark shows that all people from the Caucasus living in Moscow are under suspicion -- and therefore in danger.
"For them, it doesn't matter where in the Caucasus somebody is from. They don't make a distinction between a Chechen, an Ingush, a Georgian, or an Abkhaz," Karatskhelia says. "All Georgians and all people from the Caucasus are afraid of what will happen next."

RFE/RL's North Caucasus, Russian, Tajik, Georgian, and Echo of the Caucasus services contributed to this report