The sudden outburst of public unrest that followed Moldova's recent parliamentary vote surprised many inside and outside the country. But not Oleg Brega, a journalist and filmmaker who says the upheaval was the natural outcome of years of political repression.
A founding member of the Moldovan public activism group Hyde Park, Brega has been opposing the government for many years. But after glimpsing a brief chance for change in the April protests following the country's parliamentary elections, the 35-year-old now sees few opportunities left for activists like him.
"We don't expect to see change in Moldova -- because of this regime, [outgoing President Vladimir] Voronin, the Communist Party," Brega says. "After eight years of ruling, of governing, it started to behave as it is. It openly prohibits public assembly, it openly punishes people with opinions other than political ones, and now, after the fraudulent elections, they have started to prosecute even political parties, opposition parties."
Brega was involved in the postelection protests that
rocked the country
. He was beaten by police during the violence, and police subsequently searched his home and workplace, confiscating equipment and documents.
More than a month after the violence, the situation in Moldova remains quiet but tense.
The Communist Party of outgoing President Vladimir Voronin, who was confirmed this month as speaker of parliament, has retained its hold on an absolute parliamentary majority. Meanwhile, allegations of vote-rigging continue, as do claims that authorities abused protesters detained after the violence.
Public Discussion
Brega entered the world of political activism in 2001, the year when an earlier Communist victory sparked massive public protests. Brega began to host a nightly radio show -- called Hyde Park, in honor of the site of the Speaker's Corner in central London -- and opened the airwaves to public debate with ordinary citizens about the state of the country. The Interior Ministry soon intervened, and the program was shut down.
Undaunted, Brega went on to found the Hyde Park activist group, aimed at promoting free expression, access to information, and human rights. But its attempts to hold demonstrations were frequently thwarted. Even in instances where the group successfully petitioned the courts for the right to stage a protest, police would break up the gathering and arrest participants.
Brega says it has been more than a year since Hyde Park attempted to organize a street protest, because of the fear of police persecution. "We are not very involved politically," he says.
Hyde Park even dissolved its status as a registered group in order to avoid pressure from the state. But Evgheni Golosceapov, the executive director of the Moldovan branch of Amnesty International, says that even such drastic measures have not brought an end to the
authorities' harassment
.
"Usually [Hyde Park members] raise different kinds of issues which are not very comfortable for the government, or could be provocative to some extent for some groups within Moldovan society, and they try to express themselves -- to promote freedom of speech, freedom of expression -- in different, peaceful ways," Golosceapov says. "Many times they've faced different kinds of violations [against them] -- for example, detentions during peaceful protests, or detentions during flash-mob actions."
While the activities of Hyde Park seem to be a significant nuisance for the government, Brega -- who describes himself as a "free artist, a free journalist" -- says his opposition activities will never extend to him joining the political arena.
Stay Or Go?
Brega, in fact, is critical of the Moldovan opposition, who failed to turn out in force during the April protests and who now are negotiating with the Communists for a small political role.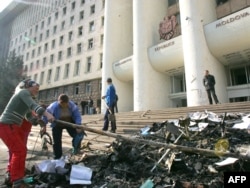 Clean-up following the April 7 violence at the presidential building in Chisinau
"Where was the opposition during those protests?" Brega asks. "So we're criticizing them and we are going to remain in the opposition to any liberal, democratic, or even communist government."
The government, meanwhile, has begun to crack down on nongovernmental organizations and other groups it says were responsible for the April protests.
Several bodies have been targeted by the Justice Ministry with demands to explain their roles in the demonstrations and any steps they may have taken to stir or stop the violence. Voronin has blamed neighboring Romania for stirring the unrest; Brega, who says he favors a unification of Moldova and Romania, is likely to be among the activists inviting special scrutiny.
The increased scrutiny has not been limited to local organizations. Amnesty International's Chisinau office was also subject to a visit by the tax police, who requested a copy of documents listing its members. Amnesty activists like Golosceapov say they are no longer able to work "free from harassment, obstruction, and intimidation."
"People do not feel comfortable in Moldova now," Golosceapov says. "People who felt the sense of freedom, of liberty -- those for whom freedom of expression is very important -- they are considering leaving the country. And this is not just one man, but many people."
'Nothing To Lose'
The conditions are all too familiar to Brega. Asked if a new wave of protests is likely in the near future, Brega paints a bleak picture. Even if the public is stirred to mount fresh demonstrations, he says, it is not likely to shift the balance of power in Moldova away from the government.
"It's almost sure to be the same scenario, because there are the same directors; the same police are acting on the streets," Brega says. "So I'm afraid every protest will have the same finish, the same results."
Asked about his future, Brega says he is likely to follow the thousands of Moldovans flowing out of the country in hopes of finding work -- and freedom -- as a filmmaker and journalist abroad.
The situation in Moldova, Brega says with resignation, is "long-lasting." But at times, his despair gives way to a kind of audacity regarding the state of Moldovan activism.
"We are freer because we have nothing to lose," Brega says. "We don't have anything to lose. We are free now."