Dmytro Chekalkin is credited by many Ukrainians for tearing down the Soviet-era convention that humor and politics are a dangerous mix. Chekalkin, a former military interpreter and Ukrainian consul to Israel, first rose to satirical prominence during the 2004 presidential race that led to the Orange Revolution.
Perhaps his best-known project at the time was "Merry Eggs," a series of Internet cartoons featuring a pair of eggs singing satirical songs and exchanging jokes. Five years later, Chekalkin says Ukraine is still hungry for humor, even if the novelty of overtly political content has faded. He spoke to Irena Chalupa, the director of RFE/RL's Ukrainian Service.
RFE/RL: Is there a tradition of political satire in Ukraine?

Dmytro Chekalkin:
During the years of Soviet rule in Ukraine you couldn't even mention political satire. Satire was in a very infantile stage then. There were some attempts at political satire, but it was only with the permission of the Communist Party. Just this morning I was reading an interview with [Soviet-era Russian satirist] Mikhail Zhvanetsky. He was allowed to tackle difficult topics only because Brezhnev himself liked listening to his sketches. Everything was under complete control; the political elite controlled the level of permitted satire the way we control the volume on our radios. This was not free expression -- it was something that was completely controlled from the top.
Roughly the same continued during the Kuchma era. The only Ukrainian newspaper which was allowed to print caricatures of Leonid Kuchma was the English language "Kyiv Post," whose American publisher sometimes would go into hiding, who was often not granted visas to enter Ukraine. Printing companies would regularly refuse to print his newspaper. I was the director of the Kyivske Vedomosti media holding and printed his newspaper in our publishing house.
In countries such as North Korea and Cuba, where politicians are glorified and worshiped as idols, the people live in poverty and dire conditions
Real free satire came into being in 2004 when we started the Merry Eggs ("Veseli Yaytsia") project after Viktor Yanukovych was hit with an egg in the city of Ivano-Frankivsk and tumbled to the ground. This was perhaps an answer on the part of our developing civil society to the authorities, who were trying to push one single presidential candidate through. I was particularly struck by some poll numbers that I came across then: 60 percent were ready to cast their votes for Viktor Yushchenko, but only 15 percent believed he would win. This was a very serious diagnosis for me, that people do not believe in their own strength, and the majority are in a state of apathy. Humor is one of those things that can get rid of fear and apathy and we used this fully. Our puppets traveled with Yushchenko and Yulia Tymoshenko during the 2004 presidential campaign and performed politically satirical songs in over 80 Ukrainian cities. During that time we received many responses from people all over Ukraine, who were grateful to have had an opportunity to smile and at the same time shed their fear and apathy. (Eds: Chekalkin also ran a
series
in 2004 featuring a family whose family members each supported a different political force in Ukraine.)
RFE/RL: Can satire do what other forms of expression, such as the printed word or cinema, cannot achieve?
Chekalkin:
I believe that irony and self-irony are the most appropriate form of interacting with our world; it's a way of overcoming gravity. Through laughter we not only get rid of our fears, but we also overcome our shortcomings. The sense of life is in finding the right way of laughing at your misfortunes and troubles. You know they say that a smile is one of the most pleasant things that you can do with your lips.
RFE/RL: You've been involved in political satire for some time now. Have you ever had any difficulty because of this? Have you experienced any repression because of your satire projects?

Chekalkin:
Threats were made, but for the most part these were anonymous threats. Often word-of-mouth criticism reached me. Once my door was spattered with rotten eggs in 2004. Sometimes when we have meetings with political opponents in public places unpleasant exchanges can ensue, but thank God there have never been any direct threats made or carried out.
RFE/RL: Ukraine is poised for another presidential election later this year, that is likely to see Yanukovych, Yushchenko, and Tymoshenko all squaring off against each other. What do you see as satirical fodder in this process, and who can be satirized effectively in this campaign?

Chekalkin:
Well, in fact they are all worthy of being laughed at. I always remind people that in countries such as North Korea and Cuba, where politicians are glorified and worshiped as idols, the people live in poverty and dire conditions. But in those countries where the politicians are under the constant eyes of the media, where they are made fun of and satirized, there people attain the highest standard of living, in countries such as Great Britain, the United States, France, or the Scandinavian countries, where political satire is an indivisible part of political and media life.
RFE/RL: Do you believe there is a point that cannot be crossed when doing satire?

Chekalkin:
Probably yes. Satire should be ruthless, but there are topics that should be closed to satire, such as one's nationality, physical disabilities, sexual tastes. There are subjects that are not worth being made topics of satire. We should not make fun of that which a person cannot control, such as their outward appearance, but rather that which the person says and does.
RFE/RL: Is there someone in the Ukrainian political scene who, more than anyone, else begs to be satirized?

Chekalkin:
Of course, this is our "proffessor." (Eds: a reference to Yanukovych, who in his 2004 presidential candidate application made numerous spelling and grammatical mistakes, including misspelling his former vocation as an economics professor. "Proffessor" became Yanukovych's common nickname during the 2004 campaign. The "Ukrayinska pravda" newspaper ran a
full reproduction
of Yanukovych's application.)
He has made so many mistakes in his life, he's mixed up the office he has held and made many mistakes in the writing of his own titles and positions. This is a challenge to all of society when a person who is running for the highest office in the land wouldn't, according to current Ukrainian law, have the right to even serve in the armed forces as a soldier, but lays a claim to the presidential office and the position of commander in chief of all of Ukraine's armed forces. Unfortunately, today he again has a realistic chance of running for office, so certainly he will remain the main subject of political satire in this country.
RFE/RL: Can we expect a revival of Merry Eggs?

Chekalkin:
Merry Eggs haven't stopped being merry. Every day thousands of people visit
our site
, listen to our shows on Ukrainian radio programs. The Merry Eggs continue to sing their songs. Today they don't have the political overtones that they once had. We've left politics a bit behind because people are exhausted by politics, we noticed that particularly on our site where the level of discussion had become much less political and new and promising political figures begging to be satirized have not presented themselves.
Political Humor Across The Region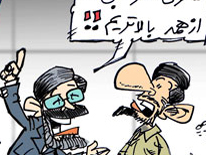 Satire Across The Region
In countries throughout RFE/RL's broadcast region, humor plays a special role for writers and artists seeking to shed light on corruption, violence, and repression. These editorial cartoons offer a cross-section of perspectives on issues from energy politics to press freedom. Play
The World According To Hozhaber Shinwary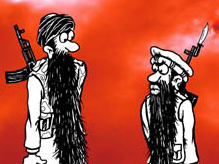 The World According To Hozhaber Shinwary
RFE/RL broadcaster Hozhaber Shinwary is one of Afghanistan's best-known editorial cartoonists. His drawings hold Afghanistan's leaders and their allies to account, and turn a satirical eye on corruption and violence. Play