NEW YORK -- The editor in chief of "Forbes" magazine, Steve Forbes, says the number of new billionaires in the world is a sure sign that the global economy is recovering from its brush with disaster.
"The number of billionaires has gone from 793 last year to 1,011 this year, almost to where it was [in] the record level of 2008," Forbes told reporters at a new conference in New York to announce the magazine's annual ranking. "The overall net worth of these billionaires is $3.6 trillion, up from $2.4 trillion just a year ago -- a 50 percent increase."
In 2009, the global financial crisis wiped out some 300 members of the dollar-billionaires club. This year, 164 of them are back on the list, joined by 97 first-time members.
The average worth of the world's billionaires is now $3.5 billion, or $500 million more than last year. These fantastically rich citizens come from 55 countries -- two of which have never before made the list: Finland and Pakistan.
The biggest surprise on the list is the world's new richest man. With a personal fortune of $53.5 billion, Carlos Slim Helu, a mobile phone mogul from Mexico, has dethroned Microsoft co-founder Bill Gates, who held the top spot for more than 10 years.
Gates is now second, followed by American investor Warren Buffet. Gates and Buffet have each donated billions of dollars to worthy causes, which decreased their fortunes and opened the door for Slim's rise.

Asia Charges Ahead
Forbes declared that Asia is leading the world's financial recovery and said the number of its billionaires, 234, reflects the "remarkable changes taking place in the global economy," as emerging economies flex their new muscles.
The United States, he says, is meanwhile slipping. The United States used to account for nearly half the names on the list, but now its share is just 40 percent -- or 403 billionaires. The United States still dominates the world economy, Forbes says, but he notes "it's not doing as well as the rest of the world in coming back from the financial crisis."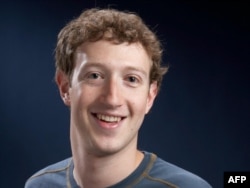 Facebook founder Mark Zuckerberg is the world's youngest billionaire.
This year there are 12 new female billionaires on the list for a total of 89 -- less than 10 percent of this exclusive group.
The youngest billionaire is the founder of the online social networking site Facebook -- 25-year-old American Mark Zuckerberger, whose net worth is estimated at $4 billion.
Romania has three billionaires, up from one in 2009; Ukraine has five, up from four; while the Czech Republic has three, up from one.
Senior "Forbes" editor Luisa Kroll says Russia is the comeback story of this year's list because so many names on the list -- 62 in all -- are returnees who fell off during the financial crisis. That's attributed to the strong rebound of commodities prices, particularly oil and gas, which the Russian economy has traditionally relied on.
"Forbes" uses 40 reporters in 13 countries to research people's wealth and verify information for the annual list.
Kroll says staff members send out written questionnaires to people they think might qualify for the list and generally get back three different types of responses: those who respond to every question and try to convince "Forbes" they're worth more than they actually are; those who cooperate but won't reveal all the information asked for; and those who refuse to participate at all.
She says lots of Russians fall into the last category.
"Russia has a lot of people that don't want to be on the list. They don't want to cooperate," she says, and they complain about their ranking.
Prickly Russians

Kroll says Russians pose some of the toughest cases for magazine staffers trying to separate fact from fiction.
For example, she says, discovering details about Yelena Baturina -- the wife of Moscow Mayor Yury Luzhkov and the only female Russian billionaire on the list -- has not been easy.
"We've obviously had some issues with her in the past, when our colleagues, 'Forbes Russia' -- who works with us on this list -- did a story, but we'll see," Kroll says. "Obviously, she's benefited from the general rebound in the real estate and construction sector."
Baturina -- with an estimated net worth of $2.9 billion -- is known for her aggressive approach toward media reports on her wealth. In 2007, her construction company Inteco successfully sued "Forbes Russia" over an article that detailed her business dealings.
In 2010, she successfully sued the "Sunday Times" of London for reporting that she was planning to buy an exclusive property in the city.
Billionaires want to keep a low profile for lots of reasons -- from personal safety concerns to not wanting financial competitors to know what they're up to. But sometimes, Forbes says, it's as simple as a marriage problem.
"The classic story we had on that kind of rich list was several years ago," he says. "Somebody complained very bitterly, not about our estimate of the wealth, but the fact that he was in the midst of a divorce and now his wife knew what to go for."