Inflaming an already heated presidential election race, Iran's influential former President Akbar Hashemi Rafsanjani has written an unprecedented open letter to Supreme Leader Ayatollah Khamenei.
In the letter, written in a poetic tone, Rafsanjani -- one of Iran's most influential officials -- calls on Khamenei to extinguish the "fire" sparked by President Mahmud Ahmadinejad's recent accusations against his main rival, Mir Hossein Musavi, and prevent that fire from spreading "through the election and beyond."
In a televised debate on June 4, Ahmadinejad, who is seeking reelection, claimed Musavi was backed by a number of "corrupt" officials, including Rafsanjani.
"What are [Rafsanjani's] sons doing in the country?" Ahmadinejad asked. "[Name] one of my ministers who have become billionaires during their tenure, or received properties. I have a list of lands confiscated [under other administrations] -- 40 hectares, 50, 400 hectares. Lawlessness exists among the sons of some of the gentlemen who now support you. How did the son of [former parliament speaker] Nategh Nuri become a billionaire? How is Nategh himself living? These are your supporters."
In making the claims, Ahmadinjead broke an Iranian political taboo by publicly accusing Rafsanjani and other senior officials by name.
Rafsanjani, who was defeated by Ahamdinejad in the 2005 presidential election, says he met with Ahmadinejad after the debate and asked him to withdraw the accusations. The former president also called on Iran's state broadcaster to give him airtime to reply to Ahmadinejad's accusations.
However, Rafsanjani writes in his letter to Khamenei, both requests were "practically" rejected.
'Unfounded And Irresponsible'
Rafsanjani chairs the Assembly of Experts that oversees the supreme leader's work and technically has the power to oust him. In his letter, he refers to Khamenei as a "companion" and says it is now up to him to resolve the problem.
It seems that Rafsanjani wrote the letter because it was clear it would get publicity and would be widely covered by the media, so that the leader would be less inclined to give a green light for election fraud to Ahmadinejad's supporters.
Rafsanjani writes that Ahmadinejad's "unfounded and irresponsible" remarks during the debate were reminiscent of the actions of "antirevolutionary groups" in the early years of the revolution. He says the accusations have targeted the "achievements" of the Islamic establishment.
Sadegh Zibakalam, a Tehran-based professor of political science, tells RFE/RL's Radio Farda that Rafsanjani's letter is an expression of concern over the undermining of Iran's ruling system.
"He's warning Ayatollah Khamenei that the branch that is cut is the one we're all sitting on," Zibakalam says.
Rafsanjani writes in his letter that "dozens of millions of people, inside and outside the country, watched [Ahmadinejad] lying and making false comments which were against the Shari'a [Islamic law], the law, morality, and fairness."
He also writes that it is necessary to have a "healthy and awesome election with maximum participation," which he believes would save Iran from "danger."
As Paris-based political analyst Hossein Bastani explains, the letter is also an expression of concern about the fairness of the June 12 vote.
"It seems that Rafsanjani wrote the letter because it was clear it would get publicity and would be widely covered by the media, so that the leader would be less inclined to give a green light for election fraud to Ahmadinejad's supporters," Bastani says.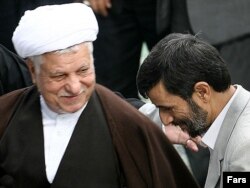 Iranian President Mahmud Ahmadinejad (right) and former President Akbar Hashemi Rafsanjani in friendlier times
The letter, which was published in full only by the semi-official Mehr news agency, puts Khamenei in a difficult position, and most observers don't expect him to provide an immediate public reaction.
The supreme leader, who has the last word in the Islamic republic, has not publicly backed any of the four candidates running in the presidential race. But he has made comments that have been interpreted as implicit approval of Ahmadinejad.
For example, on May 12, Khamenei said in an apparent reference to Ahamdinejad that Iranians should elect "those who have popular support and who live in a simple and modest way."
Ahmadinejad has a reputation of living a frugal lifestyle, while Rafsanjani in particular is known for his personal wealth.
'Set Of Lies, Slanders'
Any move by Khamenei showing support for Rafsanjani could be harmful to Ahamdinejad. And Khamenei's silence would mean acceptance of accusations against a senior member of the establishment and a longtime political "companion."
The letter also highlights the divisions Ahmadinejad has created within the Iranian establishment.
In the letter, Rafsanjani warns Khamenei that his reputation is being smeared by Ahmadinejad's "set of lies" and "slanders."
Bastani, however, believes Khamenei shouldn't feel threatened by Ahmadinejad, as Rafsanjani and the others do.
"[Ahmadinejad] has been in line with [the supreme leader], but he has attacked all the others, from senior clerics to how the country has been managed since the 1979 Revolution," Bastani says. "Naturally, by doing this he has united many individuals and forces against him. He had done it thinking that it doesn't matter; Khamenei's support is enough for him to fight them."
But such an assumption by Ahmadinejad, Bastani warns, might not necessarily prove correct.
Echoing Rafsanjani's comments, 50 senior clerics in Qom have expressed deep concern that Iran's image has been harmed as a result of the June 4 debate.
Iran Election Diary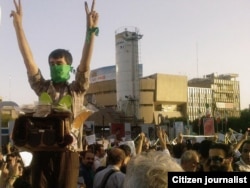 Disputed Presidential Vote
There have been protests and clashes with police on the streets of Tehran following the disputed reelection of Mahmud Ahmadinejad. RFE/RL collects videos, photos, and messages on social-networking sites coming out of Iran to attempt to get a picture of what is happening inside the country.
Click here