Western officials have recently expressed concern that Ukraine could follow Georgia as the next target of Russian intervention.
British Foreign Secretary David Miliband was in Kyiv on August 27 to discuss what he termed "a coalition against Russian aggression." His French counterpart, Bernard Kouchner, has warned that any move by Russia against Ukraine could be "very dangerous."
To assess Ukraine's security situation, RFE/RL's Ukrainian Service correspondent Maryana Drach spoke to Robert Hunter, the U.S. ambassador to NATO under President Bill Clinton (1993-98) and a current adviser with the RAND Corporation.
RFE/RL:
Do you feel that we are witnessing the beginning of a new Cold War?
Robert Hunter:
No, I don't. I think what the Russians did in Georgia was totally unacceptable. They grossly overreacted. I think they also grossly miscalculated their long-term interest. The Russians need the outside world. They've got all this pressure from China, their population is decreasing, they've got very little economically going for them, except for oil and gas. And for them to create a new Cold War, I think, would be a major failure of calculating their own interests.
RFE/RL:
What's the major lesson for Ukraine as it watches events in Georgia?
Hunter:
I think the major lesson is to continue building relationships with countries in the West, and particularly with the European Union. Also to continue being a vigorous member of Partnership for Peace, and for trying to shore up the NATO-Ukraine relationship. That's what I would do. And I would continue to work on my bilateral relationships with my Western neighbors to the extent I could.
RFE/RL:
President Viktor Yushchenko recently said Ukraine would need additional international guarantees to protect its sovereignty, and should join the collective security system by receiving a NATO Membership Action Plan. Is this realistic?
Hunter:
I think it is important, for Ukraine, for other countries, to demonstrate strong support for Ukrainian independence, for its democratic development, and also to do an awful lot more economically with Ukraine so that it can be a prosperous society.
In terms of formal agreements, if they were formal agreements that simply said, "We respect and we will support the sovereignty of Ukraine," that is one thing. But to start doing that in the framework, as though there were a new Cold War, I think actually could work against Ukraine. Because there are only a couple or three countries right now who would actually be prepared to use military force for Ukraine -- although if it were attacked I think a lot more would do so. So I think one has to be very careful about overresponding here in a way that might make matters worse.
RFE/RL:
Unlike Yushchenko, Prime Minister Yulia Tymoshenko is putting an emphasis not on NATO, but on the European Union, and the European collective defense framework. Will this help?
Hunter:
I think the relationship with the European Union, and with European countries, is the most important thing for Ukraine right now. In the final analysis, if for some reason -- which I do not believe -- Russia were to move militarily against Ukraine, then I think there would be a lot of countries engaged, including the United States. But we are nowhere near that, and I think it's important not to overemphasize the threat and just play into people's anxieties to no good purpose.
RFE/RL:
How serious is the threat to Ukraine, in your view?
Hunter:
I think there is political pressure from Russia. I think there would be economic pressure -- that is, efforts by the Russians to try to keep Ukraine from trying to build its ties to the West. But at the moment I see zero Russian military threat against Ukraine. The Russians would have to be insane in terms of their own self-interest if they were to do that.
RFE/RL:
What is the biggest threat to Ukraine's independence -- Russia, NATO, or the ongoing internal struggles between Ukrainian politicians?
Hunter:
Internal cohesion, pulling together, developing the economy, continuing to develop democracy -- this is a time, I believe, for Ukrainian politicians to focus on the development of the country and what's best for the country, and not pulling at one another.
RFE/RL:
Recently, the deputy head of the presidential office accused Tymoshenko of treason. At the same time, Tymoshenko and Yushchenko are part of the same government coalition. What does this mean? Is this fledgling democracy in action, with a system of checks and balances, or is it the wrong approach?
Hunter:
I think for people to be doing this kind of thing in Ukraine right now works fundamentally against the Ukrainian interest and against Ukrainian democracy. This is the time in which people have to take a giant step in the direction of democracy and the cohesion of the country. And for people to play that kind of game and issue that kind of threat and warning and accusation -- the only people who gain from that are the enemies of Ukraine.
RFE/RL:
How important a part will Ukraine play in the presidential campaign in the United States? Did the crisis in Georgia move Ukraine up the U.S. foreign-policy agenda?
Hunter:
I think people are watching the Georgia situation because it was attacked by the Russians. Most people here in the United States are not paying attention to Ukraine at all -- except in the context of the support here for countries in Central Europe who are democratizing and want to be part of Western institutions. If indeed the Russians were to do anything toward Ukraine, then the interest in it would rise instantly. But right now, from Ukraine's perspective, not being a center of American attention is probably a good sign.
RFE/RL:
The Ukrainian Defense Ministry says it is seeking to triple defense spending next year in order to address security issues. Is this the best way to address Ukraine's security issues?
Hunter:
Obviously, this is a decision for Ukraine to make. It could be psychologically important, at least to those Ukrainians who worry about Russia. It's unlikely to be "provocative" to Russia, unless it is just looking for a pretext to press on Ukraine, since nothing Ukraine does will really pose any military threat to Russia.
Ukraine's spending more on defense will not help it in terms of membership of NATO, since in reality the issue of the NATO-Ukraine relationship is about a) willingness of NATO countries to defend Ukraine if it were attacked; and b) about NATO and Russia realizing that the future of European security that works for all requires that they work out a productive relationship.
Also, Russia needs to understand that putting pressure on Ukraine, following Georgia, will cost it heavily in terms of long-term engagement in the outside world, which it very much needs, far more than others need Russia.
Leaving aside the psychology, I would put the money instead into economic development in areas that are likely to attract foreign capital, and enhance Ukraine's relationship with the EU, including getting it closer to the point where it will qualify for the next step toward membership in the EU.
Crisis In Georgia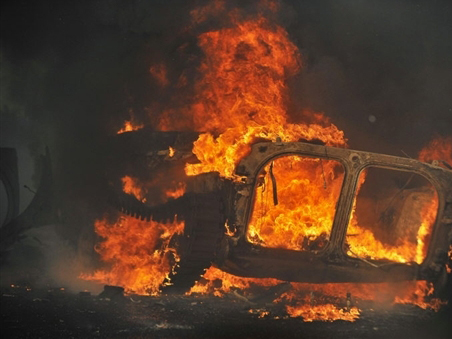 For RFE/RL's full coverage of the conflict that began in Georgia's breakway region of South Ossetia,
click here
.