WATCH: A reporter from RFE/RL's Azerbaijani Service visits two polling stations during the municipal elections in Azerbaijan and finds the same group of women and a man voting at both places.
BAKU -- Azerbaijan held local elections today amid reports of irregularities and falsifications, RFE/RL's Azerbaijani Service reports.
Elections were held to elect city council members in some 1,718 municipalities. More than 31,000 candidates contested the elections, representing 16 political parties.
RFE/RL reports that there was fraud and numerous other violations ranging from ballot stuffing -- the so-called "carousel operation" in which people vote in multiple precincts -- to the preannounced lists of winners.
The only international election observation mission was sent by the Council of Europe. Some 49,000 domestic observers reportedly also went to polling stations, but not all of them closely monitored the voting process as they were seen chatting and drinking tea and largely neglecting their monitoring duties.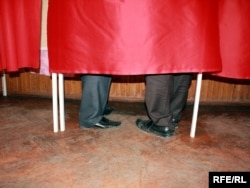 Two voters in one polling booth in Baku today
Meanwhile, several cases of election code violations were reported from various parts of the country.
In some constituencies, it seems local candidates mobilized their relatives to come and vote several times.
An RFE/RL correspondent followed a group of women involved in carousel voting. One of them said: "If it's needed, we can go and vote even five times." However, officials refuted the reports of carousel voting, arguing that it was unnecessary.
Azerbaijani human rights Ombudsman Elmira Suleymanova said she visited the polling stations where the carousel voting was reported to be taking place and she said election officials denied such things had taken place. But she said the reports are being investigated.
Ramin Huseynov, director of the Elections Information Center, said the CEC had received no complaints regarding the election process.
In many stations more than one voter entered the voting booths at the same time. Some election commission heads argued that some voters didn't know the Latin alphabet and therefore needed assistance with their ballots.
There were also reports of commission members helping voters mark their ballots, which is also considered a violation. Azerbaijan's electoral code allows voters to help each other but that assistance is not allowed to take place directly in the voting booths.
Some voters also demanded that officials give them documents that would prove their participation in the vote so they could show it to their managers.
RFE/RL reported that in some polling stations the election officials "forgot" to use the indelible ink intended to mark voters' fingers so they could not vote a second time. Some opposition party members complained their fingers had not been inked, which opened the way for multiple voting.
There were also several reports of ballot-box stuffing. Some observers asserted that despite the low voter turnout, the boxes were rapidly being filled.
The Central Election Commission says more than 20 percent of voters had taken part in the polls by 3 p.m. The most active constituency in the country was Salyan-Neftchala, while the most passive was Masalli.
In one polling station, teachers waited for the parents of their students to arrive to make sure they voted.
RFE/RL correspondents in Naxicvan were not allowed access to some polling stations. They were told special instructions had been given for them to be excluded.
Azerbaijan's electoral code requires the police to stay at least 100 meters away from the polling stations, but in various cases police were much closer to the polling stations.
The Central Election Commission said it will announce the results of the elections within two days.