Recent visits to Iraq by senior French and German officials suggest that the European Union is eager to pursue more active relations with Baghdad, and could soon seek a more unified policy on Iraq.
Any new tack aimed at greater engagement is likely to be welcomed in Baghdad, where Prime Minister Nuri al-Maliki's government has signaled its eagerness to "attract visitors" to Iraq and thereby expand its diplomatic reach and boost trade and economic ties.
On February 10, President Nicolas Sarkozy became the first French head of state -- and the first Western leader of a country that did not take part in the U.S.-led coalition to oust Saddam Hussein -- to travel to Iraq. German Foreign Minister Frank-Walter Steinmeier followed this week with a two-day trip to Iraq.
"It is clear that Iraq is currently passing into a new phase from the period that followed the change of the old [Saddam Hussein] regime," Iraqi Deputy Foreign Minister Muhammad Haj Hmoud told RFE/RL's Radio Free Iraq on the heels of the German visit.
Hmoud said newfound stability and elections are "why we see ministers, important officials, and head of states coming to Iraq," adding, "We even expect more [such high-level visits] during this year."
Getting 'Re-Engaged'
The French daily "Le Figaro" suggested in a recent editorial that a high-level French visit had been on the cards since November, when the United States pledged to pull combat troops out of Iraq by 2012, ending a period of U.S. "political tutelage."
The paper said Iraqi Prime Minister Nouri al-Maliki "deserves support -- all the more so to mark his autonomy from the United States."
Christopher Pang, who heads the Middle East and North Africa program at the Royal United Services Institute (RUSI) in London, told RFE/RL that Sarkozy's visit reflects "a change in attitude within Europe toward the mission in Iraq."
"With the election of President Barack Obama, the French presidency has shown a keen interest to re-engage, not just in the Middle East but to show its support for the U.S. administration as it plans a slow and hopefully responsible withdrawal from Iraq," Pang said.
Pang speculated that Washington is not averse to opening up the playing field to friendly comers as it seeks an exit from Iraq. Initially reticent, Arab countries are becoming increasingly engaged in Iraq and are loath to see Iran step in to fill the void.
The European Union, which has already given some 900 million euros in aid to Iraq since 2003 but avoided direct involvement in reconstruction, could offer another potential major pillar of support for Iraq.
In Baghdad, Sarkozy told reporters that "all Europe should come."
Former British diplomat Daniel Korski, who is now an analyst with the London-based European Council for Foreign Relations (ECFR), said France has appeared to angle for a lead role in engaging Iraq, as in other areas since Sarkozy became president in 2007.
"There is, until now, no broader, politically led, European Iraq initiative," Korski said, "and I think what we're seeing with President Sarkozy is flagging up not just to U.S. President [Barack] Obama that France remains a key ally and wants to help out, but also to European allies, saying, 'Something needs to be done better here in the EU's relationship with Iraq.'"
Deeper Undercurrents
That Germany appears to have followed the French lead bodes well for the possible emergence of a single "European" policy on Iraq.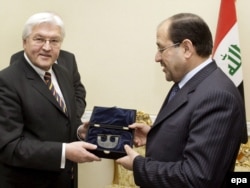 Foreign Minister Steinmeier (left) made his surprise visit to Baghdad just a week after the French president's.
Publicly, Steinmeier said the timing of his February 17-18 visit to Iraq was coming at a "suitable time" and was tied to improvements in the security situation.
"The German companies should study the possibility of increasing their presence in Iraq, given the improvement in the security situation," Steinmeier said. "I would like to say that we have seen a noticeable improvement in the field of security over the last couple of months."
Together with France, Germany led Europe's antiwar coalition in 2003, and the old divisions still persist. Only one member of the German government had visited postwar Iraq before Steinmeier -- Economy Minister Michael Glos in July 2008. "Frankfurter Allgemeine Zeitung" reported on February 18 that Steinmeier had argued against that visit, saying Berlin should await the outcome of the U.S. presidential elections.
The same paper quoted Steinmeier in Baghdad as saying that the "turnaround" in Germany's Iraq policy was a response to the change of administration in Washington and the growing independence of the Iraqi government, as well as to security improvements and political consolidation under Prime Minister al-Maliki.
In France's case, Sarkozy had succeeded one of Europe's most outspoken critics of the Iraq war in Jacques Chirac. But his first attempt to establish closer links with Baghdad, in August 2007, backfired when Foreign Minister Bernard Kouchner said that al-Maliki was too weak and ineffectual to do the job in Iraq. He subsequently apologized for the remark.
Attractive Partner?
Al-Mailiki has since consolidated his hold on power, and his party comfortably prevailed in Iraq's provincial elections earlier this month.
Standing next to Sarkozy during the French leader's visit, the Iraqi prime minister took an apparent dig at the United States, saying "the time for pressuring the Iraqi government has passed -- we know where our responsibilities lie."
Sarkozy, in turn, promised French support "in all domains" and "without interference."
The French president mentioned cooperation in military and police training, cultural exchanges, and trade links. He also announced an upcoming visit to Baghdad by Prime Minister Francois Fillon and said a business delegation would travel to Iraq "before summer." Sarkozy also invited his Iraqi counterpart, Jalal Talabani, to visit France this year.
Karim Pakzad, a French analyst, suggested in "Le Monde" on February 10 that Paris anticipates "immense" business opportunities in war-ravaged Iraq. "Iraq is a rich country despite all its difficulties," Pakzad said. "Its budget last year was in excess of $85 billion, mostly derived from oil exports, and the Iraqi government does not know what to do with the money."
Steinmeier, like Economy Minister Glos before him, was accompanied by a delegation of German business leaders who touted huge potential profits from Iraq's evolving privatization process, according to "Frankfurter Allgemeine Zeitung."
"The new situation in Iraq is behind attracting visitors," Deputy Foreign Minister Hmoud told Radio Free Iraq. "The improvement in the security situation, the big economic hopes, and the huge resources Iraq has are encouraging others to establish direct relations with Iraq. Those relations will later turn into mutual interests, [and] this is the bottom line in international relations."