(RFE/RL) -- Legendary Russian writer Vasily Aksyonov -- one of the last Soviet-era writers to endure a ban by Kremlin censors and be stripped of his citizenship -- has died in Moscow after a long illness.
He had been battling for his life since suffering a stroke while driving his car in January 2008.
Despite the long illness that followed, news of his death rocked his friends, colleagues, and legions of admirers worldwide.
Natalia Ivanova, the deputy editor of Russia's "Znamya" magazine, says Aksyonov was loved by generations of readers.
"The expression 'favorite writer' fits him better than anyone else," Ivanova says. "The late Vasily Pavlovich Aksyonov was very much like his books. He was charming, and his books were extremely charming. Readers had a special relationship with him.
"One wanted to read Aksyonov over and over, because the pleasure with which he worked was magically transmitted to his readers."

Instant Success
Aksyonov was not only one of Russia's favorite writers. He was also one of the most prolific, with more than 20 works spanning almost half a century.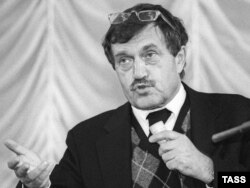 Aksyonov in Moscow in 1989
Born in 1932 in Kazan, Aksyonov devoted himself to literature in 1960 after medical studies in Leningrad.
His first work, the short novel "Colleagues" published in 1960, was an instant success. "Ticket To The Stars," published a year later, established him as one the country's leading writers.
Encouraged by his early success, Aksyonov published a series of novels, plays, and short stories. Many of his works were published in the magazine "Yunost," for which he worked for several years as a staff writer.
Writer Vladimir Voinovich, a close friend of Aksyonov, remembers those early years.
"His very first publications brought him fame. I remember what a sensation 'Colleagues,' 'Ticket to the Stars' made, how quickly readers snatched them up," Voinovich says. "This fame never left him -- not when he was tolerated by Soviet authorities, not when he was in conflict with them, not even when he was forced to leave his country."
In 1980, Aksyonov and his wife were stripped of their Soviet citizenship during a trip to the United States.
That move by the Soviet government capped off a decade of increasing difficulties for the author, who had experienced serious run-ins with government censors in the early 1970s before being branded "anti-Soviet" and banned from publication altogether.
His past also played against him. Aksyonov's parents were both imprisoned in 1937 during the Stalin purges, and Aksyonov sent to an orphanage for children of "enemies of the people."
Stripped Of Citizenship
One of his most significant works, "The Island of Crimea" -- a reimagining of history in which Crimea has resisted the 1917 Bolshevik Revolution and become an isolated outpost of democracy -- was written during this forced decade-long silence.
Despite his publication ban, some of his works were leaked and published abroad, prompting the trip to the United States and the stripping of his citizenship.
"In America, a writer is always outside any kind of political struggle, because there are many professional politicians who are engaged in politics," Aksyonov told RFE/RL's Russian Service in Washington in January 1982.
"In Russia, in the Soviet Union, there are no people involved in politics at all, not even at the very top, because there is no politics. In other words, there are no politicians as such. Therefore, [Russian] society often expects writers to make some political revelations," he said.
Stranded away from home, Aksyonov made a living by teaching Russian literature at various U.S. universities.
In 1989, the Soviet Union lifted the ban on his publications. One year later, his Soviet citizenship was restored.
Perhaps his most famous work, "Generations of Winter," was published a few years later in 1994, inspiring a 22-part Russian television series.
But it was not until 2004 that Aksyonov ultimately left the United States to split his time between Russia and the French Riviera.
He died in Moscow on July 6. He leaves behind his wife and a son.
RFE/RL's Russian Service contributed to this report
.