Fugitive Kazakh banker Mukhtar Ablyazov has vowed to continue publishing documents implicating Kazakh President Nursultan Nazarbaev's son-in-law, Timur Kulibaev, has been involved in corrupt business deals, RFE/RL's Kazakh Service reports.
On February 1, Kazakh officials impounded the editions of five opposition and independent newspapers that contain a statement by Ablyazov alleging serious corruption by Kulibaev.
Ablyazov told RFE/RL in an exclusive interview he was aware of a defamation lawsuit filed by Kulibaev against him and the newspapers but that it wouldn't deter him.
An Almaty district court ordered the seizure of the newspapers after Kulibaev filed the lawsuit against the publications "Respublika," "Golos Respubliki" (Voice of the Republic), "Vzglyad" (Glance), "Kursiv," and "Kursiv-News."
Ablyazov alleged in the newspapers that Kulibaev illegally obtained tens of millions of dollars in a deal with Chinese National Petroleum Corporation several years ago.
Ablyazov left Kazakhstan for London in 2009 after his BTA Bank was taken over by the government.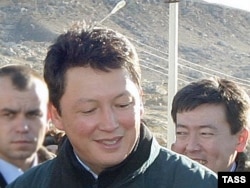 Presidential son-in-law Timur Kulibaev
He says there is a positive side to Kulibaev's lawsuit against him. "Since this is a civil case, the trial should be open, and if it is open I am ready to prove every word of mine with documents and other materials I have," he said.
Ablyazov said this is also a good opportunity to check if Nazarbaev was sincere when he said publicly several times that his children and other relatives are not special and are like all citizens of Kazakhstan.
He said he intends to make several more public statements via the Internet and independent media in the near future.
Ablyazov said a group of businessmen approached him recently seeking some documents I have "so that they could file lawsuits against Kulibaev, and I am ready to help them." He said the time has come for Kazakhstan's business community to clear up some issues with Nazarbaev's second son-in-law.
Kulibaev is an executive in many of Kazakhstan's energy-related businesses and the husband of Nazarbaev's second daughter, Dinara.