The comparison was a grand one.
London's Group of 20 (G20) summit and Bretton Woods, the 1944 conference that led to the creation of the modern financial system, including the International Monetary Fund and World Bank.
In October, British Prime Minister Gordon Brown called for building "a new Bretton Woods, a new financial architecture for the years ahead. Sometimes it does take a crisis for people to agree that what is obvious and should have been done years ago can no longer be postponed, but we must now create the right new international financial architecture for the global age."
But if Brown hoped this week's summit of 20 leading industrialized and developing countries would be a kind of "Bretton Woods II," officials themselves played down expectations.
Brown's finance minister, Alistair Darling, recently called the meeting part of a process, saying problems could not be sorted in one day.
The run-up also was marked by differences in approach among G20 members on whether the emphasis should be on further spending to boost growth -- as Washington had advocated -- or tighter market regulation, the priority for continental Europe.
There have also been protests that began on April 1 in London's financial district and included skirmishes with police, damage to buildings, and one death that authorities suggested might have been attributable to a previous medical condition.
As leaders converged on London ahead of the G20 meeting, thousands of protesters on April 1 besieged select targets including the Bank of England. (Reuters video)
Ahead of the meeting, French President Nicolas Sarkozy reportedly threatened to walk out of the summit if it did not agree to a sufficient tightening of the rules of global finance, particularly tax havens, which he wants curbed.
And on stimulus, Germany's Chancellor Angela Merkel again made plain on April 1 her country had already agreed to hefty spending packages.
"The point is that the Europeans have already developed a broad anticrisis program for this and next, to the tune of 3.3 percent of the EU's total GDP," says Gernot Nerb, director of the IFO Institute for Economic Research in Munich.
"This explains not only the refusal of EU to follow the calls of the United States, but why it wants to wait. The Europeans do not intend to take any further measures until it's clear what effect those already agreed will have."
On the eve of the summit, Obama acknowledged that G20 leaders would not agree on every point. But he said the differences between the nations were "on the margins" and not the core ideas.
He said most nations had already announced fiscal stimulus, and that Washington had recently proposed an overhaul of its own regulatory system -- "as aggressive a set of measures as any" among G20 countries, he called it.
'Big Plus' For Developing World
So what is the summit likely to achieve?
First up -- more funds for the International Monetary Fund (IMF) to help countries in crisis. The G20 is expected to agree to at least double the IMF's resources to $500 billion.
Leaders could also agree on billions of dollars more for trade finance and an increase in lending to poor countries by banks like the Asian Development Bank.
That would amount to a "big plus" for developing countries, says Vanessa Rossi, a senior research fellow in international economics at the Chatham House think tank in London.
"And where the problems are is in the developed countries, which really have difficulties looking at a new strategy to relaunch their economies," Rossi adds.
The summit is also likely to be marked by a demand from some of the big emerging nations in the G20 -- such as China and India -- for more say in the global economy.
Leaders are expected to agree that emerging economies should have a bigger say in international financial institutions such as the IMF. But a draft summit communique circulated by Reuters does not give specifics.
"China has grown, India has grown. That's why they want to increase their quota [of IMF voting rights] and invest more money [in the IMF]," says Michael Bernshtam, research fellow at the Hoover Institution in California.
"Well, it is unlikely anyone will disagree. One day there might be a problem if China or other countries grow to such a size in the global economy that they have more voting rights than the United States, the European Union and Japan combined. But so far that's not the case."
On other issues, the leaders are also seen as agreeing tighter regulation of banks, as well as regulation for financial institutions like hedge funds that are big enough to pose a danger to the whole financial system.
Last week U.S. Treasury Secretary Timothy Geithner outlined his own plans for U.S. regulatory reform -- those "aggressive" measures Obama referred to -- including proposals to regulate hedge funds and derivatives markets.
At the time, Geithner said there should be "appropriate global oversight." But in the "Financial Times" on March 31, he said there was no need for a global regulator. Instead, the draft communique stresses greater consistency and coordination between national regulatory authorities.
The important thing is for countries to harmonize financial regulation, says Richard Jackman of the London School of Economics. "Otherwise you get what you might call regulation shopping, where banks and other financial institutions locate themselves in countries where they feel the regulatory system is most indulgent," he says.
"There will be a lot of effort to avoid that, therefore a safe prediction is there will be an agreement to coordinate work on developing financial regulations so that they can be acceptable to as wide a range of countries as possible."
Trade Promises
On trade, leaders are expected to pledge to avoid protectionism.
Leaders made the same promise last November, but since then the World Bank says no fewer than 17 of the G20 members have imposed some form of protectionist measures.
So a renewed pledge might not amount to much. "If on the other hand governments come out and say, 'We're not going to engage in protectionist measures and we're going to monitor each other and get someone else to do some serious monitoring of us,' that would have more teeth," says Simon Evenett, a professor of international trade at Switzerland's University of St. Gallen.
"Ultimately they've got to back up whatever their words are with some type of monitoring mechanism that names and shames the countries that break this pledge."
Host Brown says he's aware talks will be difficult, but that he's hopeful leaders will reach agreement.
And he will surely want to avoid parallels with the last global economic summit hosted by London at a time of crisis. The 1933 London Monetary and Economic Conference collapsed in disunity.
Sergei Seninski of RFE/RL's Russian Service contributed to this report
World Economic Crisis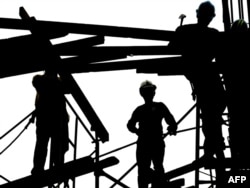 Multimedia coverage on the impact of the global financial crisis on markets and individuals across RFE/RL's broadcast region. More