Finance ministers from the world's biggest economies have pledged to take "whatever action is necessary" to restore growth in the face of the global downturn.
"There is no one in the world that does not realize this is the single biggest challenge the world has faced in generations," said British Chancellor Alistair Darling, who hosted the meeting in southern England of the Group of 20 (G20) developing and industrialized states.
But he also said the group had agreed on a number of steps that gave a "clear sense of direction."
They would do whatever it takes to restore growth, including keeping interest rates low for as long as necessary.There would be a "substantial" increase in International Monetary Fund (IMF) resources to help rescue countries in trouble.
They agreed, too, on a common set of principles to guide them as they clean banks of the "toxic assets" at the heart of the crisis.And they said there was a need for greater oversight of hedge funds and credit-rating agencies.
"You are seeing the world move together at a speed and on a scale without precedent in modern times," U.S. Treasury Secretary Timothy Geithner said. "All the major economies are putting in place substantial fiscal packages. The stronger the response, the quicker recovery will come."
Split On Stimulus
Ahead of the meeting, Washington had been pressing other countries to follow its lead and commit to more spending to lift their economies.
But that call had been rejected beforehand by several European countries, notably France and Germany, which wanted the emphasis to be on tighter market regulation.
Instead, the G20 agreed that the IMF would look at the budgetary actions taken already and judge if any more were needed.
Professor Richard Jackman of the London School of Economics says the lack of agreement on greater fiscal stimulus was disappointing but expected.
"Cooperation on financial regulation is all very well and good, but it's not an alternative to cooperation on the fiscal side," Jackman says.
"The immediate problem is a sharp fall in demand throughout the world and that is best addressed through all the nations acting together to do what they can to restore demand and financial regulation is neither here nor there from that perspective."
Still, if the meeting was short on specifics, it was also broadly positive in that there was no public show of bitterness over differences.
"It hasn't been a bad meeting in that it hasn't broken up with any acrimony that could have disturbed things, and we can tell that as well from the way markets opened up fairly calm today," says Vanessa Rossi, a senior research fellow on international economics at London's Chatham House think tank.
"So [it could] probably [be] taken as bland but OK, setting the scene, we hope, for a few announcements to come out on April 2," Rossi adds. That's when G20 leaders, including U.S. President Barack Obama, are to hold a summit in London.
Rossi believes the summit should give specifics, particularly as regards bolstering IMF funds. "We need to know more than just 'we're going to increase it,'" she says. "We want to know the numbers and we want to know if that's going to meet the needs of so many countries around the world."
Some more specifics -- for example, how governments plan to clean the banks of bad assets -- might emerge before that summit.
Geithner said during the meeting he would "soon" unveil details of his $1 trillion clean-up plan, after it was criticized by some lawmakers last month as being too vague.
World Economic Crisis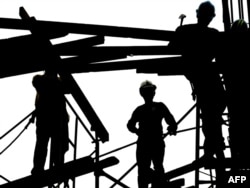 Multimedia coverage on the impact of the global financial crisis on markets and individuals across RFE/RL's broadcast region. More