In February last year, Iran's Intelligence Ministry produced a broadcast about Americans it said were plotting against the regime. The video mentioned well-known names like Senator John McCain and financier George Soros.
The video also mentioned a little-known academic: Gene Sharp:
Known as the "Clausewitz of nonviolent warfare," Dr. Gene Sharp, an 81-year-old former Harvard researcher, is the author of a how-to manual for nonviolent struggle.
Titled "From Dictatorship to Democracy" and first published in 1993, the book has influenced movements for peaceful political change, from Serbia to Azerbaijan to Burma.
The book is now published in 33 languages, including Arabic, Azeri, Belarusian, Kyrgyz, Farsi, Pashto, Russian, Serbian, and Ukrainian.
According to Sharp and longtime associate Robert Helvey, "From Democracy to Dictatorship" resulted from a trip that Sharp took to the Thai-Burma border region in the early 1990s. Sharp became friendly with several Burmese opposition activists who asked for advice on waging a nonviolent struggle.
I'm not advocating anything except that people who face dictatorships [should know] that nonviolent alternatives to deal with dictatorships exist
In response, Sharp wrote the manual, condensing into 88 pages ideas he had written in earlier scholarly work. The manual was published in 1993 in Burmese.
Unanticipated by Sharp, the manual caught the interest of opposition figures outside of Burma.
Helping Bring Down Milosevic
Sharp's ideas were embraced by several activists in Otpor, the Serbian opposition movement that helped drive Slobodan Milosevic from power.
Otpor activist Srdja Popovic told RFE/RL that the group was introduced to Sharp's teachings in April 2000.
It "helped a lot, primarily to me and a few others who were involved in training activists. [It helped make] that training stronger and better," Popovic said.
Sharp's recommendations for nonviolent ways to change regimes range from the creative use of banners and slogans to mobilize supporters, to organizing strikes and boycotts, to strategies of civil disobedience.
Since Otpor's success in Serbia, translations of the book have multiplied.
The activist responsible for the Russian translation is Oleg Kozlovsky, a leader in the Russian youth movement Oborona. Soon after the Orange Revolution in Ukraine, Kozlovsky says he was looking around for books on nonviolent advocacy.
"Somehow I found [Sharp's] book 'From Dictatorship to Democracy' on the Internet and as I read it I realized that it was exactly what I was looking for. My own thoughts and ideas were very well stated there and it was just the book that we needed at that point," Kozlovsky says.
The manual has recently been translated into Pashto. The first edition was printed in Peshawar last year, and the second edition will be released in Kabul in the coming days.
Nevertheless, many readers of Sharp's manual have never owned a printed copy. Readers are downloading the book from websites, carrying pen drives or CDs with the book, or receiving PDFs of the book emailed from friends.
Although "From Dictatorship to Democracy" was originally intended for activists in Burma, its contents are devoted to the generic problem of ending dictatorship.
"I'm not advocating anything except that people who face dictatorships [should know] that nonviolent alternatives to deal with dictatorships exist. And it's up to them if they decide they want to try to implement that," Sharp said in an interview with RFE/RL.
The book is predicated on the idea that any effort to achieve a nonviolent revolution should be based on a "wise grand strategic plan." While conceding that many successful opposition movements have been unplanned and spontaneous in the past, Sharp asserts that improvisation should not always be relied on.

'Protest And Persuasion'
In his book, Sharp offers 198 methods of nonviolent action, which he divides in three categories. First, he offers 54 "protest and persuasion" tactics. These suggestions range the use of colorful banners to more esoteric techniques like employing "rude gestures."
Second, Sharp offers 103 techniques of "non-cooperation." He suggests tried-and-true methods like strikes and boycotts. He also has more original ideas.
For instance, one technique suggested by Sharp is "Lysistratic nonaction." This tactic, drawn from the Ancient Greek comedian Aristophanes, calls for women to refuse relations with their husbands until they change their political behavior.
Lastly, Sharps offers 41 methods of "nonviolent intervention." He calls for the use of psychological, physical, social, economic, and political methods to end dictatorial regimes.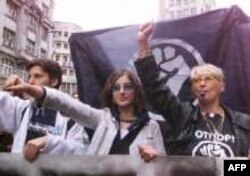 Serbia's Otpor were inspired by Dr. Sharp
At the heart of Sharp's beliefs is the importance of nonviolence. The author of a 400-page study on Gandhi, Sharp holds that regimes "nearly always" enjoy superiority when it comes to the use of military force.
Nevertheless, Sharp concedes that Gandhi-style tactics might not be effective against the most ruthless of regimes.
As an Azerbaijani opposition activist told RFE/RL, Sharp's tactics can be considerably more effective in places where authorities feel circumscribed in their repression.
Despite his pacifistic ideas, various regimes -- from the Burmese military junta to the Chavez government in Venezuela -- have scathingly criticized Sharp's work.
Since the postelection unrest in Iran, Sharp's manual has received a burst of attention in that country from opposition protestors -- and their adversaries.
There is a certain irony in the criticism of Sharp as an outside agitator. After all, Sharp warns opposition leaders against taking direction from foreign powers.
Those living under dictatorship, he writes, must lead their own struggle for democracy.
Contributors to this story include Mazyar Mokfi and Charles Recknagel in Prague and Ljudmila Cvetkovic in Belgrade