STEPANTSMINDA, Georgia -- Lali Pitskhelauri lives just a short drive away from her sister. But the two women haven't seen each other for more than a decade.
Pitskhelauri runs a small guest house and a roadside kiosk in the Georgian town of Stepantsminda, not far from the Russian border. Her sister lives on the Russian side of the frontier in the North Ossetian capital of Vladikavkaz.
Between them stands the Zemo Larsi (Verkhny Lars in Russian) checkpoint -- the only land border crossing between Russia and Georgia that does not pass through Georgia's Russian-backed separatist regions of South Ossetia or Abkhazia.
Pitskhelauri says she hasn't been able to visit her sister for 11 years.
"How do you think it feels? And it is all because of politicians. It is politicians who closed the road and cut us off from each other."
She asks, distraught, "Why shouldn't we be able to visit each other?"
Victims Of A Decade-Long Struggle
Pitskhelauri and her sister are unintentional victims of a long-standing struggle between Tbilisi and Moscow, which has escalated markedly during the past decade as Georgian President Mikheil Saakashvili has sought to steer his country into NATO and out of Russia's sphere of influence.
Russia closed the Zemo Larsi crossing in 2006, as relations between Moscow and Tbilisi deteriorated following the arrest of four alleged Russian spies by Georgian authorities. Diplomatic relations were ultimately severed following the five-day war in August 2008.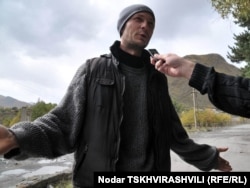 Giorgi Khutsishvili, resident of Stepantsminda, a town close to the Georgia-Russia border
The two countries agreed to reopen Zemo Larsi in March. But in the absence of diplomatic relations, it remains difficult -- often prohibitively so -- for Russians or Georgians to cross it.
That, however, is about to change -- at least for those on the Russian side of the border. Georgian President Mikheil Saakashvili has signed a decree allowing residents of Russia's seven North Caucasus republics to visit Georgia for up to 90 days without a visa.
Manana Manjgaladze, a spokeswoman for Saakashvili, says it was the lack of formal diplomatic relations between Tbilisi and Moscow that made it extremely difficult for Russians, who live only two to three hours from the Zemo Larsi, to get a Georgian visa.
"The people who live in these republics of the North Caucasus had to go all the way to Moscow to the Swiss Embassy [which handles Georgian interests in Russia] to receive a Georgian visa," Manjgaladze says.
Restricted Visas
To be sure, the decree does not signal improved relations between Tbilisi and the Kremlin. A statement from the Georgian Interior Ministry about the lifting of visa requirements reflects ongoing tensions between the two countries. It says residents of the North Caucasus can now travel to Georgia "to do business, receive an education, and to rest and enjoy all the good things that they are deprived of in their own country -- which is run by a corrupt and repressive federal regime."
Nugzar Tsiklauri, chairman of the Georgian Parliament's Committee on Relations With Compatriots Residing Abroad, says the decree was necessary because of Russia's record on human rights in North Caucasus republics like North Ossetia, Ingushetia, Chechnya, and Daghestan.
"There are massive violations of human rights and there are killings of journalists [in the North Caucasus]," Tsiklauri says. "Human rights activists have gone missing or are being killed."
Tsiklauri adds, "In this situation, the historical obligation of Georgia is to focus on the North Caucasus and help in all ways possible the people with whom we have lived alongside for centuries."
Unclear Limits On Both Sides
Kremlin officials have responded angrily to Saakashvili's decree -- describing the move as a "provocation" and an "attempt to divide Russia's population into different categories."
Andrei Nesterenko, a spokesman for Russia's Foreign Ministry, says the decree will "create obstacles to contacts between our citizens."
"Russia consistently stands for improving neighborly relations in the Caucasus and building a normal, calm life, which Mr. Saakashvili tried to disrupt by unleashing war in August 2008," Nesterenko adds.
Nesterenko says Russia has no problem with Georgia or the Georgian people. He says poor relations between the two countries are the result of "a problem with the regime" of Saakashvili, adding, "Mr. Saakashvili tried to disrupt [neighborly relations] by unleashing war in August 2008."
He also describes Saakashvili's actions as "spastic" and "aimed to cause more annoyances" that "only cause more problems for Georgian citizens.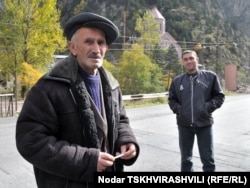 Residents of Stepantsminda, a town near the Georgia-Russia border.
Some Georgian opposition politicians are also questioning the wisdom of the move.
Levan Vepkhvadze, deputy chairman of the Georgian parliament, has said the free movement of Ossetians across the border could facilitate the "creeping annexation" of Georgian territory that is claimed by some North Ossetian groups.
Former Georgian parliament speaker Nino Burjanadze has warned that abolishing the visa requirement could have disastrous consequences for Georgia. She says Russian border guards may not permit Russian citizens without a valid Georgian visa to leave the Russian Federation through the Zemo Larsi checkpoint. She also wonders if the decree will give Moscow an additional pretext to accuse Georgia of harboring "terrorist groups" from the North Caucasus.
Some North Caucasus political figures also are questioning the political implications of Saakashvili's decree, suggesting it is an attempt to exploit anti-Russian sentiments in the North Caucasus.
Boris Ebzeyev, president of Karachay-Cherkessia since 2008, says Saakashvili's decree reflects "the death throes of a regime trying at all costs to restore its irrevocably tarnished luster."
Colonel-General Arkady Yedelev, deputy head of the North Caucasus Federal District, says Saakashvili should have discussed the lifting of visa requirements with Moscow instead of issuing a decree "on a whim."
A Trickle Of Traffic
But that's not how Georgian residents near the border crossing feel.
Dodo Gomiashvili, an elderly Georgian woman who operates a kiosk close to the Zemo Larsi crossing, says Moscow should respond by also lifting visa requirements for Georgians so that she can visit her relatives in North Ossetia.
"There are many of us here who have sisters, brothers and cousins on the other side," Gomiashvili explains.
RFE/RL correspondents have visited the Zemo Larsi crossing since the decree took effect a week ago. They report only a trickle of traffic passing through the border.
That's not enough to bring the new jobs desired by unemployed Georgians in the region.
"This measure isn't bringing us anything good," 31-year-old Giorgi Khutsishvili attests. "I'm working in my garden doing whatever I can to help my family survive so we don't starve this winter."
Khutsishvili says he would be happy if Russia would lift his visa requirements so he can cross into neighboring North Ossetia to sell his vegetables and other products from Georgia.
David Chaganava of RFE/RL's Georgian Service contributed to this story from Stepantsminda