TBILISI -- Couples are sipping wine in sidewalk cafes and children are frolicking in fountains, seeking relief from the heat. Old men are playing chess on park benches, and sidewalk traders are hawking their wares.
All the usual sights and sounds of summer are visible in Georgia's scruffy, chaotic, and charming capital city.
All, that is, save one: For the first time in recent years, the onset of warm weather in Tbilisi has not been accompanied by rumors of war.
The placid calm this season contrasts sharply with the sweltering summer of 2008, which culminated in Russia's invasion of Georgia that August. And it's a marked departure from the jittery atmosphere a year ago, when fresh saber-rattling in Moscow led many politicians and pundits to predict -- incorrectly as it turned out -- that armed conflict could break out anew.
Officials in Tbilisi were openly frustrated by the lack of U.S. support during the 2008 conflict, despite years of boosterism from then-President George W. Bush. But they now say the administration of U.S. President Barack Obama deserves much of the credit for defusing the tensions last summer, and keeping the situation calm since.
"The immediate danger of a large-scale attack by Russia has been -- if not completely eradicated -- significantly reduced by a very active position by the U.S. administration," says Giga Bokeria, Georgia's deputy foreign minister and a close confidant of President Mikheil Saakashvili.
Specifically, Bokeria says Obama made a "very concentrated effort" to be clear about the U.S. position on Georgian sovereignty during his landmark visit to Moscow in July 2009.
Senior Georgian officials tell RFE/RL that behind the scenes, Obama warned Medvedev and Prime Minister Vladimir Putin that an attack against Georgia would have "grave consequences," and that Washington -- distracted during the 2008 war by the looming presidential election -- "would not stand aside" were such a conflict to be repeated.
A White House spokesperson declined to confirm the warning, saying, "we don't discuss private conversations." But whatever was said, it appears to have stuck -- and people in Tbilisi have taken notice.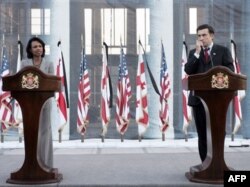 Then-U.S. Secretary of State Condoleezza Rice with Georgian President Mikheil Saakashvili in Tbilisi in mid-August 2008, just a week after the Russia-Georgia war broke out.
After initially expressing fears that their interests would be sacrificed on the altar of warmer U.S.-Russian relations, Georgians appear to be coming to terms with Obama's reset policy with Moscow. Closer ties between the former superpower rivals, politicians and analysts here say, have allowed Washington to exert quiet -- albeit effective -- influence over Moscow, and to enhance Georgia's security in the process.
"Russia should have something to lose if it attacks Georgia," says Political analyst Giga Zedania, director of the Institute for Genealogy and Modernity at Tbilisi's Ilia State University.
"One of the problems of the Bush administration was that it had no leverage over Russia, because there was no cooperation [between Moscow and Washington]. When these links are established that mutually benefit Russia and the United States, Russia will have more incentive to think twice before it does something like it did in 2008."
Linkage And Leverage
One of the things Russia now has to lose is on full display this week as President Dmitry Medvedev makes his first White House visit in Washington.
In addition to talks with Obama on a variety of bilateral issues, Medvedev plans to seek American support for Moscow's bid to join the World Trade Organization (WTO). Medvedev began his visit with a trip to Silicon Valley in California, where he courted investors for his ambitious plans to modernize Russia's hi-tech sector.
U.S. officials say, however, that the Russian president can also expect to hear a thing or two about Georgia during his visit. Specifically, the Americans are likely to address Russia's continued occupation of the breakaway regions of Abkhazia and South Ossetia, and its failure to reduce troops there as required by an EU-brokered cease-fire signed by Medvedev.
In a June 10 speech at the Peterson Institute of International Economics in Washington, Michael McFaul, Obama's chief Russia adviser, said the U.S. administration was not satisfied with progress on the issue and planned to press the matter with Medvedev during his visit.
"Is it a foreign policy objective of the Obama administration to help end Russia's occupation of Georgia in a peaceful manner and restore Georgia's territorial integrity? Absolutely yes. That's an objective we have. Have we made progress on that central objective? My answer is no, we haven't. That's the truth," McFaul said.
"We have a goal," he added. "We have a strategy that we are pursuing, and we'll pursue it again when President Medvedev is here."
To further underscore the U.S. commitment to Georgia, Secretary of State Hillary Clinton is due to visit Tbilisi in early July during a swing through the South Caucasus region that will also take her to Armenia and Azerbaijan. Vice President Joe Biden already paid a visit to Tbilisi last summer.
U.S. President Barack Obama (left) and Russian President Dmitry Medvedev in Singapore in November 2009.
"To be sure, Georgians still feel they have lost standing with the United States since Obama came to office. The country's NATO bid, which appeared tantalizingly close just a couple of years ago, now appears indefinitely on hold. And the attention once lavished on Georgia by George W. Bush -- who has a street named after him in Tbilisi -- is a thing of the past, as the Obama administration struggles to address more pressing foreign policy issues like Afghanistan and Iran.
But the tense atmosphere of Cold War-style conflict, with Georgia serving as a proxy battleground for the United States and Russia, is also receding.
"I strongly believe that if the U.S.-Russian relationship expands and grows closer, it will only benefit Georgia," says Irakli Alasania, Georgia's former ambassador to the United Nations and currently a leader of the opposition.
He cites Georgia's "enormous security problems," especially after its lightning war with Russia in August 2008, saying Tbilisi "will not cope with these problems alone."
"At this point what we can do is to not solicit any more aggressive behavior from Russia, to keep things quiet," Alasania says. "But to resolve the problems which were not resolved by the war, we need strong partners. And we need our strong strategic partner to have a good relationship with the Russian Federation."
Russia First?
U.S. engagement with Russia, however, is not without its critics.
In July of last year, a group of prominent Eastern European intellectuals and former officials -- including former Czech and Polish Presidents Vaclav Havel and Lech Walesa -- published an open letter to the Obama administration expressing their fears that the interests of smaller states like Georgia would be cast aside as relations with Russia improved.
After the Obama administration resubmitted the so-called 123 nuclear cooperation agreement with Russia to Congress -- an agreement that had been in limbo since Bush withdrew it after the Russia-Georgia war -- accusations of betrayal flew fast and furious.
In an op-ed published in "The Washington Post" on May 15, David Kramer, who served as deputy assistant secretary of state for European and Eurasian affairs in George W. Bush's administration, charged that the Obama administration was moving from a "Russia first" approach to a "Russia only" approach.
In a recent interview with RFE/RL's Georgian Service, Kramer said the resubmission of the 123 agreement raised concerns about the Obama administration's priorities.
"I think the problem is that the administration has become so focused on its reset policy with Russia that it is pursuing it almost to the exclusion of relations with other countries in the region," Kramer said.
"I think that is a concern those countries, it is a concern for Europe, and it is a concern for the United States."
In his speech at the Peterson Institute, McFaul pushed back hard against such a claim, saying the administration was "deliberately not pushing for the end of the occupation of Georgia to resubmit the 123 agreement."
"That doesn't mean we're ignoring Georgia. We're doing these things in parallel, but we're not linking them," McFaul said.
"Conversely, we're not allowing our Russian colleagues to link things that they want to link. We're not ending our assistance to Georgia, throwing the Georgians under the bus in the name of a UN Security Council resolution. That was a proposition put to us a long time ago, and we said we're not going to play that game."
A senior Western diplomat in Tbilisi, speaking on condition of anonymity, says the differences between the Bush and Obama approaches to Georgia are largely cosmetic -- and greatly exaggerated.
"There is less change than the public perception would suggest," the diplomat said. "The relationship wasn't unconditional under the last administration and hasn't changed as much under the current administration as some would like to think. No fundamental policy principles have changed. What has changed are the conditions in the neighborhood."
Bokeria agrees, and stresses that at no stage in Obama's reset with Russia were Georgia's interests sacrificed.
"There has been no shift in the administration's policy," Bokeria says.
"We know they have a reset with Russia and they have important issues to be discussed with Russia. But there has never been any single important occasion [in this process] when it was suitable to the context where Georgia's sovereignty and security was not highlighted."