The Georgian Foreign Ministry and parliament speaker David Bakradze issued separate statements on October 14 rejecting as "absurd" Russian Federal Security Service (FSB) head Aleksandr Bortnikov's allegation the previous day that the Georgian intelligence service is collaborating with Al-Qaeda in arranging the transit of mercenaries and weapons via Georgia to the North Caucasus resistance in both Chechnya and Daghestan.
The Georgian Foreign Ministry said those "utterly false" allegations give rise to "serious concern." Bakradze said they are an "absolute lie," and part of an ongoing effort both to create an image of Georgia as posing a constant threat to the Russian Federation, and to distract attention from Russia's inability to defeat the North Caucasus insurgents.
Bortnikov said his statement was based on audio files confiscated from captured fighters. He did not explain why those fighters should run the risk of keeping, and carrying with them, any such incriminating evidence.
Russian officials apparently see no disconnect between allegations of a nexus between the North Caucasus resistance and Al-Qaeda, on the one hand, and, on the other hand, that Western intelligence services are backing the resistance in a concerted effort to dismember the Russian Federation.
Other senior Russian officials have accused Georgia over the past six months of abetting the transit of Chechen fighters. In late April, Georgian Foreign Ministry official Zurab Kachkachishvili rejected as "a provocation" claims by senior Russian military officials in Chechnya that the counterterrorism regime imposed temporarily in southeastern Chechnya was necessitated by the danger that Chechen militants might cross the border from their base in Georgia's Pankisi Gorge, close to the border with Chechnya. Kachkachishvili said international inspections have repeatedly
proved
that there is no longer a Chechen presence in Pankisi.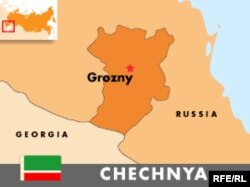 Pankisi served in 2000-02 as a safe haven for a group of Chechen militants led by field commander Ruslan Gelayev. In the fall of 2001, the Georgian leadership co-opted some of those fighters in an attempt to win back military control over the breakaway republic of Abkhazia. That operation
failed dismally
, and the Chechens were finally expelled from Pankisi by Georgian special forces in two operations in the fall of 2002 and early 2003.
In late July, Zaal Kasrelashvili, who heads the Tbilisi-based Confederation of Peoples of the Caucasus, was
quoted
by the Georgian weekly "Mteli kvira" as claiming that some 40 militants were encamped in Pankisi waiting to cross into Chechnya or Ingushetia. He said that claim was based on
intelligence gathering
by confederation members and on information provided by unidentified sympathizers in Europe, Asia, and the North Caucasus.
Also in July, Russian Deputy Interior Minister Colonel General Arkady Yedelev said his ministry was investigating reports that 60 mercenaries from an unspecified CIS member state were in Georgia waiting to enter Chechnya.
Irakli Alasania, head of the opposition Alliance for Georgia, proposed on October 14 that the Georgian authorities should arrange for foreign diplomats in Tbilisi to tour Pankisi to see for themselves that it is not being used as a transit route by the North Caucasus resistance. Bakradze, however, rejected a proposal by the opposition Christian Democrats parliament faction to create a special group to monitor the situation in Pankisi.