TBILISI (RFE/RL) -- Georgia's opposition says it is launching a "national disobedience campaign" as President Mikheil Saakashvili has refused its demands to step down.
Kakha Kukava, a co-leader of the opposition Conservative Party, told a rally of some 25,000 supporters outside the parliament that as of 6 p.m. (1400 GMT) protesters "will block main streets throughout Tbilisi."
Kukava told the crowd: "It's very important that, just as today we demonstrated to the government that the rally has not waned, it has not diminished, and an equal number of people have gathered, it is necessary tomorrow and the day after for the whole world to see that the rallies are not thinning, they are growing, and are taking place in different locations."
The rally eventually broke up into two camps. One marched to the building housing state television, and the other to Saakashvili's residence. There they threw vegetables over the heads of riot police sent to guard the president.
Opposition leaders had said on April 9 that they would give Saakashvili 24 hours to respond to demands that he resign and schedule early elections and that they would announce an action plan if he did not answer in time.
The launching of the opposition's civil disobedience strategy comes as antigovernment protests have entered their second day.
Opposition Demands
On April 9, a crowd of at least 50,000 people mounted the biggest challenge yet to Saakashvili's rule since he came to power in Georgia's 2003 Rose Revolution.
Earlier on April 10, Saakashvili vowed not resign under the pressure of the street protests. Asked by reporters if he would step down, he responded, "It's obvious the answer to this question is 'no.'"
The Georgian president's term is not due to end until 2013.
The opposition accuses Saakashvili of failing to carry out the democratic reforms he promised during the Rose Revolution and of monopolizing power.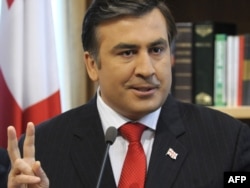 President Mikheil Saakashvili rejected opposition demands.
At the same time, protesters accuse Saakashvili of mishandling the August Georgia-Russia war, after which Moscow recognized the independence of Georgia's breakaway regions of South Ossetia and Abkhazia.
Saakashvili said he is ready for dialogue with the opposition on three subjects: the economy, security, and democratic reforms. But he said the root of unrest in Georgia is frustration with the economic situation in the country.
"Today, our citizens, because of these hardships, the pessimistic condition that they experience, the sense of having no prospects that many of them feel, are angry. And I want to tell you that I, too, am very angry because of these hardships, these problems, this economic poverty, and the security problems that our country faces," Saakashvili said.
"Overcoming all of this is not easy, and it requires a lot of work, deliberation, and the right decisions. Most of all, it requires the unity of all citizens," he added during a live televised ceremony from his residence in Tbilisi, held after he signed a memorandum with a Turkish company on the construction of a new hydropower plant in southern Georgia.
Irakli Alsania, the leader of the opposition Alliance for Georgia, told the protesters that he'd be glad to take up Saakashvili's offer for talks -- with strict conditions. "We want to make our demand a subject of national deliberation," he said. "We will meet with [Saakashvili] only openly, only in front of the public. And individuals in whom society has invested trust will also participate in the meeting."
The Georgian president also called the mass antigovernment protests on April 9 an expression of democracy in the county. "I think yesterday was very important for our democracy. One segment of our society expressed their opinion in a way that is fitting for a democratic, highly cultured, developed -- or developing -- European country," he said.
"I am delighted that yesterday, our state apparatus, our citizens, a big majority of the political spectrum, displayed political maturity, and approached the issue responsibly."
Both the government and opposition have signaled they do not want a repeat of protests in November 2007, when police used rubber bullets, tear gas, and water cannons to disperse demonstrators accusing Saakashvili's government of corruption and abuse of office.
This time, opposition leaders have promised to keep demonstrations peaceful and security officials have said police will not intervene unless there is violence.
Following the 2007 protests, Saakashvili called for an early presidential election in which he won a second five-year term.
RFE/RL's Georgian Service contributed to this report