Representatives of six Georgian opposition parties met in Tbilisi on March 22 to
discuss
coordinating a new program of measures to bring about peaceful regime change.
Specifically, they drafted an
appeal
to the international community to convene a conference that would focus on ending what they termed the "dictatorship" of President Mikheil Saakashvili and on restoring Georgia's territorial integrity.
The meeting was initiated by the Labor Party, which for years has criticized Saakashvili's policies, but at the same time eschewed broader cooperation with other opposition groups.
In a statement pegged to the sixth anniversary last November of the so-called Rose Revolution that brought Saakashvili to power, Labor Party Chairman Shalva Natelashvili said Saakashvili has retained power by a combination of "violence, repressions, mass electoral fraud, and terrorizing business and the media," Caucasus Press reported on November 23. Natelashvili argued that "it is necessary to bring about the international, political, legal, and diplomatic isolation of Saakashvili's criminal group."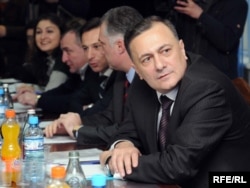 Labor leader Shalva Natelashvili (right)
More recently, the Labor Party appealed on March 15 to the U.S. administration to withdraw the invitation extended to Saakashvili earlier this month to visit Washington in April, Caucasus Press reported. It would be Saakashvili's first trip to the United States since the disastrous August 2008 war with Russia.
Other participants at the March 22 meeting were former parliament speaker Nino Burjanadze; former Prime Minister and For a Just Georgia movement head Zurab Noghaideli; Levan Gachechiladze, whom the opposition unsuccessfully backed in the January 2008 early presidential ballot; People's Party head Koba Davitashvili; Conservative Party leader Zviad Dzidziguri; Industrialists party head Gogi Topadze; and opposition legislator Jondi Baghaturia, who heads the Georgian Group.
The umbrella opposition Alliance for Georgia, former Foreign Minister Salome Zurabishvili's Georgia's Path, and the Christian Democratic Movement (a prominent component of the parliamentary opposition faction) declined to attend, partly to protest Noghaideli's participation. The Alliance for Georgia and Noghaideli espouse contradictory views on whether and how to select a
single opposition candidate
to challenge incumbent Gigi Ugulava in the upcoming Tbilisi mayoral election.
Burjanadze argued at the meeting that "it is imperative to bring about regime change in order to save Georgia." She called for early parliamentary and presidential elections.
The meeting selected former State Minister for Conflict Resolution Goga Khaindrava to head a working group that will draft a program of short-term measures. Referring to the controversial
fake news report
screened by the Imedi television company on March 13, Khaindrava told journalists after the meeting that "we shall present an alternative script where the Georgian people will become the author," Caucasus Press reported on March 22.