On September 8, Georgian President Mikheil Saakashvili finally signed a formal statement abjuring the use of military force against the two breakaway republics of Abkhazia and South Ossetia, now firmly under Russian control as a result of the Russian military intervention last month and Russian President Dmitry Medvedev's August 26 announcement of their recognition as independent states.
Signing such a document was one of the six points listed in the cease-fire agreement between Georgia and Russia mediated one month ago by French President Nicolas Sarkozy on behalf of the European Union, which is to serve as guarantor of Saakashvili's pledge.
By formally abjuring the use of force, Saakashvili has fulfilled a key precondition for the implementation of the outstanding provisions of the August 12 cease-fire and three additional points agreed on September 8 during talks in Moscow between Sarkozy and Medvedev.
The expanded agreement provides for the withdrawal within seven days of all Russian peacekeeping forces from five checkpoints on a line running from Poti on Georgia's Black Sea coast to Senaki and the full withdrawal of Russian peacekeeping forces from the zones adjacent to South Ossetia and Abkhazia to their positions when the conflict erupted during the night of August 7-8. This process of withdrawal must be completed within 10 days after the deployment in those zones of no fewer than 200 EU observers, but no later than October 1, according to the website civil.ge.
Talks In Geneva
In line with, and expanding on, the sixth point of the August 12 cease-fire agreement, discussions are to begin in Geneva on October 15 on security and stabilization measures to be implemented in Abkhazia and South Ossetia and on ensuring the return of displaced persons to their homes " based on internationally recognized principles and practice of post-conflict settlement."
It remains unclear, however, as Russian Foreign Minister Sergei Lavrov observed on September 9, who will represent Abkhazia and South Ossetia at the Geneva talks. Georgian officials have until now ruled out sitting at the negotiating table with the Moscow-backed leaders of the two breakaway republics.
Even after their ignominious defeat in the brief war with Russia, the Georgian leadership still seemed wedded to the confrontational stance that contributed to the escalation of tensions into military hostilities. Senior Georgian officials, including Saakashvili and parliament speaker David Bakradze, continued to disclaim any responsibility for the August bloodshed, in which an estimated 500 people (military and civilians) died and up to 160,000 were forced to flee for their lives.
Instead, they laid the blame partly on Russia's single-minded determination to take control of the breakaway republics, destroy Georgia as an independent, sovereign and democratic state, and replace Saakashvili as president; partly on the decision taken at the NATO summit in Bucharest in April not to offer Georgia and Ukraine Membership Action Plans, a refusal they claim emboldened "hawks" in Moscow; and partly on the international community's alleged refusal to take seriously their repeated warnings that Russia was planning to draw Georgia into an armed conflict.
In addition, Saakashvili and other Georgian officials implied that they might launch yet another bid to reestablish control over those breakaway regions by force. Speaking on August 21 at a joint briefing with a senior U.S. military official, Saakashvili said Georgia needs an army "10 times stronger" than it has at present, Caucasus Press reported. The current strength of the armed forces is approximately 32,000; just two months ago, parliament approved an initiative to raise that figure to 37,000, and to increase defense spending by over $200 million. International advisers, by contrast, have advocated a maximum manpower of 13,000-15,000.
Upgrading Defenses
On September 3, "The New York Times" quoted Saakashvili and Georgian Defense Ministry officials as listing measures to be taken to upgrade the effectiveness of the armed forces, including more intensive training of officers; adding up to four more combat brigades; and acquiring more modern equipment, including air-defense systems, modern antiarmor rockets, and night-vision devices. The newspaper quoted Defense Minister David Kezerashvili as estimating the combined total cost of those measures at between $8 billion and $9 billion.
The United States last week announced that it will supply Tbilisi with a $1 billion aid package for reconstruction and humanitarian aid, but it remains unclear whether and to what extent Washington will contribute to rebuilding Georgia's military potential.
At the same time, Georgia responded to Russia's recognition of Abkhazia and South Ossetia by announcing its withdrawal from the May 1994 UN-mediated cease-fire agreement with Abkhazia (on August 30) and from the Joint Control Commission, the negotiating framework established in 1992 with the aim of resolving the South Ossetian conflict (on September 2), thereby creating the impression that it has no interest in further formal negotiations, at least in any format that would include Russia.
Parallel to formulating plans for rebuilding the country's military potential, Saakashvili is now seeking to minimize the domestic political fallout from the war. Initially, Georgian opposition forces publicly affirmed their backing for the embattled leadership. But on September 4, some 80 Georgian public figures and organizations published an open letter calling for a "broad public debate" into the errors of judgment that led to the armed conflict, including why, "despite the U.S. administration's warnings, [the Georgian leadership] fell into the Russian trap," with "catastrophic consequences."
The open letter further criticizes the Georgian leadership for refusing to accept any responsibility for the ensuing catastrophe.
'Key Strategic Priorities'
On September 5, Saakasvhili's National Movement Party, together with two small opposition groups and two individual parliamentarians who split from the opposition coalition after the May 21 ballot to take up their mandates, signed a four-point Charter of Political Forces outlining "key strategic priorities" in the wake of the conflict. Those priorities include insistence on the withdrawal of all Russian forces from Georgian territory, Georgian integration into NATO and the EU, ensuring that domestic political developments do not go beyond the parameters enshrined in the constitution (a belated tacit apology that Saakashvili was wrong to deploy troops to disperse opposition demonstrators in November 2007?) and continuing internal political reforms.
Three extra-parliamentary parties -- Kartuli Dasi (Georgian Group), the Industrialists, and the National-Democratic Party also signed the charter, but most opposition parties did not. The Republican Party, the Labor Party, and the New Rightists rejected it as a "propaganda move." Mamuka Katsitadze of the New Rightists dismissed it as intended solely "to rehabilitate Saakashvili both domestically and internationally," according to civil.ge on September 5.
Nor is it simply the active political opposition that questions the wisdom of provoking an all-out military confrontation with Moscow. A poll of 407 people conducted by the weekly "Kviris palitra" found that 43 percent of respondents were convinced that the Georgian leadership could have avoided a war despite "provocations" by the Russian Army and Ossetian militias, Caucasus Press reported on September 8.
Crisis In Georgia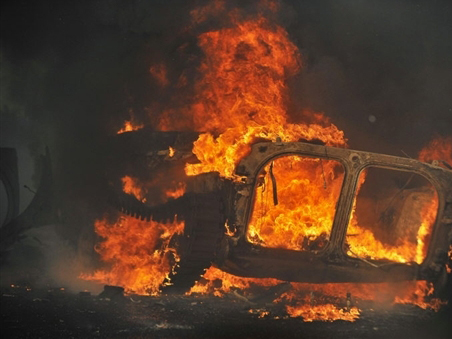 For RFE/RL's full coverage of the conflict that began in Georgia's breakway region of South Ossetia,
click here
.