Bush administration officials have been sensitive about talking about military assistance to Georgia because of claims by Russia that the United States helped train and arm the Georgian military before the conflict began in the separatist region of South Ossetia on August 7.
U.S. Undersecretary of Defense Eric Edelman did not offer specifics, but told members of the Senate Armed Services Committee on September 9 that the top U.S. priorities in Georgia are stabilizing the situation on the ground, helping the country recover economically, and helping to rebuild the military.
To that end, he said a team from the Defense Department will travel to Georgia this week.
"The Department of Defense is sending an assessment team to Tbilisi later this week to help us begin to consider carefully Georgia's legitimate needs and our response," Edelman said. "After assessments of these needs, we will review how the United States will be able to support the reconstruction of Georgia's economy, infrastructure, and armed forces."
First Chance To Ask Questions
On September 3, Secretary of State Condoleezza Rice announced the first phase of what is expected to be a total of $1 billion in economic aid to Georgia.
This was Congress's first opportunity to question White House officials on what happened in the breakaway region of South Ossetia last month. Some members of the committee sought to clarify whether U.S. officials tried to prevent -- as they claim -- or encourage -- as Russia claims -- the confrontation. Edelman was asked to provide details of names, dates, and exact advice that was given to Georgian officials on the subject of confronting Russia militarily.
Since 1991, U.S. policy toward Russia was based on the assumption that Russia sought integration with the world and was, perhaps unevenly, moving toward greater democracy and the rule-of-law at home.
He responded that many U.S. officials, including Daniel Fata, deputy assistant secretary for defense for European and NATO policy, had told Georgian officials to show patience and not be provoked by Russia.
Over several months and "in a wide array of U.S.-Georgia bilateral defense discussions," Edelman said, "the consistent message was one of strategic patience and to find a peaceful resolution to the frozen conflicts, as Russia was clearly adding to tension in order to provoke a Georgian response."
Edelman was also asked about NATO's decision to deny Georgia and Ukraine a Membership Action Plan (MAP) earlier this year. He replied that NATO must now "send the right message that Russian aggression will not impact the Euro-Atlantic aspirations of Georgia and Ukraine."
He cited the newly formed NATO-Georgia Commission as evidence that NATO is intent on bringing the young democracy into the fold quickly.
Nothing Is 'Off The Table'
Also appearing at the Senate hearing was Assistant Secretary of State Daniel Fried, who, under questioning, declined to give specifics about how the United States might punish Russia for its invasion. But he acknowledged that nothing is "off the table."
"Our strategic response must include longer-term consequences for our relationship with Russia," Fried said.
"Since 1991, U.S. policy toward Russia was based on the assumption that Russia sought integration with the world and was, perhaps unevenly, moving toward greater democracy and the rule-of-law at home. Indeed, Russia expressed interest in and made progress toward becoming part of key institutions -- the WTO, OECD, the G7/G8, and a partner with NATO and the European Union. But with its invasion of Georgia, Russia has put these aspirations at risk."
Several lawmakers who asked for more detail on how the United States might extract a price from Russia heard Fried respond that the country was already paying a high price because it has isolated itself and incurred the wrath of the international community.
On September 9, "The New York Times" reported that the Bush administration has ruled out any unilateral punishment of Russia.
Quoting senior administration officials, the newspaper reported that "The White House had concluded that American punishments like economic sanctions or blocking Russia from world trade groups would only backfire, deepening Russia's intransigence and allowing the Kremlin to narrow the regional and global implications of its invasion of Georgia to an old-fashioned Washington-Moscow dispute."
It added that U.S. officials "wished the European Union had been willing to take firmer action than issuing tepid statements criticizing Russia's conduct."
'Partially Correct'
In response to a question about the article from Senator John Warner (Republican, Virginia), Fried said the report was only "partially correct." He denied that the White House had judged the European response "tepid" and that the United States doesn't think it has leverage with Russia.
"Until Russia's leaders change this current path, they and we may be in for a difficult period.
The diplomat also said the United States is not seeking to worsen its relations with Russia and said any U.S. response "must keep open the possibility that Russia will reconsider its current course."
The United States, Fried said, "should keep doors open for cooperation on issues of mutual concern such as Iran, counterterrorism, Afghanistan, nonproliferation, and other issues."
But he also said U.S. policy must address the realities of the situation.
"We do not seek and are not doomed to have a bad relationship with Russia. But until Russia's leaders change this current path, they and we may be in for a difficult period ahead," Fried said.
"As we consider the implications of Russia's attack on Georgia, realism requires us to face what Russia has done and what we must do. We will support our friends and principles. Russian aggression cannot be allowed to succeed."
As U.S. lawmakers in Washington debated how to deal with Russia's resurgence, officials in Moscow left little doubt about their intention to push on with their goals in Georgia.
Increase In Russian Troops
On September 9, Russia announced that it has established official diplomatic relations with South Ossetia and Abkhazia, the two disputed separatist regions. Moscow recognized the two as independent states on August 26. Only Nicaragua has followed suit.
Russian Foreign Minister Sergei Lavrov made the announcement after holding talks with the foreign ministers of both regions.
Lavrov also announced that Russia will station 7,600 troops in the two provinces, more than twice the number based there before the outbreak of hostilities. Lavrov said they were needed to prevent "any repeat of Georgian aggression."
Russia on September 8 agreed to withdraw its soldiers from areas outside the two provinces within a month but the EU-brokered accord that ended the war did not address troops inside the borders.
Asked at a news conference how long Russian forces would remain, Lavrov replied, "They will be there for a long time."
Crisis In Georgia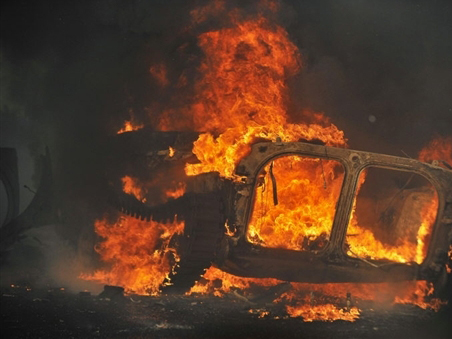 For RFE/RL's full coverage of the conflict that began in Georgia's breakway region of South Ossetia,
click here
.