Georgian President Hails Process Of Political 'Cleansing'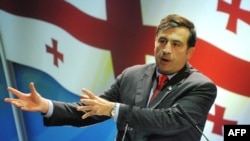 President Mikheil Saakashvili on April 29 again downplayed the impact of the campaign the Georgian opposition launched three weeks earlier to force his resignation.
Public support for the opposition protests has been far lower than hoped for, but one opposition leader
claimed
on April 29 that 150 members of Saakashvili's United National Movement have left that party and joined the opposition ranks. That claim has not been independently confirmed.
On April 30, former parliament speaker Nino Burjanadze
admitted
that the opposition needs to take "more effective and serious actions" in order to achieve its goal of forcing Saakashvili to step down. She claimed that most Georgians support the opposition demand that Saakashvili should resign.
Speaking in Rustavi on April 29, Saakashvili
reaffirmed
the authorities' readiness for talks with the opposition. He expressed regret that, since many opposition lawmakers elected to parliament in May 2008 chose to surrender their mandates, it is not possible to resolve contentious issues through discussion and debate within parliament.
Saakashvili described the ongoing standoff as "not the classical democratic model," and as a process of "political cleansing" that will pave the way for "putting everything in its place, and I think those who are capable of moving to the next level of Georgian politics...will take advantage of this opportunity." He did not elaborate. He did, however, characterize as taken from a position of strength the authorities' decision not to intervene to remove the mock prison cells the opposition has placed in strategic locations around Tbilisi.
Also on April 29, opposition Alliance for Georgia leader Irakli Alasania told
journalists
after meeting with various prominent personalities that the authorities should take steps to demonstrate their good faith before the dialogue they advocate can get under way.
He singled out slanted coverage of the protests by the official media and the harassment of protesters by police. Alasania gave the number of such incidents as 80; the website
kavkaz-uzel.ru
on April 29 estimated the number of people injured in such clashes at least 18.
About This Blog
This blog presents analyst Liz Fuller's personal take on events in the region, following on from her work in the "RFE/RL Caucasus Report." It also aims, to borrow a metaphor from Tom de Waal, to act as a smoke detector, focusing attention on potential conflict situations and crises throughout the region. The views are the author's own and do not represent those of RFE/RL.