BAKURIANI, Georgia -- In this snowy mountain town, grim preparations are under way for the burial of 21-year-old Nodar Kumaritashvili, the Olympic luger killed in a horrifying training crash in Vancouver last week.
The picturesque alpine resort has raised generations of world-class winter athletes, like Koba Tsakadze, the legendary ski jumper who competed in no fewer than four Winter Olympics. So locals bristle at the suggestion that the training crash that killed Kumaritashvili last week was due to lack of experience.
Such suggestions are especially vexing for Kumaritashvili's father, David, himself a former luge champion.
"I've participated in this sport my entire life. So I know exactly what happened [to my son]," he says. "First and foremost, 150 kilometers per hour is too fast for this sport. So this was unacceptable. And there should have been more safety measures at the luge -- nets, or more cushioning around the columns.
WATCH: Georgians pay their respects as the body of Nodar Kumaritashvili arrives in Tbilisi:

"This was precisely the curve he was afraid of. He had experience with that course, and he said to me, 'Father, this is the spot I'm afraid of.' "
Twenty-one-year-old Kumaritashvili was killed February 12, just hours before the start of the Winter Olympics in Vancouver. He died after losing control of his sled during a training run and slamming into a steel post beside the track. He was traveling at 144.3 kilometers an hour upon impact.
Town Shaken
Kumaritashvili's body arrived at the family's home in Bakuriani today; he is due to be buried this weekend. His horrific death has deeply shaken this tiny town of 1,500, which is home to three of the eight athletes the South Caucasus nation sent to the Winter Olympics. His mother and sister wept over the coffin, draped in the Georgian flag.
David Kokoshvili, a friend of Kumaritashvili's since childhood, fights back emotion as he speaks about the fatal accident.
"It's a terrible tragedy. We're all in a state of shock; it hasn't begun to sink in," Kokoshvili says. "What can I say? It's a huge tragedy. His father was a good athlete, and Nodar followed in his footsteps. From the seventh grade on, he began training seriously and attending sports camps."
Kumaritashvili had planned to compete in both the single luge competition, as well as the men's doubles with another classmate and Bakuriani native, Levan Gureshidze. Gureshidze's mother, Ineza, said her son chose to withdraw from the singles competition after the fatal accident, saying he was too shattered by the loss of his friend to compete.
"It was actually known from the start that this is the fastest course in the world -- and therefore the most dangerous. But both boys were still very eager to compete and to be successful," she says. "Unfortunately, all this happened. And after that child died, Levan said to me, 'Mother, I'm not afraid at all. But I can't do it, because I keep seeing him there. I see Nodar all the time, and I can't go and slide when I see him lying dead at that spot.' "
Bakuriani, together with the resort town of Borjomi, had been put forward as part of Georgia's bid to host the 2014 Winter Olympics, which ultimately were awarded to Sochi in neighboring Russia. It is one of Georgia's most popular ski resorts, with its highest peak, Mount Kokhta, reaching to 2,200 meters.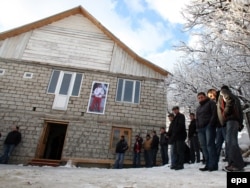 Mourners wait to pay their last respects at the home of Kumaritashvili's parents in Bakuriani today.
The majority of Bakuriani's population was once Ossetian, and even now, the town is home to a friendly mix of Georgians and ethnic Ossetians -- like Kumaritashvili himself. One elderly Ossetian resident of Bakuriani, Lida Jeiranashvili, reflects the sadness that permeates the tight-knit community.
"The government says it will build a new course [in Bakuriani] in his honor, but there's nothing that can be done for him now. He was his mother's only son," she says. "Their house burned down last year. All of Bakuriani helped them rebuild it. [He died] because he was such a good person.
"He was supposed to carry the Georgian flag. But someone else had to carry it in the end -- another person from Bakuriani, [Iason] Abramashvili. And so he carried the flag that Nodar was supposed to carry. The Olympics have to go on, don't they?"
The Olympics have gone on, but Kumaritashvili's death had an immediate impact. The Whistler track in the Vancouver games -- often referred to by athletes and sports organizers as the "fastest track in the world," with a top recorded speed of 154 kilometers per hour -- was quickly modified by officials to be shorter and slower. Protective padding has also been added to the columns lining the track.
'Never Said It Is Too Fast'
At the same time, sports officials have defended the integrity of the track, which has been operational for two years. In 2008, Josef Fendt, the German president of the International Luge Federation (ILF) -- the main oversight body for all luge sports -- expressed concern that sliders at Whistler were reaching speeds of 150 kilometers an hour, which he described as worryingly high.
Following Kumaritashvili's death, however, Fendt denied the track was dangerous, saying, "It's one of the fastest tracks, but we have never said it is too fast." It's an assertion that has been challenged by officials like Vakhtang Gegelia, the vice president of the Georgian National Olympic Committee, or GNOC.
"From the very beginning, even before the Olympics started, the president of the International Luge Federation, Josef Fendt, was warning everyone that this course was too fast and therefore unsafe," Gegelia says. "This, unfortunately, was borne out by the death of our athlete. In addition to him, eight other athletes were injured to varying degrees during training."
Nodar Kumaritashvili (right) with his uncle and coach Felix Kumaritashvili and his luge partner Levan Gureshidze, on the day of Nodar's accident.
The ILF reported in December that there had been 73 crashes recorded during 2,500 runs at the Whistler track -- but said the number represented a "normal" crash rate.
Such revelations, combined with the death of the Georgian luger -- the first fatality in professional luge racing since 1975 -- have spurred debate about whether sports officials are pushing for higher speeds as a way of making competitions more compelling, or whether such speeds are a natural outcome of improved equipment and better-trained athletes.
Duncan Kennedy, a three-time member of the U.S. Olympic luge team, who now works as a sports commentator for the American television network NBC, says the move toward higher speeds is the consequence of a desire to make the sport more exciting.
"Especially in a gravity-based sport, it has been the natural progression to see how far we can take it. Not as a challenger, but to keep the sport exciting," Kennedy says. "I do feel that we have come to a point now where the sport has pushed the envelope. I don't think there was anything intentional behind it, but unfortunately the sport has learned the hard way that we've perhaps reached the acceptable limit."
Other athletes have attempted to brush off such concerns.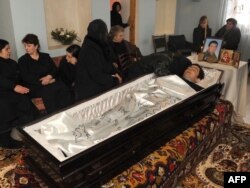 Friends and relatives gather in the family home to mourn during Kumaritashvili's wake today.
Germany's Georg Hackl, a three-time Olympic luge champion, told journalists in the wake of Kumaritashvili's death, "In luge, accidents are part of our daily routine…You stand up, shake yourself off, and ride again."

'No Mistake Should Be Fatal'
But Georgian officials have been quick to argue that an accident is one thing, a fatality quite another. Ghia Natsvlishvili, GNOC president, said international officials were unfairly pinning blame for the accident on the athlete while overlooking the gravity of the consequences.
"In its preliminary conclusion, the International Luge Federation ruled that the course had no technical defects, and that it was the athlete who made a mistake. This is something we strongly oppose," Natsvlishvili says. "Athletes are always making mistakes, in every sport, but that doesn't mean those mistakes have to end this way.
"Of course, the federation will defend itself, because if it's proven that there were technical flaws, it'll be their responsibility. We still have to wait for a final ruling by independent experts."
Georgian President Mikheil Saakashvili, who had traveled to Vancouver for the start of the games, also reacted angrily to suggestions that death was an acceptable risk in the sport, saying, "No sports mistake is supposed to be fatal."
When it comes to the luge, Kennedy says he agrees.
"In auto racing or motorcycle racing, death is a very real part of the possible consequences of mistakes. But certainly in luge, we haven't seen this in over three decades," Kennedy says. "Death should not be a factor in this. But hindsight is 20-20 vision."
Correspondents Mzia Paresishvili, Koba Liklikadze, Kakha Mchedlidze, and Brian Whitmore contributed to this report