Georgia's Armenian Minority Appeals To Armenian President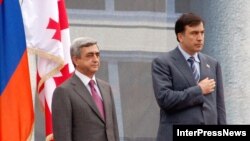 The predominantly Armenian population of the southern Georgian region of Djavakheti (Armenian Djavakhk) has formally appealed to Republic of Armenia President Serzh Sarkisian to raise their long-standing grievances with his Georgian counterpart Mikheil Saakashvili, Noyan Tapan reported on June 18. Saakashvili is scheduled to visit Armenia on June 24-25.
The Djavakhk representatives affirm their vital interest in the preservation of political stability and economic prosperity and the further development of democracy in Georgia. At the same time, they warn of "imminent dangers" resulting from unspecified "illegal actions" by local Georgian officials, actions that, they imply, have exacerbated tensions in the region.
They then list seven specific issues they ask Sarkisian to raise with Saakashvili. The first is granting the region the right to local self-government. Armenian NGOs previously lobbied for formal autonomy within Georgia.
The second, which has been raised repeatedly in the past, is to designate Armenian an official language in the region in addition to Georgian, of which many local Armenians have only a rudimentary knowledge.
The third is to restore to Armenian control a number of churches and other historic monuments to which the Georgians lay equal claim.
The fourth is the immediate release of Vahagn Chakhalian, a young Armenian community leader who was arrested 11 months ago and sentenced in April to
10 years in prison
on charges, which Armenian civil rights organizations consider unsubstantiated, of illegal possession of weapons, participating in mass disorders, resisting arrest, and "hooliganism."
The fifth is reopening the Verkhnii Lars border and customs post on the Russian-Georgian border, which would enable Armenians to travel overland to Russia. Georgia signaled its readiness late last month to
begin talks
with Moscow on reopening Verkhnii Lars.
The sixth is opening a subsidiary of Tbilisi State University in Djavakheti to enable young Armenians to receive a higher education in Georgia, rather than travel to Armenia to study there.
And the last is to permit the Armenian population of Djavakhk to hold dual (i.e. Georgian and Armenian) citizenship, which is provided for by the constitutions of both countries.
About This Blog
This blog presents analyst Liz Fuller's personal take on events in the region, following on from her work in the "RFE/RL Caucasus Report." It also aims, to borrow a metaphor from Tom de Waal, to act as a smoke detector, focusing attention on potential conflict situations and crises throughout the region. The views are the author's own and do not represent those of RFE/RL.
Latest Posts