BERLIN (Reuters) -- German Chancellor Angela Merkel will not congratulate Iran's Mahmud Ahmadinejad when he is inaugurated as president, due to the disputed election, a German government spokesman has said.
"In view of the circumstances of the controversial reelection, the chancellor will not, as usual, write the normal letter of congratulation," a government spokesman said.
Ahmadinejad is due to be sworn in by parliament for a second term on August 5.
Iran Election Special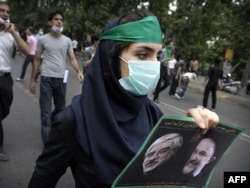 RFE/RL's Full Coverage
Following the disputed reelection of Iranian President Mahmud Ahmadinejad, supporters of Mir Hossein Musavi have taken to the streets to protest.
Click here
for news, blogs, and analysis of the presidential election and aftermath.