(RFE/RL) -- The U.S. Internet company Google has directly challenged the Chinese authorities on the issue of censorship.
In the latest move in a continuing disagreement on that subject, the web-search giant has withdrawn its censored search engine operations from mainland China. Instead, it has set up an unfiltered portal in Hong Kong, which, as a Chinese special administrative region, has more liberal policies on expression.
From now on, Chinese-language web users on the mainland will be able in theory to view sensitive sociopolitical material, such as the plight of dissidents and the situation in Tibet. That's in theory, because it's not yet clear whether the Beijing authorities will undertake action to block all or part of Google's search services.
Western news agencies, in reports from Beijing today, say pages containing previously omitted material were listed at the new search site, but could not be opened.
Google's spokesman for Europe, Bill Echikson, told RFE/RL that in January the company was the target of a "sophisticated cyberattack" originating in China that aimed to access e-mail accounts of human rights activists in China.
He said this and other events led Google to conclude on moral grounds that it could no longer continue to censor its search results. "We said back in January that the issue was censorship, that we could no longer work in a regime which sensored search results, and yesterday we followed our word and stopped censoring results," Echikson said.
Echikson said Google had never been comfortable with the censorship, but when it arrived in China in 2006, it believed on balance that it was better to be present there and to deliver to the people a maximum of information possible. But he said the situation began to worsen a year ago, and this had provided the motive for the present move to Hong Kong.
"It's certainly a possibility that the Chinese government can block our site now, but the key to our perspective is that we have lived up to our committment not to censor our search results in China, and we hope China will not block our site google.com.hk with its great fire wall," he said.
'Counterproductive' Move
In London, a spokeswoman for the rights organization Amnesty International, Roseann Rife, said today that by taking the steps that it has, Google has challenged the Chinese authorities to respect the principle of freedom of expression provided for in the Chinese Constitution.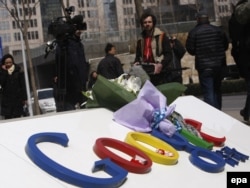 Flowers were left on the Google signboard by Chinese supporters at its headquarters in Beijing on March 23.
In fact, Google's action has angered the Chinese authorities. An unnamed official from China's State Council Information Office told Xinhua state news agency that Google is "totally wrong" to end filtering. He expressed "dissatisfaction and anger" at what he called Google's "unreasonable accusations and practices".
He said the U.S. company has violated a written promise to abide by Chinese norms when it entered the Chinese market.
Speaking to Reuters television, Chinese academic Victor Gao, the director of the China National Association of International Studies, said Google's move could make the situation "even worse."
Gao added that "it's up to the Chinese government to decide what they need to do. But I don't think, you know, by such maneuvers, the Chinese government will bend."
International Concern
The issue has the potential to further sour already-strained relations between China and the United States. Recognizing this, Chinese Foreign Ministry spokesman Qin Gang today said that the Google affair would not affect relations with Washington -- that is, unless the Google issue is "politicized."
That appears to be a warning to the United States to keep Google and censorship off the agenda at renewed economic talks set for May between Chinese officials and U.S. Secretary of State Hillary Clinton and Treasury Secretary Timothy Geithner.
The last set of talks, earlier this year, broke down over a number of mutual irritants, including the subject of Internet freedom.
Qin also said he does not believe China's international standing will be harmed by the row. "Unless someone would want to use Google's case to write something that is a fiction, the case would not harm China, it would harm Google," Qin said.
A Chinese Internet technology specialist, Chen Yafei, told Reuters that if Google left the Chinese market altogether, it would not be a loss.
"Any company entering China should abide by Chinese laws. Google has its own credos," Chen said. "The fighting between Google and the Chinese government is their own business. Chinese Internet users will have no regrets if they withdraw".
That's not the opinion of other industry analysts. Jeremy Goldcorn, the owner of a Chinese media and advertising website, says Google's departure would leave the web dominated by domestic companies, meaning more uniformity, less competition, and less innovation.
written by Breffni O'Rourke with agency material