Human rights activists and supporters of the opposition Green Movement in Iran are increasing their calls on the United States and other countries to help Iranians access an unfiltered Internet by lifting sanctions and sharing key software and technology.
Despite the Iranian government's attempt to obstruct the flow of information, the Internet proved crucial to members of the country's opposition movement as they told the world about the nationwide protests following the country's disputed presidential election on June 12, 2009, and the government crackdown on protesters that followed. At least 70 people were killed.
Many activists, journalists, and ordinary citizens used their cell phones or digital cameras to document the violence. The photographs and short videos they later posted on YouTube were viewed by millions of people around the world and helped to galvanize public opinion against Tehran's tactics.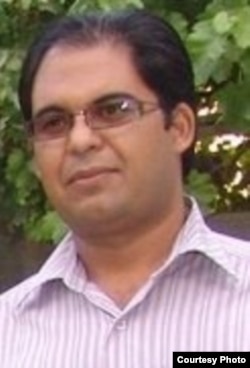 Mohammad Reza Nasab Abdolahi
Shiraz-based journalist Mohammad Reza Nasab Abdolahi was sentenced to eight months in prison over a story he posted on
his blog
after the vote. Nasab Abdolahi had taken
pictures of and reported on four vote boxes
at the Shiraz national library whose ballots had apparently not been counted. (The Shiraz governor later said the ballot boxes had nothing to do with the presidential vote.)
Nasab Abdolahi says he felt it was his duty as a journalist to report on what he saw and that his blog provided him an outlet he otherwise would not have had, considering the strict controls under which traditional media works in Iran.
Nasab Abdolahi says reliable access to the Internet is crucial to his work and the work of other Iranian bloggers, which includes keeping current on the latest news, updating the blogs, and networking with friends and colleagues on sites such as Facebook. But the government's sophisticated methods of Internet censorship makes access to unfiltered websites a real challenge.
National 'Intranet' Planned
Nasab Abdolahi says certain types of software can help Internet users bypass state-imposed filters but that the software sometimes doesn't work for all websites. "Using those filter-breakers makes an already slow Internet even slower," he says. "So I end up getting disconnected many times before I can visit the website I need. And I have to log in and re-log in several times."
Berlin-based blogger and journalist Mehdi Mohseni, who left Iran in June 2009, predicts Iranians will likely have an even tougher time accessing the Internet in the future. He notes that the Iranian government is working on a project to create a national "intranet" -- an internal Internet service -- that would be separate from the World Wide Web and which would effectively seal off Iranians from the Internet.
"We don't have information about how much progress the Islamic republic has made on this," he says. "The launching of a national e-mail system and the suspension of [Google's] Gmail is a preliminary part of that project."
Mohseni believes Western countries should do all they can to help Iranians access an uncensored Internet. Iranians will have a broader range of information, he says, and the world will get a better picture of what Iranians think and want.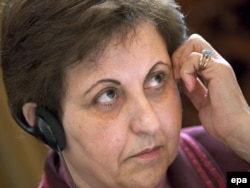 Shirin Ebadi
Iranian Nobel Peace Prize-winner Shirin Ebadi says providing access to uncensored information supports Iranian activists without tainting them or giving the Iranian government an excuse to increase pressure on them. "Giving the Iranian people the possibility to access a free flow of information is the best thing that can be done to help democracy in Iran," she says.
Ebadi says sanctions that prevent the export of technology that would allow Iranians to override state filters should be lifted. "The most important issue is the legal one," Ebadi says. "Sanctions in this regard should be removed. After that, whatever help [Western states] want to give Iranian citizens should be technical."
Access Still Restricted
In March, the U.S. Treasury Department authorized the export to Iran of certain personal Internet-based communication services, such as instant messaging.
Yet, as Mehdi Yahyanejad, the creator of the popular
Balatarin website
, says, Iranians still don't have access to basic programs and software that would facilitate their communication in and outside Iran and also access to information. "Google Earth...and other open-source software that is free cannot be downloaded in Iran because of the sanctions," he says.
Prominent human rights defender and former legislator Ali Akbar Musavi Khoeni, who is currently based in Maryland, says the U.S. government realizes the importance of helping Iranians access technology that would allow them to communicate freely in and outside Iran. But he adds that, in practice, it's not that easy.
"The U.S. is pushing for [tougher] sanctions to be adopted against Iran at the UN Security Council" over its disputed nuclear program, he says. "Maybe there is concern that the removal of some of the sanctions would be confusing for public opinion."
He says he hopes that, despite such problems, the United States and other countries will accelerate their efforts to assist Iranians seeking uncensored information.
Last month, Austin Heap, the director of the San Francisco-based Censorship Research Center, told RFE/RL that the U.S. government had approved the export to Iran of its antifiltering software called Haystack.
Yahyanejad says the international community should invest in antifiltering software or technology that would allow them to provide satellite-based Internet that could bypass Tehran's filtering efforts.
In Shiraz, Nasab Abdollahi says any efforts by the international community to help Iranians access the Internet and bypass government censorship should be welcomed. He says the Iranian government has demonstrated that it has no respect for a basic human right: the right to information.