Russia's Policies In Ingushetia Condemned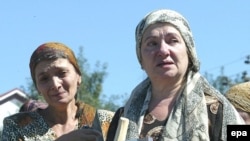 In a
new report
, Human Rights Watch (HRW) says Russian security forces are responsible for widespread human rights abuses in Ingushetia.
The New-York based group says it has documented dozens of arbitrary detentions, acts of torture, disappearances, and extrajudicial executions committed by security forces combating militants in the southern region, which neighbors Chechnya.
The group warns that the "dirty war" tactics would likely further destabilize the North Caucasus.
Ingush lawmaker Shamsudin Mogushkov calls the report "90 percent biased."
About This Blog
"Watchdog" is a blog with a singular mission -- to monitor the latest developments concerning human rights, civil society, and press freedom. We'll pay particular attention to reports concerning countries in RFE/RL's broadcast region.
Journalists In Trouble
RFE/RL journalists take risks, face threats, and make sacrifices every day in an effort to gather the news. Our "Journalists In Trouble" page recognizes their courage and conviction, and documents the high price that many have paid simply for doing their jobs. More