WASHINGTON – One year after Americans hailed a new era of "hope and change" with the inauguration of Barack Obama, nearly half of them say they are disappointed that he hasn't accomplished much of what he came into office promising to do.
Several new polls taken at the one-year mark of Obama's historic presidency reveal a nation divided over whether their new president is taking the country down the right path.
A poll by ABC News and "The Washington Post" shows more than one-third of those surveyed say Obama has fallen short of expectations. Just under half say they think Obama has accomplished a substantial amount in his 12 months in the White House. That's a nearly 20 percent drop from the number who said so back in April, after his first 100 days in office.
To be sure, Obama came into office with a "to-do" list longer than any new president in recent history. His goals were to devise an exit strategy for the war in Iraq and a victory strategy for the war in Afghanistan; to rescue the country from the worst economic crisis since the Great Depression; to halt and then reverse massive job losses; and to tackle domestic crises like health care and failing schools.
Since then, the optimism that accompanied his election and inauguration has been replaced with the sober reality that the nation's challenges cannot be solved quickly. And that has created growing impatience.
Stunning Defeat
The electorate's frustration was underscored this week in the stunning defeat of a Democrat running for the Senate in a special election. Voters in Massachusetts handed the seat of longtime Democrat Edward Kennedy, who died last year, not to another Democrat but to a Republican opponent of Obama's health-care reforms.
The victorious candidate, Scott Brown, criticized Obama's plan as he declared victory.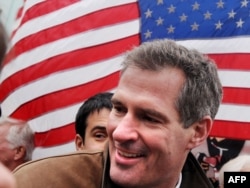 Scott Brown will fill Edward Kennedy's old Senate seat.
"One thing is very, very clear as I travel throughout the state," he said. "People do not want the trillion-dollar health-care plan that is being forced...on the American people."
Brown's victory is a powerful setback to Obama because it robs him of the crucial 60th Senate vote his party needs to pass his health-care bill.
Winning passage now means Obama will have to persuade at least one Republican to defect to his side – a tough job given opposition anger over the bill.
But this week's upset is just the latest example of the emotional rollercoaster that Americans have been on since Obama was sworn into office.
One of the most hoped-for changes among Americans was that Obama – the country's first African-American president – would heal the racial divisions that have marked America for centuries. Yet while his candidacy seemed to transcend race and his election seemed a triumph over racism, his presidency has been fraught with reminders that the country is far from color blind.
From the mistaken arrest of a distinguished black professor and ensuing controversy when Obama weighed in, to the awkward revelations that members of his own Democratic Party thought he was electable because of his light skin, Obama's presence in the White House has served to remind Americans of their racial divide as often as it has helped them overcome it.
When Obama took the oath of office a year ago, 58 percent of Americans believed his election had helped relations between blacks and whites. Today that number has dropped to 41 percent.
The poll results also show that race plays a role in how Obama is being judged. African-Americans overwhelmingly approve of the job Obama is doing, but among whites, the number of people who say he has achieved enough in his first year, as well as those who say they approve of what he has done, has dropped.
'The Best Is Yet To Come'
Carlos Campbell is a 72-year old African-American and member of the Republican Party who served in three Republican White Houses. RFE/RL spoke to him in November on the eve of Obama's election as he prepared to enthusiastically vote for Obama.
This year, RFE/RL talked to him again and asked how he felt about Obama's first year in office.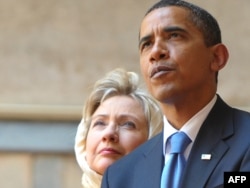 Obama and Secretary of State Hillary Clinton tour the Sultan Hassan Mosque in Cairo in June.
"I'm quite pleased by the way he has adapted to the challenge, and I say that having served in three Republican administrations," Campbell says. "And I think he's adjusted and adapted in the face of incredible challenges and perhaps unanticipated resistance."

Campbell cited Obama's efforts over the last year to restore the United States' image around the world as one of the U.S. president's most notable successes.

"Outstanding. He understands statesmanship. And that, I think, is a tremendous advantage for the United States, and President Obama has a breadth that is refreshing," he says. "I think he has the energy. I think his peace initiative has been respected and well-deserved, and I think the best is yet to come."

White House advisers are pointing out that even Ronald Reagan – a U.S. president known for his mass popularity – had only half the country behind him at the end of his first year in office.

By that measure, Obama may be on course to be remembered as one of the most charismatic U.S. leaders in recent history. But his toughest battles still lie ahead.