Mikhail Khodorkovsky, who at the turn of the century enjoyed massive wealth as head of Russia's Yukos oil giant, is halfway through an eight-year sentence for fraud and tax evasion -- and is facing new charges that could see him continuing jail time into his old age.
The 45-year-old former billionaire arrived in a Moscow court on March 3 to face charges of embezzling and laundering more than $20 billion between 1998-2003. Khodorkovsky's onetime business partner, Platon Lebedev, is facing the same set of charges.
Khodorkovsky, wearing jeans and carrying a black briefcase, was handcuffed to a guard as he was brought in, Reuters reports. A supporter threw white roses toward him. Khodorkovsky did not speak as he was led into the building.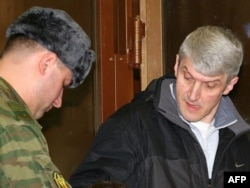 A Russian police officer removes the handcuffs of jailed Russian oil tycoon Platon Lebedev.
He was transferred to Moscow from a penal colony in Chita, Siberia, some 6,000 kilometers from the Russian capital, where he has been serving his current sentence. Press reports have speculated that a conviction could add between 15 and 27 years to his jail time.
Supporters and rights activists have called the new charges an attempt by Prime Minister Vladimir Putin to make sure Khodorkovsky -- who was critical of Putin's presidency -- remains incarcerated indefinitely.
"By all appearances, the goal is to keep him behind bars," Vladimir Ryzhkov, an opposition politician and former State Duma deputy, tells RFE/RL's Russian Service.
"Since he has completed half his [current] sentence, he could appeal for early release. Two years ago, a new criminal case was started and by all appearances a political decision was made to give him a second long sentence, to make sure he remains imprisoned," Ryzhkov adds.
Once Russia's richest man and one of its most influential entrepreneurs, Khodorkovsky was arrested in October 2003 and charged with fraud and tax evasion.
After a trial widely criticized by rights activists as flawed, he was sentenced to eight years in the Chita prison colony in May 2005. The new charges come as Khodorkovsky becomes eligible for parole, having served half that sentence.
Moment Of Truth
While many observers see the new charges as the work of Putin and his allies, some also see the trial as a critical test case for Putin's presidential successor, Dmitry Medvedev.
For Medvedev, the situation is very interesting. Because while this is the second Khodorkovsky trial, it is the first one when Medvedev is president.
The start of Khodorkovsky's trial comes a day after the one-year anniversary of the election of Medvedev, a former lawyer who has promised to clean up Russia's notoriously corrupt judicial system and put an end to what he calls "legal nihilism."
Opposition figures say they will be watching the trial closely to see if Medvedev makes good on promises to establish a judiciary that is independent of political pressure and interference.
"For Medvedev, the situation is very interesting. Because while this is the second Khodorkovsky trial, it is the first one when Medvedev is president," Aleksandr Osovtsov, a member of the opposition group Solidarity, tells RFE/RL's Russian Service.
"This is a test of all his talk about how freedom is better than the lack of freedom, about making courts more independent," he adds. "It is a moment of truth."
Others are more cautious, saying Putin and close allies like Igor Sechin, his first deputy prime minister, still wield the bulk of the power in Russia and are determined to secure a conviction against a man they view as a political and financial opponent.
At the time of Khodorkovsky's arrest in 2003, Yukos was Russia's largest oil company and its assets were coveted by Sechin and other security service veterans in Putin's inner circle.
It also came at a time when the Kremlin was moving to consolidate control over the energy industry. Khodorkovsky had also been trying to parlay his corporate might into political influence by financing opposition parties.
After Khodorkovsky's conviction, Yukos was broken up and its assets were largely taken over by the state-run oil giant Rosneft, which Sechin chairs. Financing for liberal opposition parties quickly dried up, as remaining oligarchs, chastened by Khodorkovsky's fate, fell in line with the Kremlin.
Legal Nihilism
Most analysts agree that Khodorkovsky -- like all the oligarchs who got fabulously wealthy in the 1990s -- was no angel. He used his connections in former President Boris Yeltsin's Kremlin to acquire and expand his business empire on the cheap, evade taxes, and undermine the interests of minority shareholders.
But in 2000, as he sensed the political environment changing with Putin's ascent, and in an effort to lure foreign investors, Khodorkovsky began to clean up his act. Yukos paid its delinquent taxes, posted healthy profits, and paid stockholders hefty dividends. He won plaudits in the West, as Yukos became known as one of Russia's best-run companies.
Instead of there being a trial in Moscow of Khodorkovsky, there should be a hearing in Moscow to determine who has been behind the attack and destruction of Yukos.
Attorney Robert Amsterdam, a member of Khodorkovsky's international defense team, says it is the officials who ordered the original case who should be under investigation.
"Instead of there being a trial in Moscow of Khodorkovsky, there should be a hearing in Moscow to determine who has been behind the attack and destruction of Yukos," Amsterdam says. "That would be an appropriate sign that 'legal nihilism' is at an end."
The new charges allege that Khodorkovsky and Lebedev embezzled more than 850 billion rubles ($23.6 billion) worth of oil from 1998-2003. Prosecutors also accuse the two of laundering 450 billion rubles ($12.5 billion) and an additional $7.5 billion through three Yukos subsidiaries.
If convicted, they could have at least 15 years added to their sentences.
Prosecutors have not spoken publicly about the case, other than to announce the charges. Critics have noted that the amount Khodorkovsky is accused of embezzling is more than his company was worth.
Spreading Dirt
In another case, Khodorkovsky won a rare victory when a Moscow court on February 25 threw out a civil lawsuit alleging that he sexually harassed a cellmate, Aleksandr Kuchma, who was seeking 500,000 rubles ($14,000) in damages.
Khodorkovsky's mother, Marina Khodorkovskaya, calls the suit an attempt to smear her son's reputation.
"Before the trial, they want spread this dirt to give people the impression that he is not only a thief but a rapist and a morally corrupt individual, too," Khodorkovskaya tells RFE/RL's Russian Service.
Khodorkovsky and Lebedev were transferred from a prison in the Chita region, near the Chinese border, to Moscow's Matrosskaya Tishina Prison on February 24, court officials said.
Some analysts say the very fact that Khodorkovsky and Lebedev are being tried in the capital illustrates how nervous the authorities are about the case and their control of the courts.
"The very fact that they transferred Khodorkovsky and Lebedev to Moscow demonstrates that there is a crisis in the power vertical," says political analyst Stanislav Belkovsky, director of the Moscow-based National Strategy Institute.
"The Kremlin and those behind the Khodorkovsky case -- mainly Igor Sechin -- don't trust the court in Chita and they don't trust their ability to control the courts in the regions," Belkovsky says. "Therefore they the two accused to the Khamovnichesky Court [in Moscow], where they think they have more control."