After five years of fighting and with Iraqi authority now at
unprecedented levels
since the launch of the U.S.-led invasion to oust Saddam Hussein, the level of violence appears to have finally eased to the point that Iraqi citizens can again plan for the future.
The number of Iraqi civilian deaths has fallen from a high of some 3,800 a month two years ago to some 600 a month today. And with that, the danger of a civil war sparked by sectarian-based killings has finally receded.
There are continuing car-bomb attacks that claim dozens of lives. But after the 2007 U.S. troop surge and the turning of Sunni tribes against Al-Qaeda, the past months have been the quietest since the ouster of Saddam Hussein.
"Now we can say that the security situation gradually is improving," one Baghdad resident recently told RFE/RL's Radio Free Iraq.
But with one eye on the extension of Iraqi authority and international troop withdrawals and the other on blast shields and checkpoints that dot the streets of the capital, he cautioned that a "gradual" international pullback might be preferable.
In addition to bringing U.S. forces under an Iraqi mandate and handing over the so-called Green Zone in Baghdad on January 1, Washington and Baghdad agreed in November on a timetable for most U.S. troops to leave the country. Those U.S. forces are to withdraw to their bases from cities and towns this year and leave Iraq altogether by 2011.
Both sides hope the accord will further isolate Iraq's remaining insurgents. It could do so by removing a powerful recruiting tool from the insurgents' hands -- their argument that the United States seeks to occupy Iraq permanently.
The accord also could help raise perceptions that the Iraqi government and army are becoming stable enough to secure the country, strengthening the argument that the insurgency is doomed.
But while security has improved, Iraq still faces major tests on the political front.
That came out dramatically in the shoe-throwing incident late in the year when U.S. President George W. Bush traveled to Baghdad to tout the success of the accord. A journalist who threw his shoes at the U.S. president, Muntadhir al-Zaidi, became an instant hero to thousands in Baghdad and other Arab capitals who went out into the streets to express their support for his actions.
Although Bush said he had no "hard feelings" against the journalist, for many the incident has come to symbolize tensions and resentments over Washington's policy in Iraq.
Democratic Progress
In the country itself, much of the past 12 months was spent in wrangling over an election law ahead of provincial elections expected in January. Iraq will also hold parliamentary elections at the end of 2009.
The election law finally passed in September as legislators postponed resolving one of the most country's thorniest political problems: how to hold elections in the disputed oil-rich province of Kirkuk, which Iraqi Kurds say should be part of their largely autonomous region.
"I think the passing of the provincial elections law was very important -- it reemphasizes that there still is a democratic process," says Joost Hiltermann of the International Crisis Group, noting that Iraqi rivals have frequently resorted to violence rather than political negotiation to resolve their differences. "We should definitely recognize that this is a very good path to be on."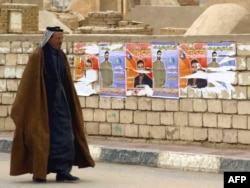 There are still major obstacles to overcome but election posters, like these outside an Al-Najaf cemetery, provide some hope.
Hiltermann notes that there are problems, of course. "One of them is the fact that the Kirkuk issue had to be taken out of the provincial elections law and set aside for a special procedure," he says. "This is not a reflection so much of the poverty of the democratic process but of the extreme difficulty that the Kirkuk quandary presents."
Iraq's two rounds of elections this year will be the first in nearly four years and the domestic balance of power will greatly depend on their outcome.
Factional Tensions
The elections will provide an opportunity for the Sunni Arab community to rejoin the political process after largely boycotting the last polls in 2005.
They will also allow the Shi'ite Arabs to decide how to redistribute power between the current ruling Shi'ite religious parties -- which favor secular politics -- and the often-violent movement of radical cleric Muqtada al-Sadr -- which favors theocracy.
Many Iraqis say it is still too early to predict whether the country's upcoming elections will further stabilize the country. But most serious observers agree that elections are the only way a lasting national consensus can emerge for the country's future.
"I think because Iraq has always been under dictatorship for the last century and under central governments with no democratic measures, all this is new for this country," says democracy activist Mahmud Uthman, who is a member of Iraqi parliament from the Kurdish Alliance. "Nobody expects it to go very smoothly. But, still, elections are always a step forward because you give the people a say and they vote and they have their say in what is going on."
Iraq's prospects for stability are further complicated by the intense interest of its neighboring states in its future.
Foremost is Iran, which often appears to be fighting a proxy war with the United States in Iraq. That makes Iraq part of yet another question that will dominate the news in 2009: the U.S.-Iran relationship.
Tehran and Washington made no progress this year after a series of three direct meetings in Baghdad at the ambassador or expert level in 2007 did not go further.
Washington demanded Iran stop the alleged practice of providing Shi'ite militants with armor-piercing roadside bombs used against U.S. troops. Tehran demanded the U.S. forces stop security sweeps against the militants.
However, by year's end, attacks by the so-called militant "Special Groups" had dropped as Iraqi Army offensives targeted their strongholds in Al-Basrah and elsewhere.
With U.S. President-elect Barack Obama vowing "tough but direct diplomacy" with Iran over its nuclear program, there is every likelihood Washington and Tehran will begin talking about Iraq again next year. Both sides say they want a stable Iraq that is at peace with its neighbors.
RFE/RL's Radio Free Iraq contributed to this report
2008 In Review

RFE/RL looks back at the stories that shaped 2008. More