Seventeen-year-old Nadia considers herself lucky. She ran away when she saw three classmates at her all-girls school pass out on the afternoon of April 24.
Forty-seven schoolgirls either fell unconscious or complained of nausea and dizziness that day at Khadijatul Kubra High School in Konduz.
The illnesses are the latest in a series of suspected poisoning incidents at girls' schools in the northeastern Afghan city.
On April 21, 23 girls at Fatimatul Zohra High School mysteriously fell ill. On April 25, another 13 at the Sahe Darra Middle School for Girls became sick.
Nobody has claimed responsibility for the outbreaks, and local authorities are still investigating their exact cause. But the Taliban's well-known opposition to girls' education has prompted many to accuse the group of waging a poisoning campaign.
The incident caused panic among the girls at Nadia's school, where some 6,000 students are split into morning and afternoon shifts to ease overcrowding. In the end, none of the cases was considered life-threatening, and most girls were sent home after a brief hospitalization.
Konduz Province government spokesman Mohibullah Sayedi tells RFE/RL's Radio Free Afghanistan that local authorities are investigating the incidents and have sent blood samples of the affected girls to Kabul to determine the cause of their sickness.
He says that when the investigation was launched after girls first became sick on April 21 at Fatimatul Zohra school, pesticide poisoning was suspected.
"Yesterday [on April 24], when a similar incident occurred in the central school for girls, it was a tragedy," he said. "Today, with it again happening in the Sahe Darra school, we are vigorously investigating it."
'Against Islam'
Nadia is convinced the outbreak at her school was no accident.
"God must curse those who have done this because it terrified everybody," she said. "I had a headache all night and everybody suffered from it."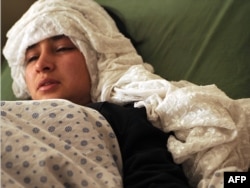 Schoolgirls in Charikar, Afghanistan, suffered from a similar illness a year ago. Gas poisoning was suspected.
Students, teachers, and parents throughout Konduz express similar fears.
"Anybody who has done this seeks to spread fear, and such people are simply killers," said Mohammad Aslam, a resident of Konduz. "These acts are against Afghanistan, against Islam, and against education in our country."
In the capital, presidential spokesman Wahid Omar made clear that Kabul authorities consider the incidents to be deliberate poisonings.
"Poisoning schoolgirls is a horrific act; in some ways it is a terror attack," Omar said. "Whoever is trying to prevent kids from going to school is an enemy of Afghanistan, and it is not different from any other terrorist act."
Konduz, which borders Tajikistan, was relatively peaceful until the past few years. But insurgent activities increased after the region became a major supply route for NATO troops in Afghanistan.
RFE/RL Radio Free Afghanistan correspondent Noor Mohammad Sahim contributed to this report from Konduz