Devastating fires and droughts are not the only consequences of the heat wave that hit much of the former Soviet Union this summer.
Millions of people across the region are now hit by another misfortune: buckwheat shortages.
The scarcity of buckwheat, a regional food staple, has translated into rocketing prices. It has also triggered a number of practices reminiscent of the past such as panic-buying, speculation, and hoarding.
This grocery shopper in the Belarusian region of Hrodna complained to RFE/RL's Belarusian Service: "What can we, the little people, do when we have leadership like this all around? Why should Belarusians have to suffer and purchase [buckwheat] for high prices, when we grew enough and have plenty? Everything that trickles down to us we have to buy for insane prices."
Such a reaction is anything but trivial in countries like Russia, Ukraine, or Belarus, where millions of people eat buckwheat every day.

Breakfast, Lunch, And Dinner
RFE/RL correspondent Merkhat Sharipzhanov is among buckwheat enthusiasts who regularly consume the beloved staple as a cereal for breakfast, a side dish, stuffing, or pancakes.
"We learnt about buckwheat when we were schoolchildren. It was my favorite porridge for lunch at school. It was very cheap and also it was very popular for households because it was so easy to cook," Sharipzhanov said.
"Of course, [I ate] buckwheat on a daily basis when I was a soldier in the Soviet Army in 1981, 1982, and 1983. Among other porridges, buckwheat was the yummiest, the most nutritious, and the most popular one among soldiers."
In Russia, this summer's record-high temperatures, compounded by a devastating drought and forest fires, has destroyed one-quarter of the country's crops and cut harvest forecasts.
According to some estimates, the buckwheat crop in Russia -- the world's top producer -- may more than halve this year following another poor harvest in 2009. As a result, the average price for buckwheat jumped from 31 rubles ($1) per kilo in June to 47 rubles ($1.50) in late August, according to official statistics.
The extreme weather has also affected the harvest in other countries in the region, particularly Ukraine -- the world's third-largest buckwheat producer -- where areas growing buckwheat have halved in recent years.
Acknowledging the shortage's potentially destabilizing effect, officials in the region are taking the issue seriously.
They say they are working to alleviate the buckwheat shortage but insist reserves will allow the countries to meet this year's demand.
Some governments have introduced or are considering introducing export bans or restrictions.
Folklore Food
Buckwheat is not necessarily as central to the region's diet as wheat, but it is considered more of a distinctly national food.
Irena Chalupa, the director of RFE/RL's Ukrainian Service, says "buckwheat is part of the dietary fabric of Ukrainian life."
"I particularly remember the [2005] Orange Revolution, when people started camping out in the streets. Many people, Kyiv residents, brought them food. It was winter and they would bring them boiled buckwheat, seasoned with salt and pepper, perhaps butter or oil, sometimes with a few mushrooms thrown in," she says.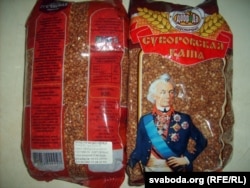 Buckwheat: the food of armies
RFE/RL's Belarus Service Director Alexander Lukashuk points out that Soviet dictator Joseph Stalin's henchman, Vyacheslav Molotov, who died at 96, adored buckwheat and considered it a key to a long and healthy life.
Lukashuk says the Soviet regime extensively promoted buckwheat, which is valued for its nutrients.
"If one opens a Soviet newspaper 50 years ago, one would find quite a number of articles titled 'The Communist Party's Care for Buckwheat,' 'Those who Underestimate Buckwheat,' 'Buckwheat -- a Valuable Source of Nutrients,'" he says.
Despite its name, buckwheat isn't related to any grain, but is the fruit of a broadleaved plant.
This little brown triangular kernel is believed to have originated in China.
Sharipzhanov says it traveled to Eastern Europe along with Asian invaders
"It is believed that it was brought to Russia and further to Eastern Europe by Mongol Tatar invaders who first invaded China and knew what buckwheat was. In the Czech Republic for instance, it is called 'pohanka' -- which means pagan or pagan's food," Sharipzhanov says.
"When Mongol Tatars invaded Eastern Europe centuries ago, they managed to survive droughts, feeding their horses with buckwheat and eating it themselves."
Buckwheat has since colonized the region's cuisine but also its folklore and traditions such as harvesting and pulling songs.
Chalupa says that in Ukraine, buckwheat has become a euphemism for adultery.
"'To jump into buckwheat' means to commit adultery. And I can think of a multitude of literary references to this. It's something that Ukrainians often use as a phrase, as a manner of speech," Chalupa says.
"Why buckwheat? I have absolutely no idea, because it doesn't really grow that high -- five feet, or 1.5 meter, would probably be the maximum. So it isn't such a very high thing to grow so you could hide in there and commit adultery. But, I suppose if you're committed to do it, you can find ways of doing it even in the lowest [crops]."
RFE/RL's Ukrainian and Belarus services contributed to this report