Three months have passed since deadly interethnic violence erupted in Kyrgyzstan, leaving the government and its citizens eager to close an ugly chapter in their history.
But as the first court trials dealing with the violence began, there were concerns that the scales of justice were out of balance, raising fears that they would do more to rekindle tensions than to quell them ahead of
crucial parliamentary elections on October 10
.
It is a given that both ethnic Kyrgyz and the country's minority Uzbek population participated in the mid-June violence that left nearly 400 people dead in the southern provinces of Jalal-Abad and Osh. The casual observer would not walk away with that impression by looking at those sitting in the dock so far, however.
The first trial, which concluded in Osh's Kara-Suu district on September 3, involved five defendants -- all of them ethnic Uzbeks.
The second, which began in the southern Kyrgyz town of Nooken last week and concluded with
convictions
on September 15, involved eight defendants -- all of them ethnic Uzbeks. International rights groups, including Human Rights Watch and Amnesty International, have
condemned that process
and accused authorities of fabricating the charges.
The third, which began on September 13 in Jalal-Abad, involved 11 defendants -- all of them ethnic Uzbeks.
Aside from the ethnic makeup, the trials share another trait. In each, lengthy sentences have been requested by prosecutors, and in some cases have already been handed down.
'Extremely Worrisome'
The situation has attracted the attention of human-rights observers, who have noted the stark imbalance in the number of Uzbeks detained during the unrest and have accused Kyrgyz authorities of targeting Uzbeks with arbitrary arrests and even torture.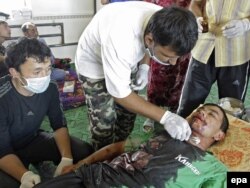 A doctor attends to a victim of the ethnic clashes in the city of Osh on June 13.
Anna Neistat, senior researcher for Human Rights Watch (HRW), says the lack of ethnic Kyrgyz standing trial is "extremely worrisome"
"The situation is so unstable, so volatile, that the government should be extremely careful as to how its action are being interpreted and, of course, if it's being seen as favoring one ethnic group over the other," Neistat says. "This is not the way to stability."
Ravshan Gapirov, who heads the rights group Justice-Truth, says many ethnic Uzbeks are dismayed that ethnic Kyrgyz have yet to face trial.
"Such an approach annoys Uzbeks very much, but they feel they have no other choice. They can't do anything about it," Gapirov says. "It seems they can't even defend themselves."
Kyrgyz officials have downplayed concerns, insisting they are not singling anyone out on the basis of their ethnicity and offering assurances that they intend to deliver justice to all who played a part in the June violence.

Too Early To Assume
Begali Pirmanov, who oversees the ongoing investigations into the ethnic clashes, says that at least 240 criminal cases have been prepared and will soon be sent to courts. When asked about the ethnic background of those who will stand trial, he says only that "they are all Kyrgyz citizens."
Neistat of HRW, too, acknowledges that it is "still too early to assume that Kyrgyzstan would not prosecute any Kyrgyz."
But even if the process proves to have ethnic balance in the end, there are other worrying aspects of the opening trials.
The most high-profile case thus far is the one that concluded on September 15 in Nooken of eight defendants including Azimjon Askarov, the director of the local human-rights organization Vozdukh (Air) who has also been active in the Jalal-Abad human rights network Justice.
Much of Askarov's work as an activist has focused on documenting prison conditions and on the treatment of detainees by police. Askarov was found guilty of involvement in the killing of a Kyrgyz policeman during violent clashes that broke out between ethnic Uzbek and Kyrgyz communities in the village of Bazar-Korgon on June 12.
Askarov, who was arrested three days later, reiterated his innocence in court on September 15, shortly before he was sentenced to life in prison.
'Nobody Beat Me'
During his testimony in the first days of his trial, Askarov was questioned about pictures taken of him by his lawyer last month. The pictures revealed Askarov's heavily bruised back, prompting speculation that he had been beaten while in custody.
Askarov, however, seemed most defensive of the police.
It is absolutely important that both communities see those who are responsible being brought to justice.
"Nobody beat me. Police would not beat a 60-year-old man, would they?" Askarov asked the courtroom, which was filled with angry relatives of the slain policeman.
Four of Askarov's co-defendants were also sentenced to life in prison with confiscation of their property, two were sentenced to 20 years in jail, and one person was sentenced to nine years in prison.
In the first sentence handed down, in the case that opened early this month in Osh's Kara-Suu district, defendant Jahahngir Bazarov was given 23 years in prison after being found guilty of killing an ethnic Kyrgyz man during violent clashes in the village of Birdik on June 12.
The third case, which opened in Jalal-Abad this week and will open again in Nooken on September 22, involves the so-called Sampa violence that took place from June 12-14 in the southern district of Suzak. Authorities say 16 people -- all Kyrgyz -- were killed by ethnic Uzbeks near the Sampa cotton factory. Two ethnic Kyrgyz remain missing following the violence, which led to the arrest of 19 ethnic Uzbeks, of which 14 are on trial.
Impartial Justice
Despite the potential for such trials to rekindle animosity between ethnic Kyrgyz and Uzbeks, observers appear optimistic they can help heal the wounds if justice is meted out impartially.
"Of course, there is nothing wrong with investigating such cases [against ethnic Uzbeks]," says
Aziza Abdyrasulova
of the Kyrgyz nongovernmental group Kylym Shamy (Torch of the Century). "But we also know that there were also many crimes against Uzbeks, and we want to know when those cases will be heard in courts."
HRW's Neistat says authorities must ensure fair trials, regardless with the ethnic background of suspects, and stresses the importance of conducting investigations and trials in a fair and open way.
The feeling is that if this goal is met, both Kyrgyz and Uzbeks will be able to gain the closure needed to move on.
"That's why it is absolutely important that both communities see those who are responsible being brought to justice," Abdyrasulova says. "But without fair trials, it's simply impossible to build lasting peace here."

RFE/RL Kyrgyz Service correspondent Torokul Doorov contributed to this report