On a cold evening in late December 2006, I sat before a fire in Comrat speaking with the newly elected bashkan of Gagauzia, Mikhail Formuzal. The OSCE Mission to Moldova had kept a close eye on the four-way campaign for the region's top spot and had monitored two rounds of voting, ensuring a largely good and fair process, at least on election day.
Formuzal's main opponent, the incumbent, had been the ruling cohort's preferred candidate, and certain forces were trying to help him to another victory. So, in the period before the election, Formuzal found himself under prosecution or investigation in half a dozen criminal cases concerning alleged irregularities in municipal privatizations and other matters that Formuzal maintained were trumped up.
Having overcome these hurdles and won, the new bashkan was full of energy and confidence. He had a vision and a plan for a better Gagauzia. He was starting to assemble his team. Toward the end of our conversation, I looked Formuzal straight in the eye and asked him not to forget what those wielding the levers of state power had done to him during the campaign and before. I suggested that he do his best to make sure others weren't treated in this way on his watch.
Moldova's four opposition leaders – Mihai Ghimpu, Serafim Urechean, Vlad Filat, and Marian Lupu – who announced their formation of an Alliance for European Integration on August 8 are equally ebullient and sanguine after their recent victory. Their press conference and 22-point declaration were inspiring and reflected smart positions and solid values, the positions on which they had campaigned and won.
All four leaders have had experience, directly or indirectly, with the bitter practice of those in power using the "kompromat" dossier and the prosecutor's office to gain political or financial advantage. All have loudly decried this kind of behavior to voters, diplomats, and international observation missions alike.

Mindful Of The Past
Now as they move ahead with the vital but laborious work of real reform, the unified opposition might also remain mindful of what was visited on it these past years. Each leader might pause, take a deep breath, and guarantee that on his watch the organs of power will not be used outside their proper purpose. The opposition would do well to remember the twist on the Golden Rule that I had discussed some years ago with the new bashkan: Do unto others as you wish they had done unto you.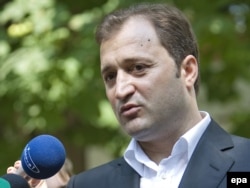 Vlad Filat
But just hours after their press conference, the opposition quartet gathered on a popular Moldovan talk show and seemed to express diverging views on this issue. For example, Marian Lupu, the former Communist party member and speaker of parliament, suggested that the next government will "follow a path of nonrepressive, professional principles." His new partner-in-coalition, Vlad Filat of the Liberal Democratic Party (PLDM), repeated a stricter position he has expressed before, namely, "that there are people who violated current legislation and civil rights, and they will be held accountable under the law."
Just after the July 29 election, Filat requested that "all measures" be taken to prevent the "illicit transfer of capital abroad" and that the Interior Ministry, the Prosecutor-General's Office, and the Information and Security Service ensure the integrity of all investigative materials and court filings, presumably for later review by the new government. These seem like reasonable things to do. But care should be taken that they not slip from law enforcement into vengeance.
Already more radical voices, both in and out of the opposition parties, are proposing a troubling set of approaches. Some have suggested that the opposition itself should now attempt to gain control over Moldova's administrative resources and use them to ensure that the Communists can never again win, particularly if there are yet more repeat elections next year. A political analyst recommended that acting President Vladimir Voronin be tried just like a war criminal. One of Chisinau's daily newspapers even speculated on the 17 crimes for which he could be prosecuted.

Nascent Judicial System
First of all, these kinds of exhortations will only lead to new rancor and division in a society that, after all, gave nearly half the parliamentary seats to the Communists on generally uncontested election results. Second, the opposition's win, in and of itself, has not changed overnight the capacity for fairness of Moldova's troubled institutions. Its judicial system remains nascent, its prosecutors swayable, and its history with the rule of law checkered. In the current atmosphere, how might a fair and proper process be provided for those deemed to have, in Filat's words, "violated current legislation"? And if undertaken, could such a thing even be done in a way that isn't perceived as base political revenge?
Besides, thanks to the vagaries of the Moldovan Constitution, it is not clear exactly what powers the opposition will have. The "vertical of intimidation" -- the prosecutor-general and the head of the Information and Security Service – are confirmed by the parliament, but nominated by the president. Current acting President Voronin will surely not remove his allies from these positions, and the opposition is still quite far from occupying the president's chair.
Members of the Audiovisual Coordination Counsel, which supervises the national broadcaster, Moldova 1, are elected by a three-fifths vote, which neither side can muster without compromise. The same is true for the Counsel of Observers of Teleradio Moldova. What this means is that the opposition and the Communists are doomed to cooperation.
The unity coalition now must bend over backwards to avoid even the appearance of misusing state power to exact revenge. When the dust settles, the opposition will be judged by how it breaks with past practices. Its legacy must not be one of settling deep, personal scores, but rather of creating a new political culture of reconciliation, collaboration, and reform. An eye for an eye leaves everyone blind.
Louis O'Neill was OSCE ambassador and head of mission to Moldova from 2006-08. The views expressed in this commentary are the author's own and do not necessarily reflect those of RFE/RL.