CELEBILER, Azerbaijan -- In this small, dusty village in central Azerbaijan, daily life for the local women begins at dawn and ends at sunset.
What happens in between, say several Celebiler women, is nonstop labor.
"First we go to the fields," says one woman dressed in a colorful housecoat. "Then we come back and get our buckets and walk a long distance from here to get water. Then we come home, and begin washing clothes by hand. It's torture for us."
"You can't think about resting," says another. "There's no water, no gas. This is real rural life."
The women smile ruefully when asked if they have time for small luxuries like relaxing or watching soap operas. Television, says one, is for people who have nothing to do -- and finding such a woman anywhere here is impossible.

Division Of Labor
In Celebiler and other agriculture-based villages like it throughout Azerbaijan, women maintain the household and raise children. But they are also expected to perform as much physical labor -- and sometimes more -- than that of their husbands.
Many of the village men have left seeking work in Russia. Those who remain can often be found sitting in groups, placidly drinking tea or playing dominoes. All the while, they keep a watchful eye on the women, whose chores even include the backbreaking task of toting water from a distant spring back to their homes.
When asked if it bothered them to see the women burdened with heavy buckets of water, the men are adamant that tradition dictated it was the women who should perform much of the physical labor. "Carrying water is women's work," insists one man. "In our village, if a man carried water, it would be an embarrassment."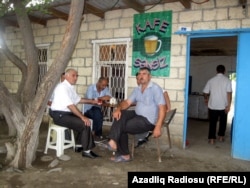 Many men in the village are away working, but some are there to watch the women work.
Some men admit they occasionally bring water themselves, but only at night, after most of the village residents are asleep.
Wealth, But No Trickle-Down
Azerbaijan is one of the fastest-growing economies in the former Soviet Union, fueled by the country's massive oil and gas resources. The country reportedly holds more than $20 billion in currency reserves.
President Ilham Aliyev has pledged to use that wealth to diversify the economy and improve infrastructure in places like Celebiler and the surrounding Barda district, which -- remarkably for an energy-rich country -- has no water or gas lines, and still burns wood for fuel.
Few schools remain in working order, adding child-care concerns to the women's to-do lists. "It takes three days for us to do things that city residents can do in an hour," one Celebiler resident sighs.
"We'd like to enroll our children in kindergartens, but there aren't any," says another. "We could work more easily in this case."
No Options
The plight of Celebiler's female residents is played out in village after village in rural Azerbaijan. Women nominally enjoy the same rights and privileges as men. But gender discrimination is common, particularly in agricultural regions where growing poverty and isolation have kept many women shackled to traditional roles.
Even in the capital, Baku, only a handful of women have risen to positions of influence. The most notable of them is the country's first lady, Mehriban Aliyeva, a prominent lawmaker who is reputed to be preparing for a presidential bid after the scheduled expiration of her husband's second term in 2013.
The couple's twenty-something daughters, Arzu and Leyla, themselves enjoy tremendous wealth
with property and business holdings of more than $75 million
.
But that world seems very distant from life in Celebiler, where women say their workload is so overwhelming they have no time to get involved in local politics and potentially change their lives for the better.
"Working around the house absorbs us so much that there's no time for anything else," says village resident Shukufa Jabrailova. "Of course, we want to do some other things -- let's say to participate in the municipal elections."
Opportunities, Lost
The problems of rural regions have not gone unnoticed by Azerbaijani activists. Local NGOs have launched numerous programs in Celebiler and other villages aimed at dealing with women's issues.
But Laman Babayeva of the Aran regional development organization says women have shown little initiative when it comes to participating in local problem-solving, and that many programs die out after just three or four months for lack of interest.
Education is also an issue. It is not only that the number of working schools are dwindling; in many instances, girls are giving up their studies at a young age, opting to marry and work instead. Their parents, often busy themselves with work, are rarely in a position to insist their children remain in school.
Jabrailova says the village used to provide a safety net for its students. Now, she says, many children are left on their own.
There used to be a group system in schools," she says. "If the parents were too busy to help children with their studies, those children could go to the group for support. But this group system doesn't function anymore, and now illiteracy is flourishing."