TOLYATTI, Russia -- AvtoVAZ, Russia's largest automaker, may be famous for producing a car that inspires fewer sales than jokes. ("The new Lada Kalina can go up to 100 kilometers an hour...if you push it off a cliff.") But that hasn't stopped the company from attempting to inject a little racetrack sex appeal into its day-to-day assembly.
When fresh Ladas roll off the production line here at the massive AvtoVAZ plant, they head straight for a spin around a track built on the company compound. One by one, the boxy cars head out onto the track for a series for identical maneuvers -- a figure eight here, a speedy drive down the straight there.
Every car that is made at this factory in Tolyatti -- Russia's "motor city," located 800 kilometers southeast of Moscow -- takes a test drive on the AvtoVAZ track. Watching the action from a top-floor office in the plant's administrative building, spokesman Igor Burenkov says when the track is working, it means the factory -- and by extension the town -- are working as well.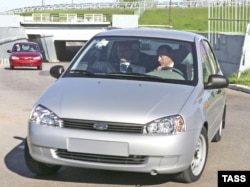 Vladimir Putin test-drives a Lada Kalina while visiting the AvtoVAZ plant in Tolyatti.
"From this side, you can see the track. It's also visible when you drive past," Burenkov points out. "Tolyatti residents have a saying that if you can see cars, then things are OK. If not, then there's nothing."
Kremlin Support
The past year has seen fewer Ladas going through their paces at the AvtoVAZ track. The global economic crisis hit the Russian automaker hard, with sales dipping to a 13-year low last year, prompting layoffs, a month-long production freeze, and a massive government bailout plan.
Russian Prime Minister Vladimir Putin has overseen a multipronged attempt to rescue the country's auto manufacturers. The government this week launched a "cash for clunkers" program, announcing it will offer discounts of up to $1,700 to Russians looking to trade in old cars for new ones.
That followed a plan unveiled last week to invest almost $20 billion over the next decade to overhaul the Russian auto industry and bring cars like the Lada -- derided by one auto expert as "outdated, unreliable, and of inferior quality" -- up to European standards.
Russia is even taking on a Formula One sponsorship in its gamble to resurrect the AvtoVAZ brand. Putin announced last week the country is sponsoring its first grand prix racer, Vitaly Petrov, who is leading the F1 team for France's Renault, which owns a 25 percent stake in AvtoVAZ. Petrov's car and uniform will feature the Lada trademark when he debuts in Bahrain later this month.
What's Good For AvtoVAZ...
Such efforts are being watched closely in Tolyatti, whose survival as a one-industry town -- or "monogorod," as it is called in Russian -- depends entirely on the success of Putin's government initiatives. One out of every seven residents in this Volga River town of 700,000 works for the automaker.
Burenkov, who was brought together with a new company president at the height of the crisis last autumn, says the fate of the industry and the city are intricately intertwined.
"Tolyatti is not called a monogorod for nothing. We would love for it to be a stereogorod, but for now it's a monogorod. One day maybe it'll be a quatro. But that's all in the future," Burenkov says. "The reality today is that this is how it is. [This company] is everything for Tolyatti. The city's well-being depends on the well-being of AvtoVAZ."
One out of seven Tolyatti residents work at AvtoVAZ.
A few minutes later, Burenkov's image appears on a television in his office. Perhaps not surprisingly, the spokesman's TV is tuned to the factory's own station, which broadcasts to the entire city. AvtoVAZ also has its own radio station and newspaper, all meant to keep the population attuned to the factory's pulse.
Still Your Father's Lada
Even before the crisis, some half-hearted attempts were made to reform AvtoVAZ -- Renault and General Motors were both brought in for joint projects -- but as long as domestic sales remained strong, there was little compelling reason for change.
Lada models are still among the country's top sellers -- particularly the Priora, Samara, Kalina, and the classic Niva four-wheel drive. (Putin himself purchased a Niva last year in a public show of support for the ailing automaker.) But the company, which was founded in the 1960s to manufacture export vehicles based on models from Italy's Fiat, has watched its European market dwindle to sales of just 7,300 cars last year.
Foreign automakers are also making incursions into Russia, eating away at Lada's domestic market. More than 1 million foreign cars -- mainly from Hyundai, Chevrolet, and Kia Motors -- were sold in Russia in 2009, a number that is expected to grow this year as cautious consumers return to car shopping.
In such a climate, AvtoVAZ will continue to suffer by comparison until it undergoes a serious reform. "It's clear that the models produced can't compete," says manufacturing analyst Sevastyan Kozitsyn of the BrokerCreditService investment firm. "Why? Because most of them were designed in the period between the 1960s and the 1980s. In the last century."
Hard Times In Motor City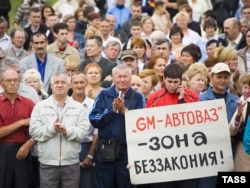 Workers protest slashed wages at AvtoVAZ last August.
AvtoVAZ is pinning its hopes on a new low-cost car using Renault technology and an infusion of cash from the French automaker. It is also hoping to divest itself of the huge social costs it traditionally paid for medical care and sports clubs for its employees. Many of those expenses have been offloaded on the Tolyatti city administration, with a tentative pledge from the federal government to provide funding.
The company has also laid off thousands of workers, including many approaching retirement age. Other factory workers have seen their wages cut by up to half, and their shifts reduced for months at a time.
One AvtoVAZ employee, Maria, who asked that her last name not be used, has worked at the factory for 25 years. Her wage has been halved to less than 2,500 rubles ($85) a month, an amount she describes as barely livable.
"Someone asks, 'Do you have anything left?' I've got two eggs, two pieces of cheese, a slice of bread, and tomorrow I don't know what I'm going to do,'" she says. "'If they don't pay us, that's it.' And she says, 'At my place, the mouse has already hung himself in the refrigerator.'"
As patience wears thin in Russia's motor city, the government and AvtoVAZ must hope that the latest initiatives -- including the new low-cost Lada-Renault model -- are quick to gain results. Otherwise, says Kozitsyn, both the automaker and the city it supports may fail.
"If you save AvtoVAZ, you save the city," the analyst says. "Two problems will be solved."